All you need to know about microcement in bathrooms.
Microcement is a perfect material for application on walls, floors, shower trays, sinks or units. It is a continuous covering that does not require maintenance, and is very easy to clean. It is a material that can be applied on practically any type of surface that does not have humidity or movement, whether porous or non-porous, achieving a join-free surface with a maximum thickness of 3mm. In addition, thanks to its high degree of adhesion, making it capable of being applied over existing coatings, it reduces the costs of demolition and debris removal.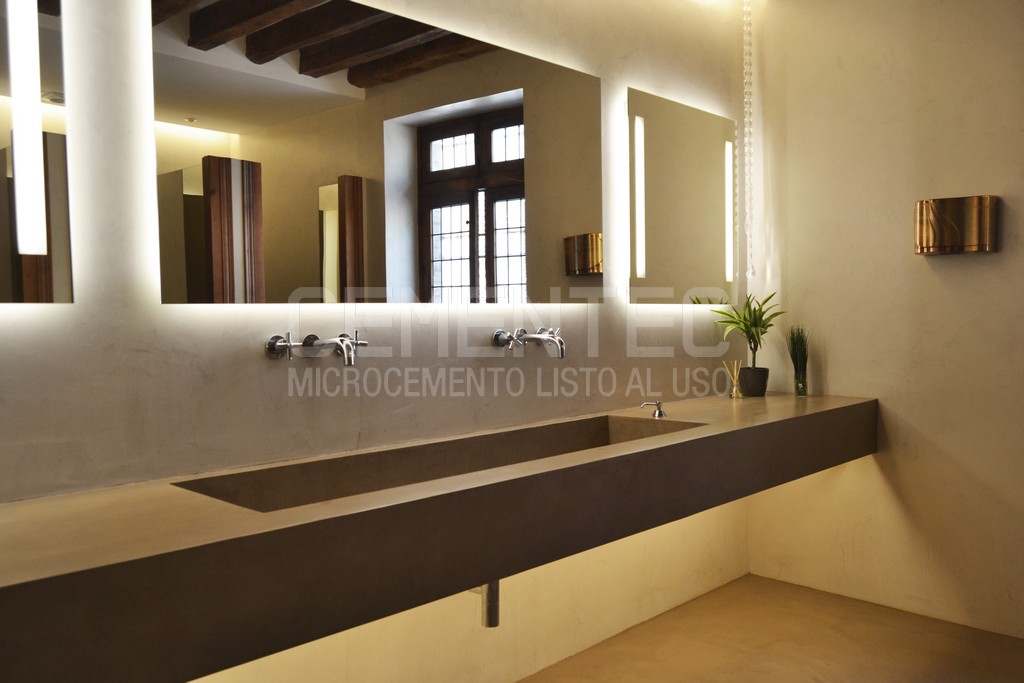 It is the most versatile material on the market as it allows different shades of finish, whether matte, satin or gloss. It has an infinite number of colours and shades, as well as a wide range of different textures. In general, microcement presents a finish with textures and depth of high aesthetic and visual value; but we can also offer you a more rustic and homogeneous bathroom finish, and even bolder finishes such as our range of Vintage or Metallic colours. Thanks to its application system and surface protection, it is a waterproof material highly recommended for application in areas in direct contact with water, such as bathtubs, showers and even sinks. It also has a non-slip finish guaranteeing a safe bathroom. Proper application is very important. Checking the existing coverings and flooring is essential before undertaking any application of our systems, because a poor assessment of them may lead to the appearance of cracks in our covering. For this reason, we recommend that the application be carried out by a professional who can evaluate the previous conditions, even if its application seems easy.
Advantages of microcement bathrooms.
As you know, it is easily applied and its cleaning is also very simple. A microcement bathroom will provide you with a different result at home, both in its application on walls and floors, or in sinks or shower trays. We will tell you some of its advantages so that you can make the right decision.
Increased sensation of spaciousness
The continuity offered by the possibility of application to walls, floors and ceilings makes your bathroom feel more spacious than with the use of other coverings. Bathrooms are areas with rather small dimensions, and therefore the use of microcement as a change of look is the ideal decision. It provides a nice visual aesthetic, free of joints, being able to merge the floor with the walls, even with a shower tray integrated into the floor. This creates an atmosphere of spaciousness, which combined with light colours, enlarges it even more.
Resistance to ambient humidity
The resistance to humidity is one of the concerns that clients have when they want to change their bathroom and choose between one material or another. This problem disappears because microcement is not only resistant to humidity but also to water vapor. It is important to respect the application times and recommendations, in order to avoid the appearance of mould in corners of the shower or bathtub, which make your bathroom less attractive. We must not confuse ambient humidity with rising damp. Rising damp must be previously treated by carrying out an exhaustive analysis of the previous support where it is going to be applied, and carrying out a previous treatment with technical products intended to block the rising damp. However, ambient humidity can prolong the drying times of the applied layers over time, and consequently reduce their resistance. It is always recommended to apply at a constant ambient temperature and humidity. If it is detected that the applied layers have not undergone the necessary drying, said drying should be prolonged over time, always avoiding applying a new layer over another that has not dried sufficiently.
Versatility
One of the main advantages of microcement is the versatility it offers us. It has a wide variety of colours, as well as different effects and/or finishes. Are you tired of the typical bathroom? Apply our Water Resistant microcement to give it a more rustic look, or our Texture system where you can enjoy the effect of cement, with its superimposed layers and its visual depth. Choose from one of the 16 colours that we offer in our Colour Chart. Not satisfied with any of them? We will develop the colour you have in mind to help you combine the bathroom to your liking.
Easy and simple cleaning
Don't worry about cleaning, it's very simple. Using a neutral soap (detergent) and a cloth, you can leave your bathroom in perfect condition. If the microcement is protected with our 100% waterproof varnish (Finish Forte Plus), you can also use more abrasive products such as bleach, caustic soda, etc., always diluting the product with water. Also, remember that it is a continuous coating that does not have joins, so the horrible dirt in those lines which is so difficult to clean disappears.
Intensify natural light
Microcement reflects natural light by itself, so if it is combined with light colours, we can achieve an effect of enhancing light in a small bathroom.
Quick application
As demolition of existing wall and floor coverings is not required, microcement can be quickly applied in bathrooms. Everything will depend, as always, on the previous surface to which it will be applied. If the surface is in perfect condition, the work can be carried out in an average of 5 working days, as long as it is a well-ventilated area, which allows the drying of the different layers applied.
Non-slip bathrooms
Do you have doubts about applying microcement on the floor of your bathroom? We make it non-slip. Any of our systems can have a non-slip finish by incorporating small particles invisible to the human eye. Do not hesitate to apply microcement to your shower tray; you will not slip. In addition, you will be able to enjoy complete continuity, without any change in elevation on the flooring, which can lead to stubbing your toes.
Water resistant
Microcement has 100% waterproof protection thanks to the use of our polyurethane-based finish varnishes with high solid content. The technology used in this finish makes it possible to protect any area that is going to be in direct or indirect contact with water, countertops, sinks, shower walls, shower trays, etc.
Where can you apply microcement in bathrooms.
Thanks to its composition with high-performance raw materials, fibres, selected aggregates and high adhesion components, it is a material that can be applied on almost any type of surface. Why is it an advantage to apply it? Because the previous demolition of the typical tile of the 80s or 90s is not necessary, thus avoiding debris, dust, noise and waste containers, among other typical inconveniences of works. Its wonderful adhesion, even on glass (avoiding parquet floors), makes it ideal for covering any type of surface, and completely changing the look of your bathroom. Direct application is an efficient solution to practical renovations, without generating debris, only increasing the surface applied by 2-3mm, even without the need to change the existing sanitary fittings. You can apply it both on walls and floors, as well as on shower trays and sink countertops, or sink countertops with an integrated sink. The most important thing to keep in mind is to carry out a good preparation of the supporting surface, because the success of the application depends on it. By creating a complete microcement bathroom, you generate a new room in your home where you will like to spend much more time and enjoy a pleasant bath with your partner or children.
Microcement bathtub and shower
What could be better than a whole space with the same material, continuously and without joins. With microcement we can give continuity to the floor and enter the shower without having to trip over a small projection. And what do you think of bathtubs? Although lately they are less popular and people replace them with shower trays, bathtubs can also create a cosy area in your bathroom. Microcement bathtubs provide a sense of wellbeing and continuity within your home.
Microcement countertop and sinks
In the same way that microcement can be applied on shower trays and bathtubs, it is possible to create a countertop for the sink or even a countertop with a sink included on it. As it is a waterproof product, you can wash your hands and let the water drain easily.
Microcement units
Another aspect offered by its versatility is that it can be applied on units, whether made of MDF or plasterboard. It is an option for placing your bottles of shampoo and shower gel, creating small niches that will be covered with microcement. You can forget about installing metal supports that will break continuity and aesthetics.
Walls and floors
As we have previously mentioned, the main renovation of your home always involves the bathrooms, and that is why microcement is an excellent covering to achieve this. In general, we will always renew the floors and walls, applying any of our systems, as well as one of the colours detailed in our colour chart. Renew those old tiles by covering the walls and floors. Using microcement you will eliminate the joins between pieces, you will provide continuity and luminosity, and you will also achieve an elegant and aesthetic result.
Which microcement to use for bathrooms?
There are various possibilities for using microcement in bathrooms, from a super textured finish to a more rustic and rough finish. However, our recommendation is always to apply our maximum waterproof protection finish to prevent water from seeping in and causing problems in the covering. If your taste is more for a textured covering, we recommend using our Texture System, with a fine finish with depths typical of traditional microcement. However, if you prefer a more homogeneous colour, use the Standard System, which will provide you with a continuous colour with the same properties as the traditional one. We also have the possibility of achieving a more rustic and grainy finish with our Water Resistant system. This system gives the covering a rougher finish to the touch and makes it intrinsically non-slip. Do you want maximum resistance in terms of hardness and waterproofing? Then you are looking for the High Transit system, a continuous covering that gives your floor maximum surface resistance, as well as total waterproofing due to its epoxy-based composition. All these application systems can be installed in any of our colours, but if you are not satisfied with any of them, we will develop the colour that best suits your needs. We offer the possibilities, but the decision is in your hands; whatever you choose, the quality of our covering will make your bathroom stand out like you deserve.
Do you want to know more about microcemento CEMENTEC?
If you have any doubt or query, do not hesitate to contact us.