Microcement on walls, everything you need to know.
Walls are one of the areas where microcement is most often applied. We are already used to seeing this covering on floors, and this trend is spreading very quickly to other elements, such as stairs, countertops and, above all, walls, whether in interior areas, such as kitchens and especially bathrooms, or on facades and outdoor walls.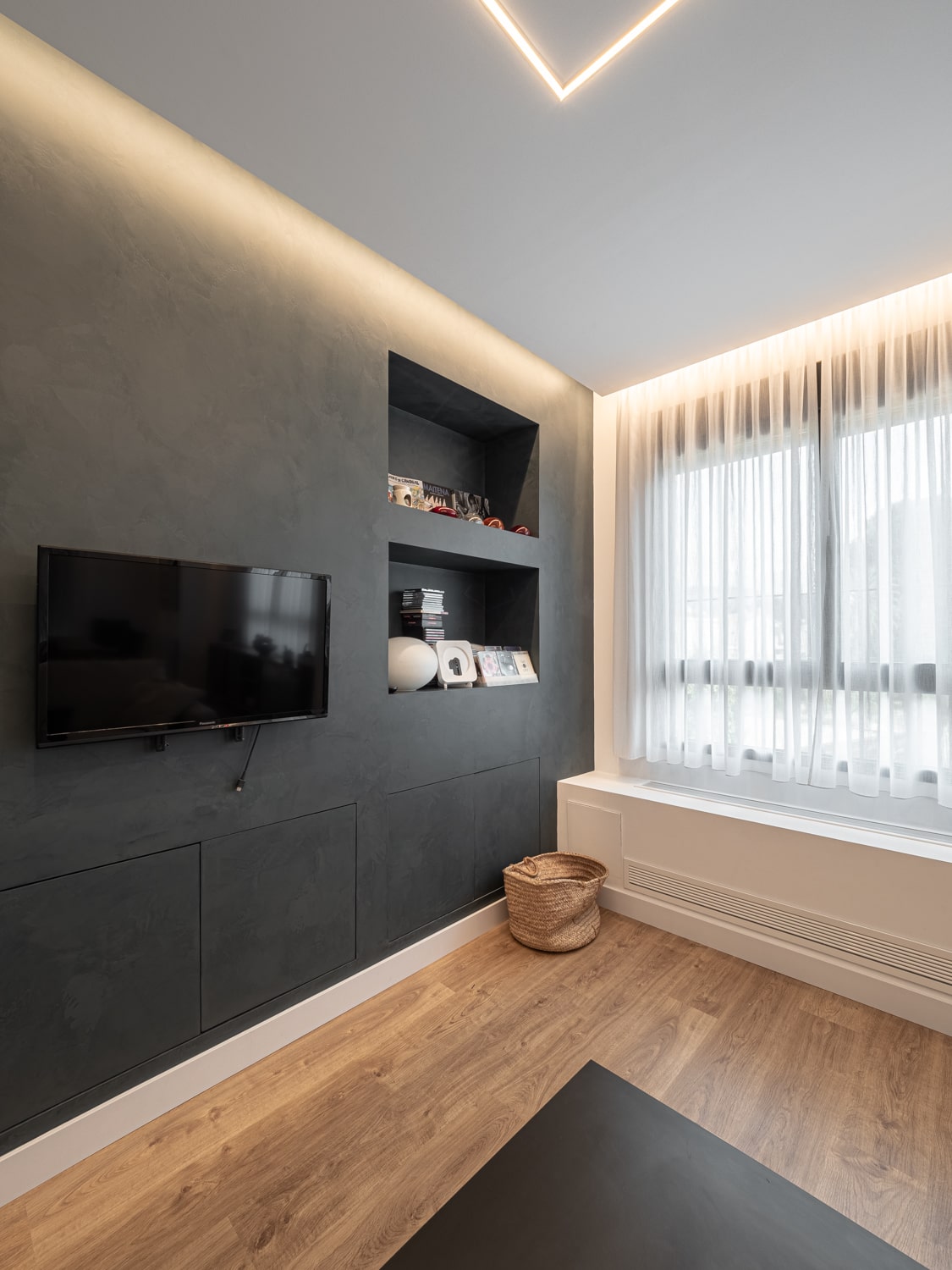 The popularity of microcement has grown exponentially in recent years, and it is not by chance. It is a covering with multiple advantages and functionalities, which offers an elegant, aesthetic finish without the need for large investments or renovations, and in this case, thanks to the Cementec Ready to Use product, with an easy application. All of these are benefits for the applicator and for the client.
In fact, this is its main advantage: being able to completely change the look and style of a room with a single product, in a spectacular way.
Why choose a continuous wall covering? Microcement on walls offers great versatility to traditional coverings, such as paint, stucco, vinyl, etc. Its high aesthetic and technical value make it ideal for its application on walls.
In addition, its artisanal and handmade personality give it a unique and singular feeling.
If you have any questions about what covering to apply on the walls of your home or business, below we detail some of the advantages of using microcement on walls.
Advantages of microcement on walls.
Microcement on walls is applied with a very low thickness, maximum 3mm, which makes it suitable for being applied on almost any type of previous support (tiles, plaster, cement, plasterboard, etc.). In addition, it does not require previous demolition, because its high level of adhesion allows it to be applied very easily on all types of surfaces, as long as they are well anchored. We highlight some of the best reasons for choosing microcement for walls:
No construction works! Apply microcement on walls.
As we have previously mentioned, microcement on walls does not require the prior demolition of the existing support, thus avoiding noise, debris, suspended dust, etc. Thanks to this, the process of applying microcement on walls is considerably shorter, even allowing application in a period of 2-3 days as long as the walls are made with a smooth surface and with perfect flatness (such as plasterboard walls or a perfectly cast screed plaster). Microcement on walls covers and decorates your area, providing a spectacular change, and without the need for masonry work.
Microcement walls: strength and durability
When we opt for microcement on walls, we are choosing a very prominent advantage over paint or other classic coverings; its hardness and resistance is much higher, and its ease and effectiveness in cleaning is clearly very high. The protection with which the work is completed helps to maintain its aesthetics in perfect condition for a long time.
Microcement for interior and exterior walls.
Another advantage offered by microcement on walls is its versatility. It is a product adapted for application on both interior and exterior walls of any home or area. It can be the solution for a facade where the aim is to have a different finish from what we are used to seeing, as well as for any area where it is intended to provide continuity between interior and exterior microcement walls.
Take advantage of the waterproofing of microcement walls
When we use liquids or any type of product that can dirty or wet the microcement walls, we don't have to be worry about it because Cementec uses a special and specific protection for areas prone to this type of action. The "positive" waterproofing provided by the Finish Forte product is tested for use on any type of microcement walls, such as showers or bathroom areas.
Almost non-existent cleaning thanks to microcement for walls.
Another of the main advantages of microcement on walls is that it does not require exhaustive cleaning and maintenance. All our microcement wall systems are protected with varnishes with a high capacity for waterproofing and sealing, as is the case with the Finish Forte Plus product. Although any type of abrasive liquid may spill, this will not affect its final finish, keeping its initial appearance intact.
Any type of neutral soap, as well as other abrasive products (systems protected with the Finish Forte Plus varnish) can be used to clean our microcement wall covering, using a simple cloth that we have at home and a little neutral soap.
Application of microcement on walls.
The process of applying microcement on walls will depend on the type of surface. Firstly, if we have walls with joins such as tile or stoneware, we must cover all these joins and place a fibreglass mesh with a special anchoring resin. In case of having a continuous cement-based surface, we will always apply a consolidating product, and then the fibreglass mesh. Finally, if we have an ideal support, such as plasterboard surfaces, MDF, or well smoothed (screed) plaster, then we should not carry out a previous preparation, simply applying the layers of the Cementec product. It must always be sanded between layers, and respecting the minimum drying times.
All these processes are explained in detail in our tutorial videos, where you can learn in detail how to apply microcement on walls.
All these processes are explained in detail in our online tutorial videos, where you can learn how to apply microcement on walls.
What is the price of applying microcement on walls.
The price of microcement on walls can vary depending on the square metres that we are going to apply, and the difficulty posed by the surface to which it will be applied (if there are niches, holes, fixtures, etc.).
Likewise, when microcement is applied on plasterboard walls or any support that does not require prior adaptation, its cost will be cheaper than if it is applied to other types of supports.
In our price calculation tab, we can assist and guide you on the price of the material you need to apply.
Do you want to know more about microcemento CEMENTEC?
If you have any doubt or query, do not hesitate to contact us.