Microcement on stairs is a very attractive and dynamic way of providing maximum continuity to a surface that merges different areas. The result is always impressive for most people who opt for microcement on stairs, and it ends up being highly demanded due to the aesthetic concept it offers. We are used to microcement on floors, and in bathrooms and kitchens, but microcement on stairs is a decorative element to take into account, especially if the floor and/or walls are also made of this material. The popularity of microcement has grown exponentially in recent years, and it is not by chance. It is a covering with multiple advantages and functionalities, and in the case of stairs, it offers an elegant, aesthetic finish without the need for large investments or renovations. We encourage you to choose this element, applying microcement on stairs, and achieving an unconventional image and design.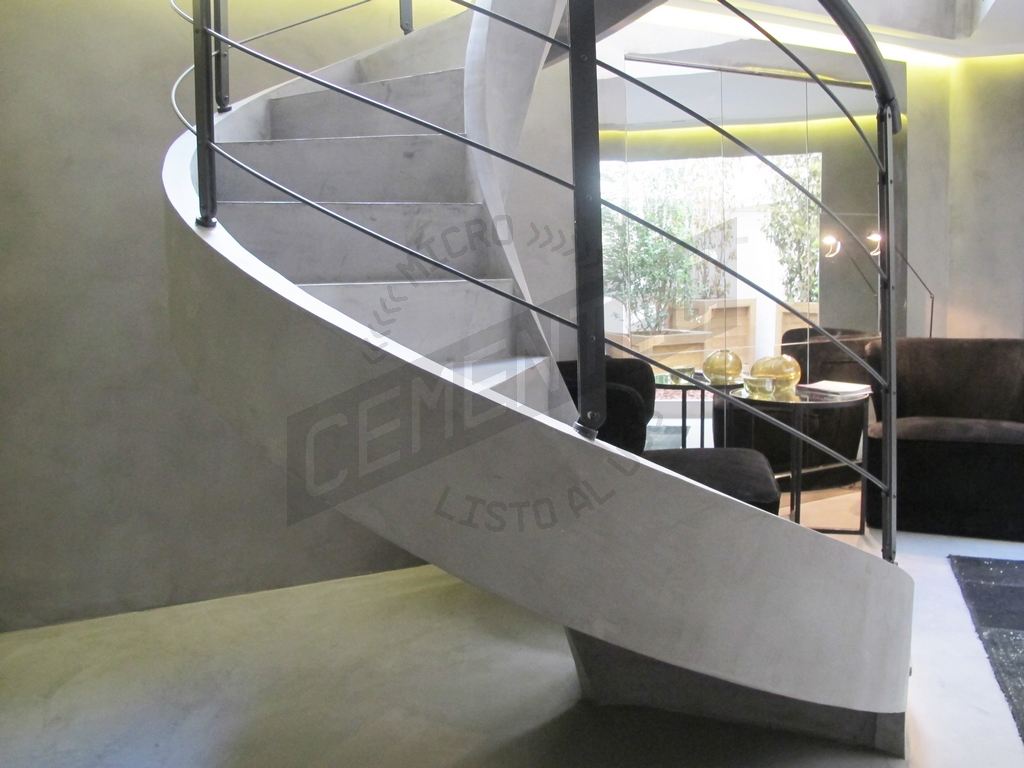 Advantages of microcement stairs.
Microcement stairs provide a contemporary style and an appearance of absolute continuity because expansion joints are not needed, everything being perfectly integrated. Their greatest advantage of course lies in the high decorative value they provide in any space. It is usually a decorative element that catches your attention in any house. It is therefore an advantage to have microcement stairs to renovate our old stairs and turn them into the main object of decoration in our home. The continuity of the material increases the feeling of spaciousness and offers a very nice new design. Furthermore, being able to have a totally continuous surface without joins will make it easier for us to clean each step, making cleaning much easier and more long-lasting.
Microcement stairs promote the feeling of continuity
This is a fact that stands out. Home or office stairs can be a hassle to go up or down. In addition, it is usually a decorative element that is very visible in any area, so applying a continuous product with the personality and depth offered by our covering favours that feeling of wellbeing and makes microcement stairs a very appealing option where we want to bring new feelings.
There is no need for construction works in microcement stairs
Another advantage of microcement stairs is that it is not necessary to disassemble or carry out any demolition on the staircase itself, so microcement can be perfectly applied on a staircase already made with stoneware, terrazzo, marble, concrete, etc. In other words, we completely renovate such a unique area, without any cost of time or the mess that the work may entail.
Easy to clean microcement stairs
As we described at the beginning, there is no better way to keep the stairs clean and hygienic than to cover the stairs with microcement. The visibility of its continuity and the absence of joins of any kind help us to always keep them clean and tidy, using any simple equipment such as a mop, as well as being able to wash them with any neutral soap.
Strength and durability in microcement stairs
Cementec Ready-to-Use microcement offers different application systems, depending on the hardness and resistance required. In any case, it is important to apply the product as recommended by our application process (tutorials), always placing a high weight fiberglass mesh to provide safety and durability. By correctly applying the Cementec Ready-to-Use product, the resistance and high durability of a microcement staircase is guaranteed, for domestic or even professional use.
Microcement stairs for interiors and exteriors
Microcement is one of the few coverings that can be applied both indoors and outdoors with complete safety. That is why microcement stairs can be implemented in any of these areas. Logically, the durability will be longer in interior areas, as weather conditions do not affect them in the same way, but with the use of our final product Finish Forte Plus, always highly recommended for exteriors, these issues hardly affect it, and an excellent result is achieved.
Microcement stairs with non-slip finish
Sometimes microcement stairs are required to have some type of non-slip to reduce the possibility of slipping on them. This is especially common in spaces due to regulations. Our Cementec Water Resistant Ready-to-Use product already has non-slip properties by itself without any problem. However, in addition, if you want to apply any of the other Cementec Ready-to-Use products, you can incorporate our glass microspheres into the protection layer, also providing the desired degree of non-slip.
Different shapes of microcement stairs.
The design of microcement stairs is totally different depending on the area to be created. There are cantilevered stairs, concrete block stairs, 1-flight stairs, multi-flight stairs with landings, etc. All of these can become microcement stairs and create a high-level decorative ensemble, in an easy and practical way. Most of the time, any unfavourable tile staircase will be very significantly changed and will become the main element of an area, when it is decided to transform it into a microcement staircase. Likewise, microcement is often sought for newly built stairs due to the beauty and high decorative contribution shown in any new project.
Some tips for applying microcement on stairs
Not everyone is ready to apply microcement on stairs. This is due to the fact that covering stairs is somewhat more difficult for an applicator than covering walls or floors. They require some preparation and precision during the application. However, it is worth taking on this small challenge, because the final result ends up being so spectacular and is always repeated. As a piece of advice, the quality of the existing surface of the staircase should always be thoroughly checked. It has to be perfectly anchored, with perfect flatness, and its right angles must be exactly 90º. If the existing surface is of poor quality (cement, broken tiles, etc.) it must be adapted, and our advice is to always apply on tiles in good condition (we do not recommend directly on cement). It is always necessary to protect everything surrounding the stairs where it will not be applied, such as walls or other fixtures, with adhesive masking tape. Above all, the join with the tread and riser must be completely straight; if necessary, corners can be used to achieve this perfection.
Price of microcement stairs
Microcement stairs entail additional application work, so the price per square metre will always be somewhat higher than an element without angles such as a wall or floor. Therefore, this only affects the labour, because in terms of the material, the price is very low, as the performance of Cementec Ready-to-Use microcement is very high, and the stairs do not involve an extensive surface area.
Do you want to know more about microcemento CEMENTEC?
If you have any doubt or query, do not hesitate to contact us.