Everything you need to know about microcement kitchens.
It is a material made up of a series of polymers, resins and very fine aggregates to give it a cement-like finish, but it can be applied in a wide variety of colours, from cement greys to aged colours (Vintage) or browns, creams, ochres, etc. Why microcement in kitchens? Because you can apply it both on walls and floors, as well as on the countertop itself or on a kitchen island, achieving a surface without joins and with a low thickness of between 2-3mm, thanks to its several advantages as a decorative covering.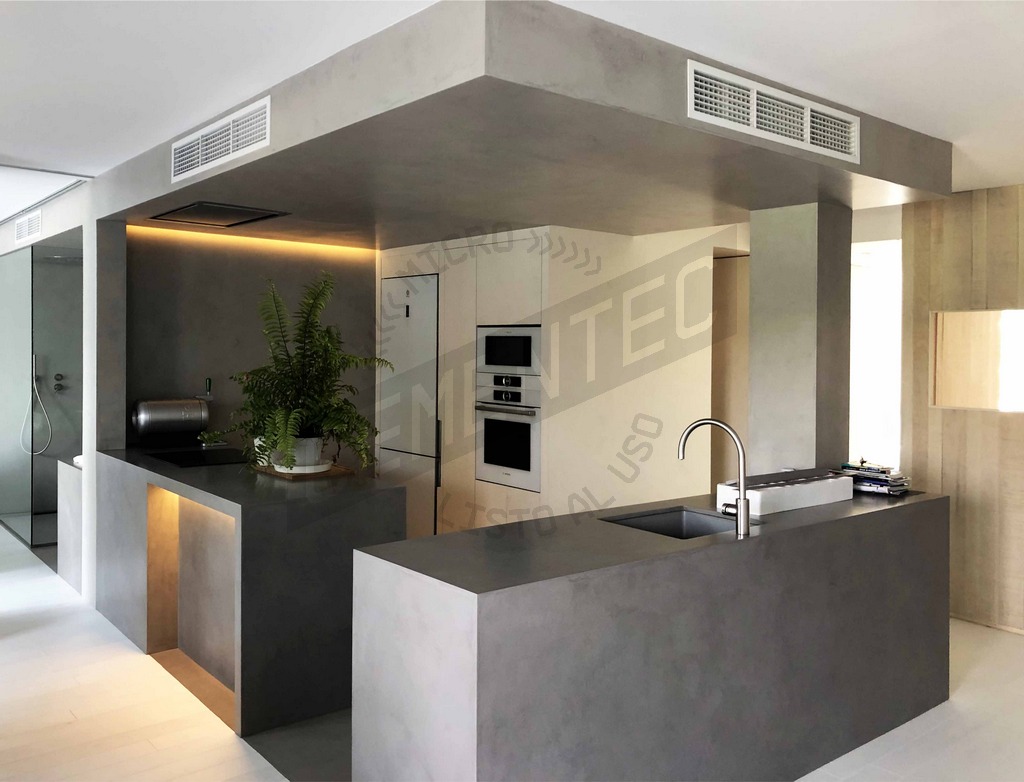 Kitchens are one of the most decorative trends in a home. If you are thinking of renovating it, and you don't feel like undertaking a full renovation, microcement is the solution, as it does not require works, demolition or debris removal. It is applied directly on the existing surface without the presence of humidity or movement. Increase continuity and make your kitchen the centre of your home, the most functional room where we spend most of our time. Make it your own with a high level of decoration, with a textured finish, or a rustic or vintage finish. You can change the traditional appearance of your kitchen to be a new minimalist and spacious room, obtaining a new spatial vision of your home. Although this material is simple to apply, we always recommend having professional help to assess the suitability of its application on the existing support. The preparation and adaptation of the existing support is crucial for achieving a perfect application, whether it is applied on walls, floors or countertops. It gives a touch of modernity, whether it is applied on walls, floors or units, and is an option that is increasingly used by renovation professionals, as well as for users who seek to create a kitchen fully to their tastes.
Advantages of microcement kitchens.
As we know, the kitchen is the part of the house that can become dirtiest; the act of cooking generating vapours, smoke, oils, etc. that cause its deterioration. It allows its transformation, turning it into a new area where you can make unique dishes in a comfortable and renovated environment. In addition, it no longer matters whether it is in your home, as if you want to change the appearance of your business, we can apply our special product for industrial kitchens, where you can cook without worrying about any type of stain. Below we will tell you some of the main advantages of using microcement, and why it is a valuable option and a trend in interior decoration.
Microcement in the kitchen without works
As in any other room that we are going to renovate, it will not be necessary to undertake any type of previous construction work, because the microcement is applied on the existing surface without the need to demolish the previous covering or flooring. In this way, we save time and money, avoiding dust, debris and moving all waste to specific containers. It is a relief both for those who live in the house and for neighbours, avoiding loud noises produced by the demolition of the previous coverings. You will have a kitchen to your liking, and the whole neighbourhood will be happy.
Range of colours for microcement kitchens
This continuous covering allows any tonality and colour that desired. Any colour available in the various certified colour charts (RAL, NCS, etc.) can be reproduced almost exactly. However, thanks to our selected colour chart, you can choose between the acclaimed greys, simulating the colour of concrete, or look for warmer colours such as a sand-like colour or a brownish colour. Alternatively, if you are one of the most daring, choose our range of vintage or metallic colours. Kitchens offer large combination of different materials and colours, so you can combine floor and walls, with white units and wooden countertops, or wooden units with microcement countertops. Create a complete kitchen island, or even cover the ceiling to create a complete concrete cube.
Microcement kitchens are resistant thermally and to chemical products
It is a thermally resistant material because it has the features of concrete itself. Your countertop will not suffer any damage if you leave hot pots or pans on it; it is completely resistant. It is also resistant to any type of chemical agent thanks to the protective varnishes that are applied in our systems, especially our Finish Forte Plus, which resists any liquid and chemical product, such as bleach, alcohol, solvents, etc. For this reason, even if any liquid falls on an element covered with microcement, it can be cleaned with abrasive products without fear of eliminating the surface protection that we have applied. What do you think of underfloor heating? No problem; what's more, we dare to say that microcement is one of the coverings that best transmits heat thanks to its low thickness. You don't need to turn on the heating system for hours – with just a few minutes you will achieve a sensation of comfort perfect for cooking in your socks or barefoot.
Anti-stains in kitchens with microcement
With our maximum surface protection varnish, Finish Forte Plus, you don't have to be worry about stains. Any of our systems, from Standard to High Transit, can have Forte Plus surface protection. The only polyurethane varnish capable of resisting anything that can fall on it. Don't worry about spilling oil, spilling wine on the floor, or spilling coffee in the morning, as this varnish is tested to resist all types of staining for up to 7 days. In addition, Cementec microcement is completely waterproof because it contains additives that make it resistant to falling water. It can be applied without any problem on the countertop, and a sink can even be integrated into the countertop, because the water will not penetrate the covering, as long as it is perfectly applied, having strictly followed the application and drying process.
Microcement kitchen styles
The kitchens allow you to develop any type of style in them, ranging from a more minimalist design to a rustic one or with an industrial touch. In all of them, microcement is a material that fits perfectly, because it can be combined with any noble material, such as wood.
Minimalist microcement kitchens:
Minimalism itself is based on the use of the minimum and the basics, stripping everything to the essentials without any leftover elements. We can achieve this definition thanks to the continuity that microcement offers us, free of joins. Only the essentials, microcement and units.
Nordic microcement kitchens:
Fashionable kitchens, the combination of wood, white colours, and other noble elements such as concrete. You can make all kinds of Nordic kitchens using microcement on floors, walls or even on the countertop itself, combining it with white or natural wood units. You have a variety of possibilities for achieving an ideal room for your home. A microcement floor with white units and wooden countertops, or with white countertops and wooden units. Think of your kitchen and we will advise you on the different possibilities.
Industrial microcement kitchens:
What better way to obtain an avant-garde and industrial kitchen than using pure construction materials, metals, wood, cement, etc., but without carrying out any work on your home. Get a look similar to cement, a continuous covering applied in a wide variety of colours. How to achieve this "industrialisation"? Very simple: applying microcement on floors and walls, creating a low-thickness concrete cube without expansion joints. We propose the use of our High Transit microcement to further achieve that industrial appearance and also achieve high technical performance.
Rustic microcement kitchens:
We all understand the rustic as something artisanal and handmade, and that is why it fits perfectly in a rustic kitchen, because it is a unique and inimitable application, it is a carved work in your home. You can also combine custom-made clay pieces with a handcrafted application of microcement, as well as decorating it with small old objects that were once used for cooking and preparing food.
Microcement on kitchen countertop
As we have mentioned, microcement is suitable for being applied on countertops, as well as on kitchen islands. Its thermal capacity and resistance to stains make it ideal for application in this small area. In addition, as it is a continuous element, it is a continuous covering, so the dirt that could previously accumulate in inconvenient joins disappears completely.
Which microcement to be used in kitchens?
Any of our products are suitable to be used for any final client. It all depends on the characteristics of each one. For example, if you prefer a kitchen with a high decorative effect, our Cementec Texture product will be ideal for enjoying the depths of cement. On the other hand, if you prefer a more homogeneous colour finish, the Cementec Standard system also offers the decorative effect of a continuous colour. However, if you are worried or concerned about resistance, we recommend you the use our Cementec High Transit product, thereby enjoying it in a different way, with a more resistant finish and a more homogeneous colour. Whatever microcement you use, we recommend protecting the system with our Forte Plus Finish, the polyurethane-based varnish capable of resisting any type of stain.
Tips for avoiding issues in microcement kitchens
1. Trust on experienced professionals to apply microcement in kitchens:
Anyone can apply it! This is one of the most common statements you hear about microcement. It is partially correct, but if you allow us, we would like to clarify it for you. It is a simple material to apply, and anyone with enthusiasm and who enjoys DIY can cover the kitchen of your home, but there are many external parameters that can cause slight setbacks during and after the application of microcement. That is why we recommend putting the application of microcement in the hands of a qualified professional, or at least following their advice before making any wrong move. The preparation of the surface where it is going to be applied is crucial for achieving full success in its application. It is not worth merely applying the layers correctly without focusing on the quality and revision of the previous support. A support with fissures or cracks, a poorly anchored support, an uneven support, a loose support, a support with loose tiles, an unsuitable and unprepared support, can cause the appearance of incidents in the microcement layers, such as cracks or fissures, slight colour changes, etc. Follow the guidelines established by a professional or even those indicated in our tutorial videos to achieve extraordinary results.
2. Select quality microcements for the kitchen:
The use of quality materials will certainly always improve the appearance, as well as facilitating the application process. Cementec offers a complete quality guarantee for its products under strict production controls where different parameters are evaluated to obtain a product of high quality, both in technical and aesthetic terms. If we add an experienced and professional applicator to this quality product, we will obtain a flawless result with zero problems. Remember to combine these 2 values to achieve a dream kitchen.
3. Protect the microcement in the kitchen:
Maintenance and care after application in a kitchen are vital for extending its lifespan. Do not treat microcement as if it were an unbreakable material; take the same care as with any other material that you have applied in your home. Our protective finishes, Finish Forte and Finish Forte Plus, are of unrivalled quality, but this does not make them indestructible. We recommend careful daily use, without fear of using it, but do not turn your cooking area into a battlefield.
4. Clean the microcement kitchens:
A microcement kitchen can be cleaned with any type of neutral soap, always diluted in water. If you wish, you can use our Limp product from the range of cleaning and maintenance products. In addition, CEMENTEC goes one step further, and with the development of a protective finish of maximum resistance, Finish Forte Plus, we have even managed to clean our floors with more abrasive products designed for cleaning any other type of flooring. Use bleach, alcohol, solvent, caustic soda, etc. and eliminate any type of stain that may have appeared due to falling food. Of course, never apply these products directly; dilute them in water as you would do for cleaning any floor. You will see that after cleaning the microcement floors they will highlight their cement appearance even more, coming to shine like the first day.
Do you want to know more about microcemento CEMENTEC?
If you have any doubt or query, do not hesitate to contact us.