Microcement is like entering a parallel universe, where the possibilities are practically infinite. There are solutions for all tastes, of all sizes and for all budgets. Of course, in swimming pools there are also trends, design and innovation. The incorporation of microcement has been a trend in recent years, and entails a very significant contribution to the decoration. It is on the rise and given its advantages, it is an option to seriously consider.
While a few years ago most houses had a cement-based pool with a typical tile interior coating, we can say that the trend is changing radically, and microcement pools are becoming more and more predominant in single-family homes.
Our Cementec Pool product combines the necessary qualities, after having been tried and tested for application in this type of scenario, with highly valued safety and durability coefficients.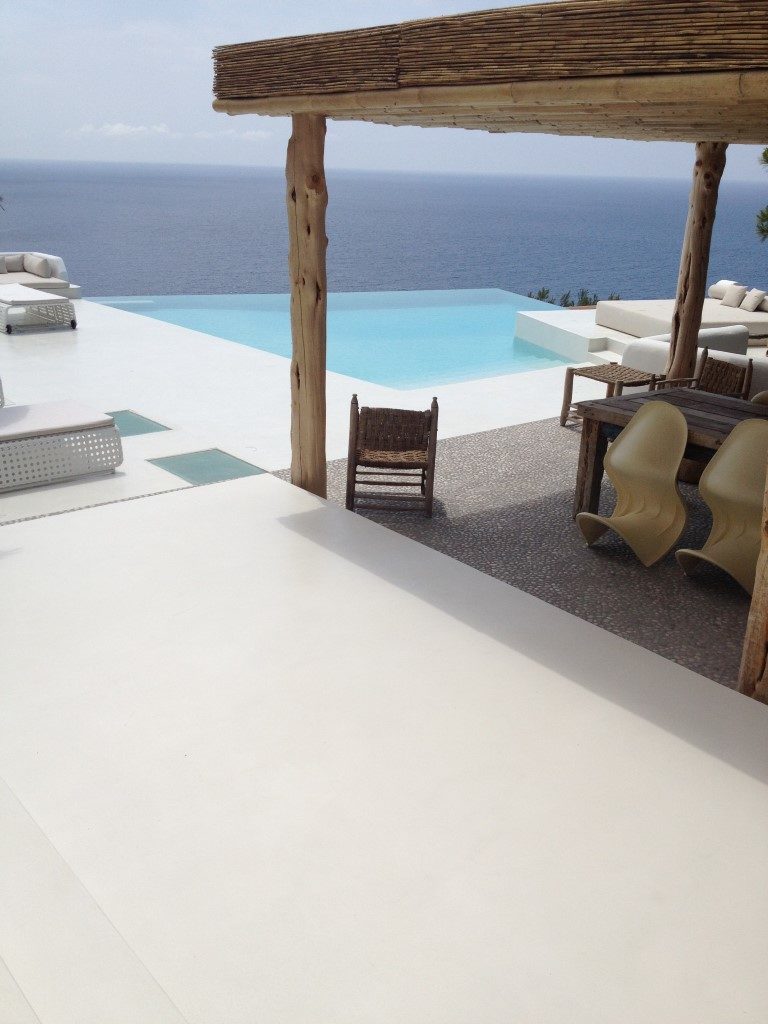 SOME ADVANTAGES OF MICROCEMENT POOLS THAT YOU NEED TO KNOW
Cementec Pool product applied on swimming pools has waterproof properties, and, in addition, high resistance to hits, scratches and corrosive chemicals. Therefore, we should not worry about chlorine and chemical agents that are used in pools. Furthermore, its maintenance and cleaning are quite simple. Swimming pools can be customized both in colour and finish, but also its design. Another advantage is the smoothness provided by the polished finish. It can be applied to large surfaces without joins, no interruptions are visible.
All this together, plus the possibility of choosing the color, allows us to create a continuous environment, getting visual continuity and an unparalleled sensation of relaxation. In any case, you will not find the sensation of spaciousness and cleanliness that microcement offers in other types of pools.
It has excellent results because its finish does not age over time; in other words, it does not lose colour as it ages, which is greatly valued.
Likewise, you are immersed in a different space capable of captivating you and transporting you somewhere else, where absolute relaxation and personal enjoyment come first.
The colour of the microcement gives free rein to your creativity. In our range of colours, spectacular designs can be achieved, and any colour from the RAL colour chart can be considered even for small pools.
Another notable aspect of its application is that it is not a difficult job to carry out, because, considering that it is a pool, it is rather fast, does not make much mess, and it is not necessary to take out the existing surface (unless it is very deteriorated). An important quality is its perfect adhesion to the surface, provided that it is smooth and well-anchored to achieve maximum adaptability, greatly facilitating the work.
The final protection system is made up of a top quality polymer-sealer, which provides total waterproofing, high resistance to water with chlorine, abrasion and UV rays. Despite its low thickness and its natural appearance, this sealant has a very high resistance to cracking, adverse weather conditions and scratches or other types of accidents.
Issues that could arise in microcement pools
Our Cementec Pool product offers magnificent results, tested by our protocols, but you must always have in mind some necessary parameters during application, otherwise some type of issue may arise, especially if application works are not carried out in suitable conditions.
Although its application is very clean, all the steps that the CEMENTEC POOL application process requires must be respected. Our company will help and advise you with every step to achieve an optimal result. A smooth and well-anchored surface is required, which not all pools have. It is therefore very important to make a prior technical assessment.
During its application, weather conditions obviously affect the ability to carry out the work in proper conditions. Both rain and sun (in high temperatures, especially during the summer months), are not the best times for it.
Why are microcement pools in fashion?
Undoubtedly, the visual sense that they generate provides a feeling of modernity, spaciousness and cleanliness which no other material is capable of offering. If you have a passion for the harmony of environments, it is a material with which you will achieve a unique effect, because it fits perfectly with its surroundings, integrating the interior with the exterior through its fully customisable finishes. It is an element which projects an impact on all our senses.
They immerse you in a different space capable of captivating you and transporting you to a different place, where absolute relaxation and personal enjoyment come first.
Types of microcement pools – are new or old ones better?
An important feature is that microcement can be directly applied on an existing pool as well as on a newly constructed one. Its finish is continuous and waterproof, and if the application process is carried out following our CEMENTEC company protocol, its durability is guaranteed.
Slip-resistance in microcement pools
For microcement applied in areas such as pools, it is essential that its finish is non-slip. In this case Cementec proposes the use of glass microspheres that provide the desired anti-slip levels, especially in the areas bordering the pool, such as the areas around it. It is the best way to largely avoid unnecessary and dangerous slips.
This non-slip product is very easy to apply, because it is applied at the same time as the protective layers, and although visually no type of change is noticed, it is obviously noticeable to the touch.
Continuous design in microcement pools
This is the most sought-after element in this type of space. The continuity which is part of the design of the area makes it the most appealing material to provide a very special atmosphere within the different areas of a home. The non-use of expansion joints (except those of support itself), and the ability to apply the same colour throughout that environment, provide a personality that other materials often do not.
Cleaning and maintenance to consider in microcement pools
Microcement ends up being one of the best materials for cleaning and maintenance. This is in contrast, for example, conventional materials predominated by tiles, because in the join a lot of dirt and mould is accumulated. In this case, by not having joins and being a completely continuous surface, the accumulation of dirt disappears, and only with manual or automatic sweepers, cleaning will always be more effective.
You will not find the minimal maintenance and cleaning that our product requires in other types of pools. Not only because of the absence of joins, but also because it does not require such demanding care as other materials.
What is the price of a microcement pool?
The price of a microcement pool is considered once we have information on the different variables, such as the final measurement, the complexity of the shape of the pool, and its location.
Even so, it is true that its price is slightly higher than indoors, since the product involves higher technology to precisely provide all the guarantees required by work in correct conditions.
What type of microcement should be applied in pools?
The proper and specific product to be used on pools is our Cementec Pool product.
Its high mechanical resistance is essential for achieving the safety and durability necessary to keep pools in the best possible conditions.
This product is also applied with a high weight fiberglass mesh and finished with a special polyurethane varnish to withstand the high compression of the large amount of water in pools.
What colour to choose for a microcement pool?
Although we have a wide range of colours to cover all the tastes, our recommendation is always tried to combine light colours, because the colour of the water will always be much more eye-catching and crystalline. With white or light grey colours, you can achieve an emerald blue shade of water, which provides very suggestive and gratifying sensations in its design and enjoyment.
Do you want to know more about microcemento CEMENTEC?
If you have any doubt or query, do not hesitate to contact us.