The microcement is a continuous and polish coating which offers an excellent adhesion degree on different surfaces to get an aesthetic change of your bathroom, kitchen, house, indoor and outdoor, as well as offices, shops, restaurants and big areas. In addition, it is a new and state of the art coating in new buildings. The most complete and in demanding coating to achieve areas with a suggestive, personal and distinctive touch.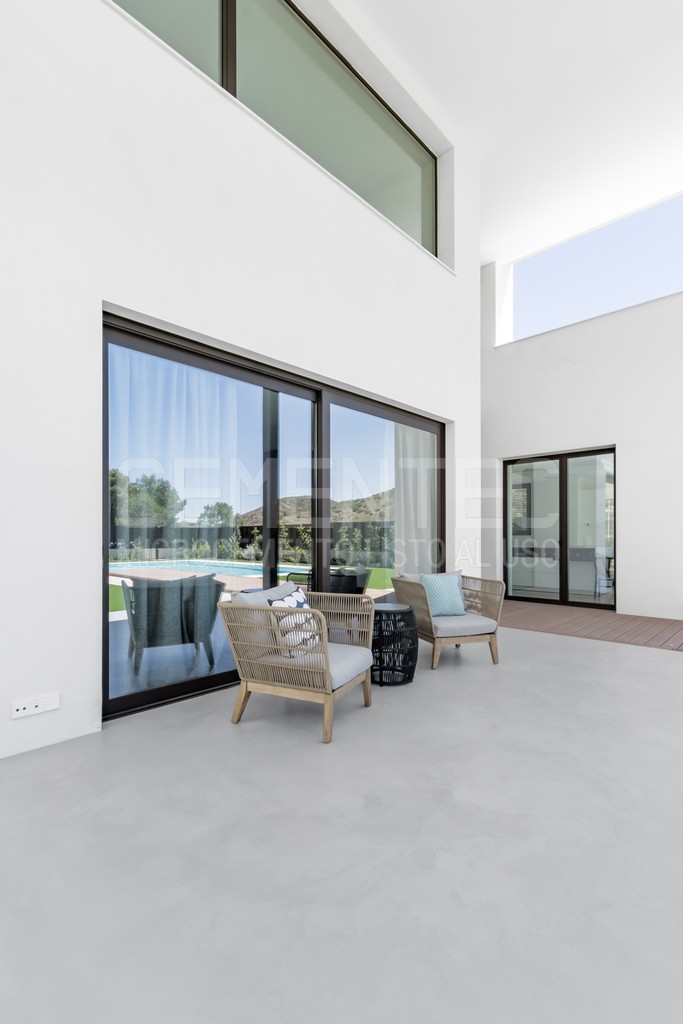 Why a "ready to use" microcement?
It is ready to be used
Easy. Already prepared and pasted.
Clean. The cloudy dust disappears.
Intuitive. No prior experience or on-site training is required.
Reliable. Product protected under a strict quality control.
Complete. Array of products and colours
Where microcement can be applied?
This is one the main advantages that microcement offers; it is a product suitable to be applied on almost all type of surfaces and areas, refurbishments or rehabilitations, as well as new construction buildings. The most coated areas are usually bathrooms, kitchens, shower trays, stairs, private houses, furniture, and commercial areas such as shops, restaurants or public area in general.
What type of surfaces can be coated with microcement?
Surfaces to be coated with microcement must be clean and healthy, removing all the formwork removal remains, old coating (like waxes), cement grouts, particles, paintworks and any other contaminant which may hinder adherence. Microcement can be applied on almost all type of surfaces, except a few types of materials that we describe at the end. Suitable to be applied on flat surfaces like plasterboard or MDF; also on tiling surfaces, like terrazzo, marble, stoneware, etc., as well as cement-based surfaces, like self-levelling mortars, concretes or cement screeds. It is not recommended to apply microcement on wooden floors, plastic or iron and aluminium materials.
Microcement indoor
CEMENTEC Ready to Use Microcement is suitable to be applied inside homes due to its complete adaptability and its exclusive and state-of-the-art design. It is very easy to combine with other coatings.
Microcement walls
CEMENTEC Ready to Use Microcement offers wide decorative possibilities on walls, reaching that handmade and unique touch which a high aesthetic and technical coatings provides.
Microcement stairs
The best way to make a continuous area separated from another by stairs is to apply microcement, giving that vitality and spaciousness feeling as a whole. If you are tired of going up and down stairs with joints, this is the perfect option.
Microcement floors
Microcement floors provides continuity, it is, there are no joints between different pieces, just a single area. It can be applied both indoor and outdoor floors. In addition, as it is not needed to take out the existing floor, it is an ideal solution to avoid debris. And, the floor level does not excessively raise, only about 3 millimetres.
Microcement bathrooms
Bathrooms are the most applied areas with microcement. The use of microcement in bathrooms decoration offers multiple advantages. A perfect finish, purity and cleanliness feeling, and the practicality sought for areas with humidity and condensation. Moreover, with the possibility of being applied on all bathroom surfaces, as floors, walls, shower trays, sinks, bathtub furniture, etc…
Microcement kitchens
If you love microcement kitchens, there is no better way to inspire us to cook than to feel the cleanliness and spaciousness provided by Cementec Ready-to-Use microcement. It can be placed anywhere in the kitchen: walls, floors, countertops, furniture. Its wide variety of colours and textures, and its impressive anti-stain top coating as final protection, make it ideal to decorate your kitchen.
Microcement outdoor
Microcement offers the versatility of being able to be applied both indoors and outdoors. Cementec Ready to Use is a microcement with waterproof properties, suitable for covering those areas where we need to feel calm and safe.
Microcement pools
Cementec Pool, Ready-to-Use microcement, is a tested and recommended coating to be applied on surfaces such as swimming pools, where high negative compression and weather conditions put any type of coating to the test, providing safety and design to this unique area.
Microcemento outdoor floors
Not all microcements can offer the mechanical and technical benefits provided by Cementec Water Resistant, with a built-in anti-slip granule, and suitable for areas in contact with water. Likewise, we have a coating with impressive hardness and resistance such as Cementec High Transit, especially indicated in areas where it can be most affected by climatic conditions, such as outdoor floors.
Continuous microcement floors and coatings
Cementec offers a wide range of Ready-to-Use products, where ease, speediness and aesthetics are concepts that are very positively transmitted when used as decorative flooring or coating.
Continuous facade coating
Microcement facades provide concepts with a strong personality as well as exceptional functionality. It is the undoubted durability of the product, together with its maximum waterproof resistance, what we really need to calmly enjoy an exclusive design and a very personal stamp.
Microcement colours
When we think of microcement, the grey colour of cement comes to mind for most. But the truth is that, at CEMENTEC, we have a wide array of microcement colours, as well as different textures and finishes. From the most classic array of greys, through cream or brown colours, to the retro colours of the original vintage range. In addition, the possibility of using more plain and homogeneous colour finishes (Cementec Standard), as well as more marked and textured ones (Cementec Texture) is offered.
Microcemento advantages
Microcement is a product plenty of advantages as decorative coating.
Expansion joints are not needed (only in cases where the existing surface contains that type of joint, then it must be respected).
Microcement floor does not expand or contract with temperature changes like some materials can do, for example, wood. In addition, as it is partly made up of acrylic resins can resist to the stresses to which it may be subjected.
It is a continuous coating where there aren't joints between different pieces, it is just a single area, providing continuity, spaciousness, design and importance to the decoration.
Its high adhesion degree, which allows it to be apply on many different surfaces, for example, tiles, stoneware, as well as concrete or mortars.
It can be applied both indoor and outdoor.
In addition, as it is not needed to take out the existing floor or wall coating, it is an ideal solution to avoid debris.
No heavy machinery is required to its installation.
Easy maintenance and care.
Another advantage of microcement floors compared to other types of flooring is that it does not raise the floor level excessively, only a maximum of about 3 millimetres. In this way, it is not necessary to carry out lifting tasks for other elements of the house.
Advantages of Ready to Use microcement
There are many advantages offered by the use of microcement as a coating, but in addition to them, there are many more that our Cementec Ready-to-Use microcement product provides:
We no longer have to weigh and mix; IT IS NOW READY TO USE!
Runtime and cleaning savings
Different sizes; 5 and 12 kg
NO NEED for training courses (ONLINE VIDEO-GUIDELINES)
NO MISTAKES are made in pigment and mixture weights
The cloudy DUST DISAPPEARS, healthier and cleaner
Waterproofing properties
Product stable and protected under STRICT QUALITY CONTROL
NO STORAGE NEEDS reduction of stock
Choice of PIGMENTS ALREADY MIXED in the most used colours (other under request)
VARIETY OF PRODUCTS according to need
TUTORIALS AND COMPLETE ONLINE TRAINING. Without classroom courses. (Tutorial videos with the whole process)
Microcement problems
There are some problems or drawbacks that can affect the microcement; nothing is perfect, but with Cementec, we have carried out exhaustive work analysing and providing solutions. That is why we have turned those little problems around:
Application and drying time. Microcement application times can range between 4 days and a week, depending on the sqm, which can considerably delay a work. With Cementec, as it is a product that has already been pasted, this time is slightly reduced.
If the microcement is damaged due to some type of accident, the repair must be done by complete areas, because it is practically impossible to obtain the same tone again. This is correct, however, with Cementec Ready to Use, it is possible to carry out small repairs and minimize said defect, considerably covering up that reparation.
Another problem that may arise in the microcement is the cracks produced by the movement of the existing support. But if we have a high technical quality product like Cementec, and the application is made according to the process recommended by Cementec (we provide video tutorials and technical help), there should be no problem.
However, if there are, it does not have to be a problem with the microcement, rather it is with the work itself.
A null impermeability against humidity by capillarity becomes a defective application. When microcement is applied on floors or walls, especially on the ground floor, basements, exteriors, etc., and where there is no impermeability, this negative humidity can affect the final aesthetics of the microcement. However, Cementec is a microcement with waterproofing properties, which partially reduce and retain this humidity, not allowing the application to deteriorate. However, in areas of persistent humidity, it is advisable to place a technical waterproofing product before applying the microcement for its total neutralization.
Its price. Microcement is sometimes perceived as an expensive product compared to other flooring materials due to its high price. On the one hand, we are talking about a product with a high technological component, and on the other hand, at Cementec, we have specific price lists to offer the best quality-price ratio in the current panorama of microcements.
What is the microcement actually?
A continuous and decorative coating with a thickness of 2-3 mm, based on a cement micronized combined with a wide formulation of additives, aggregates, polymers and fibres. CEMENTEC allows you to achieve high creative value and amazing finishes, thanks to its customization ability provided by its different products, and its wide array of colours and textures.
On which type of surfaces can it be applied?
One of the main advantages that has the microcement is that it can be applied on almost all type of surfaces, such as cement-based surfaces, self-leveling mortars as perfectly anchored marble, tiling surfaces, stoneware, etc. On the other hand, the best surface to be applied on walls is plasterboard wall or well screed plaster. Other advantage of the microcement is to avoid the debris generated for the existing coating, facilitating and speeding up refurbishments, for example, bathrooms and kitchens remodeling.
Is it directly applied or need a previous adaptation?
The better, stronger and smoother the surface to be covered is, the less previous adaptation we will have to carry out. No previous adaptation is practically required when the microcement is directly applied on plasterboard walls or perfectly screed plaster. The rest of surfaces always requires a minimum previous adaptation. Our company offers different on-line tutorial videos of how to adapt previous surfaces to avoid any type of future problems. This previous adaptation is made using specific and technical product developed to that purpose. For example, when we face surfaces with joints, a previous adaptation with resins, fiberglass meshes and other products has to be carried our to block the appearance of the joint in the coating applied.
Can Microcement be applied on parquet or wooden floors?
Parquet or natural wood floors are not rigid enough, in addition have a type of elasticity that can cause some issues on the microcement like fissures or cracks. In these cases, it is necessary to take out the existing floor, and assess its suitability for applying the microcement.
Microcement in sinks, bathtubs or wet areas - Is microcement waterproof?
Microcement is perfect to be applied in wet areas such as sinks, bathtubs, shower trays, etc. CEMENTEC® has specific products to be used in wet areas. And furthermore, with the Finish Forte Plus protection system, we provide all the necessary waterproofing to be used as normal, being a unique and unbeatable protector so far.
Microcement on underfloor heating: Is it compatible?
Microcement and underfloor heating are fully compatible. In fact, we would say that microcement is one of the most recommended coatings to be used in this type of flooring, both for its great thermal conductivity and for the comfort that provides. Of course, a small heating switch-on protocol must be carried out prior to application, to avoid possible cracks caused by temperature changes.
Is it necessary to put fiberglass mesh in microcement applications?
Microcement is a product with a high flexural and compressive strength values, which increases its ability to holding back fissures or cracks. But the behavior of the existing surface against movements or settlements of the building is out of our control, therefore, we strongly recommend the use of fiberglass mesh on surfaces with joints or cementitious surfaces. In addition, at Cementec we have two types of mesh, 150gms/m2 and 80gms/m2, depending on the existing surface.
Can furniture be covered with microcement?
Of course, it can. We make a large amount of bathrooms furniture, as well as for kitchens and other rooms of your home and business. The ideal surface is on MDF wood or plasterboard and it is a very recommended decorative possibility.
Does microcement need any type of maintenance?
This is another of the main advantages of microcement, its practically no maintenance. As long as the top coating is in good condition, no special maintenance is required. In addition, it can be cleaned with any type of product. In the long term, after a few years and depending on use, protective top coatings can be reapplied with a minimal cost.
Does microcement need joints?
Expansion joints do not have to be carried out during the application of microcement. Only in cases where the existing surface contains that type of joint, then it must be respected. Although our systems allow you to reduce its thickness to be minimized, to make it barely noticeable.
Does microcement hold high transit?
Within the variety and array of products that we have, we can offer you our impressive Cementec High Transit. It is a microcement with a high surface resistance, and other values above any type of traditional microcement. Recommended for those public areas where foot traffic is much denser or with more intense use. If you are looking for a coating with high hardness and resistance, Cementec High Transit is the best choice.
What is the difference between microcement and concrete?
There are some differences in this regard. We detail some of them; First of all, the thickness of application, concrete requires thicknesses greater than 2 cm, and microcement approx. 2-3 mm. The thickness of concrete can cause easily the appearance of cracks. Second, viability, microcement can be applied in many areas where concrete is totally unfeasible. And finally, the aesthetics, much more decorative in microcement than in concrete.
Do you have an array of colours?
We currently have a wide array of colors about 16 different shades. In addition, we have the new Vintage range, with 5 shades where an aged and textured style of microcement is offered. And, furthermore, the metallic range with 6 different colours where a different and unique touch is sought. Finally, and in case that you need a different colour from our array of colour, we can customize a different one for applications over 250 sqm.
Do you want to know more about microcemento CEMENTEC?
If you have any doubt or query, do not hesitate to contact us.