Everything you need to know about microcement in exteriors
Microcement for exteriors represents a very appealing option developed by a decorative product in this space where we like to feel comfortable. It is about having an elegant "terrace" or "porch" that is in harmony with the interior. This provides us maximum continuity, and an elegant and simple way to add fashion and design to our home or project. It is like a visual aid so as not to go from the interior to the exterior abruptly.
In addition, its application is not limited to spaces that combine interior and exterior, but its application radius is very varied, with applications also being made on facades, patios, areas around pools, or wherever it is intended to provide a special touch.
Our Cementec Ready-to-Use product line offers a special system for these outdoor areas, due to its waterproof properties and its high durability, thereby allowing a covering of high technical and aesthetic qualities to be enjoyed for a long time.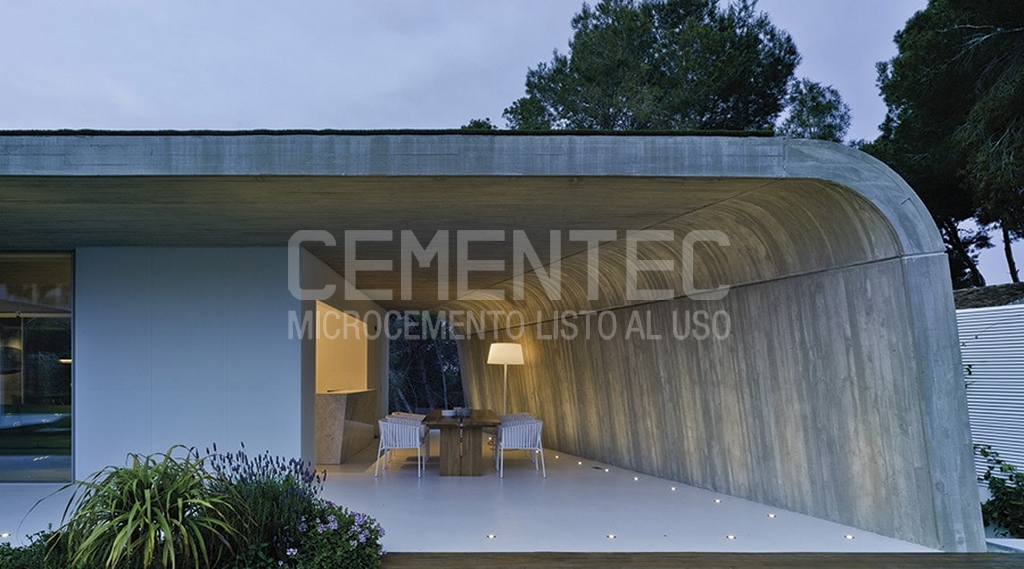 Advantages of microcement for outdoors.
Cementec Ready to Use microcement for outdoors is designed to provide decoration and design, as well as functionality and practicality.
Its low thickness makes it ideal for application without raising the existing support too much, and its waterproof properties make it highly recommended for areas where it may always be in contact with water.
In addition, by eliminating joins, we obtain a much cleaner and more practical covering, because the dirt affects outdoor areas much more, and a totally clean area is never enjoyed.
Why choose microcement for outdoors
One of its best aesthetic qualities is that it provides continuity. Its elegant finish can be observed from indoor areas, offering a more harmonious environment and in accordance with the entire design as a whole.
It is highly resistant to traffic due to its impressive durability and surface hardness offered by the Cementec Ready to Use High Transit product. It is a product designed for areas where external conditions out of our control can cause more impact or damage to the coverings, as its high mechanical performance makes it one of the best microcements.
Rain and heat do not affect microcement too much, and nor do cold or unstable weather. Logically, durability in an exterior is somewhat less than the application in interiors, because the environmental impact is much more invasive, but the high resistance provides it the features required to keep its essence and elegance for a long time.
Microcement has waterproof properties, something very important for this type of area. This does not mean that it is a totally waterproof product (in case of humidity, a waterproofing product must always be applied beforehand). However, unlike many other microcements, its waterproof components ensure that it does not deteriorate due to water or other liquid products.
Therefore, Cementec High Transit is very resistant and durable, withstanding impacts, scratches, wear from use and the action of chemical products (as long as these are normal and domestic products).
The exterior microcement floor is also non-slip, to achieve total safety in any area where there is a risk of slipping. This option can also be chosen when work is carried out, because some glass microspheres must be added to provide this non-slip property, it being previously assessed whether or not this product is applied, depending on the use and where it is applied.
Its peculiarity is that the desired anti-slip level (C1, C2 or C3) is achieved with barely any noticeable visual change in the covering, but of course being different to the touch.
It is durable, because as the years go by, it is enriched naturally. This results in a progressive strengthening of the surface.
Additionally, as it is protected with Finish Forte Plus, a high-solid content polyurethane varnish, its maximum efficiency and practicality are guaranteed. This finish is prepared to withstand and neutralise stains, avoiding penetration and thus keeping the microcement in the best condition.
Therefore, Cementec High Transit is a very resistant and durable product for withstanding impacts, scratches, wear from use and the action of chemical products.
Uses of microcement outdoors.
The use of microcement outdoors is very diverse, as it can be used in many scenarios due to its wide versatility and ease of application. These are some of those places where it can be applied outdoors, although there are surely many more… Terraces, one of the most chosen. Undoubtedly, designing the terrace with a continuous covering, which provides elegance, hardness, resistance and design, is the best decision for achieving a tasteful decoration. Facades are another of the uses where clients increasingly decide to apply it for their homes or as a storefront for their businesses. Furniture or barbecues. There are many outdoor uses, but this is one of the most unique and practical where it can also be applied. Both in furniture (tables, armchairs or sofas, shelves, etc.) and for example its application in gastronomic recreation areas such as barbecues, microcement provides a very valuable and suggestive solution, where design and functionality are provided to the same way. Pools are undoubtedly one of the most demanded uses. Click on our microcement pools tab where we will tell you about all the advantages and features of this particular area.
What type of microcement to apply outdoors?
Within our range there are two types of special products for this use. Firstly, we have the Cementec Water Resistant product, a covering with a medium granulometry, which incorporates its non-slip properties into the product, and which combines an industrial aesthetic with a truly simple and fast application. Secondly, the Cementec High Transit product, which is offered in Base and Fino, provides high technical performance in terms of hardness and resistance, together with a homogeneous and smooth aesthetic look, for those seeking elegance and durability. In addition, it is suitable for areas where foot traffic can be heavy, due to its high surface hardness coefficients. Do not hesitate any longer and try either of these two products designed to be applied in outdoor work, prepared with the necessary technology for a perfect technical and aesthetic result.
Do you want to know more about microcemento CEMENTEC?
If you have any doubt or query, do not hesitate to contact us.