Microcement is a versatile and long-lasting material used for floors, walls, countertops and other decorative elements. Unlike other coating materials, microcement does not require too much maintenance so if you already have a decorative coating at home or you are thinking in applying it, it is important that you know how to clean microcement to keep it forever in perfect conditions.
Therefore, Cementec has developed a complete guideline that it will help you to clean microcement in an effective way, both after its application and daily cleaning. We are also going to recommend you which cleaning products are not allowed to clean the microcement, as well as explaining some useful tips to those applicators that are starting out in the microcement world.
Taking all this into account, are you going to miss it? Keep readying!
How to clean microcement inmmediately after its application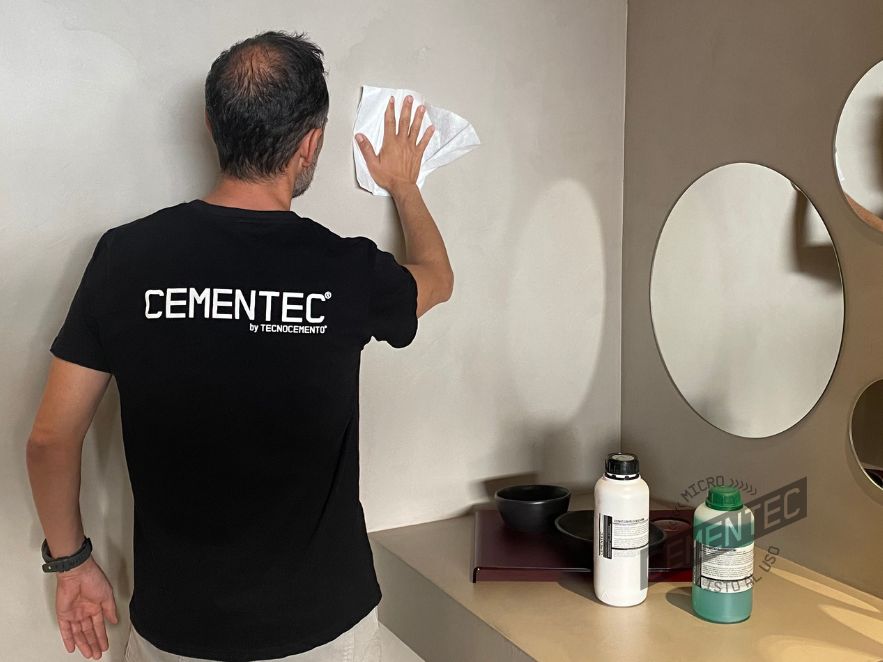 First of all, you must know that microcement is a porous material, however, the polyurethane varnishes used as Top Coat turn it into a waterproofing material. In addition, there are 2 different Top Coats: Finish Forte, which is breathable, what means that it does not resist stains and other liquids than water. That is why it is essential to clean quickly when a spillage of a liquid falls on it.
On the other hand, Finish Forte Plus is 100% waterproof and stain resistant. There is no rush to clean the stains, you can leave it 48 hours and no damage appears.
It is important to wait at least 48 hours before cleaning a microcement application. During this time, the microcement will be completely dry.
Steps for cleaning microcement after 24 hours
After the drying time has elapsed, you can clean the microcement surface following the next steps:
Sweep dust and particles: Especially those that can appear after microcement application. Use a light broom or vacuum cleaner to eliminate any type of dirt or particles.
Wet the surface: Once dirt and particles have been clean, wet microcement surface with clean water. This will help you to easily make the cleaning (do not saturate with water, drain the mop)
Clean the surface with appropriate product: It is essential to use the correct product to avoid damaging the material. There are some specific cleaning products developed for microcement which you can find in Cementec website. Some of those products are neutral or natural soaps or citric acid based products.
Dry the surface: In this way, you will prevent the appearance of stains and water marks. Use a light cloth to dry the surface or let it air day if possible.
How to daily clean microcement step by step
Consequently, to keep the microcement clean and protected, although microcement ready to use does not require a thorough maintenance, it is important to make a daily cleaning.
Assuming the fact that the cleaning process is basically the same, it is true that there are some suppressed differences that we must introduce to you. Below, we show you how to do it step by step and in an easy way:
Sweep or vacuum the surface: to clean superficial dirt and dust.
Use a non-abrasive cleaner: do it daily using a neutral or natural soap diluted with water. Wet a cloth in the solution and scrub the microcement surface.
Rinse with clean water: on all the surface and let it air dry. If it takes too long, use a dry cloth to dry it.
Apply a sealer: We recommend to apply a sealer every 4-5 years depending on the use and floor wear, to keep the microcement ready to use aesthetics. Sealers like Finish Forte Plus of Cementec are developed to protect the material with no damage.
Which products mustn't be used to clean the microcement
After knowing how to clean the microcement, it is important to avoid some products to clean the microcement, because they can damage the material or leave stains forever. For instance, the following are some of them:
Abrasive products: abrasive products like sand or scrubbers can scratch or damage the microcement surface.
Strong acids: Strong acids such as hydrochloric acid or sulfuric acid can corrode and damage microcement.
Chlorine-based products: chlorine-based products such as bleach can discolor and damage the surface of microcement.
Waxes or oils: waxes or oils can leave permanent stains on the microcement surface and can be difficult to remove.
Instead, it is better to use soft, non-abrasive products to clean microcement, such as a neutral floor cleaner. In addition, it is important to avoid using sharp or hard objects to scrape or clean the surface of the microcement, as they can cause damage.
But there is something special in Cementec that you will like to know, it is our sealer Forte Plus, 100% waterproof. It can be cleaned with any type of products (bleach, ammonia, etc.), preferably diluted with water. Its high resistance lets you to clean it using this type of products for its cleaning.
In any case, and if you still have some doubts, we recommend you to read our previous article where we talk about cleaning products to use on microcement. Here you have!
Tips for non-experienced applicators that are starting out in the microcement world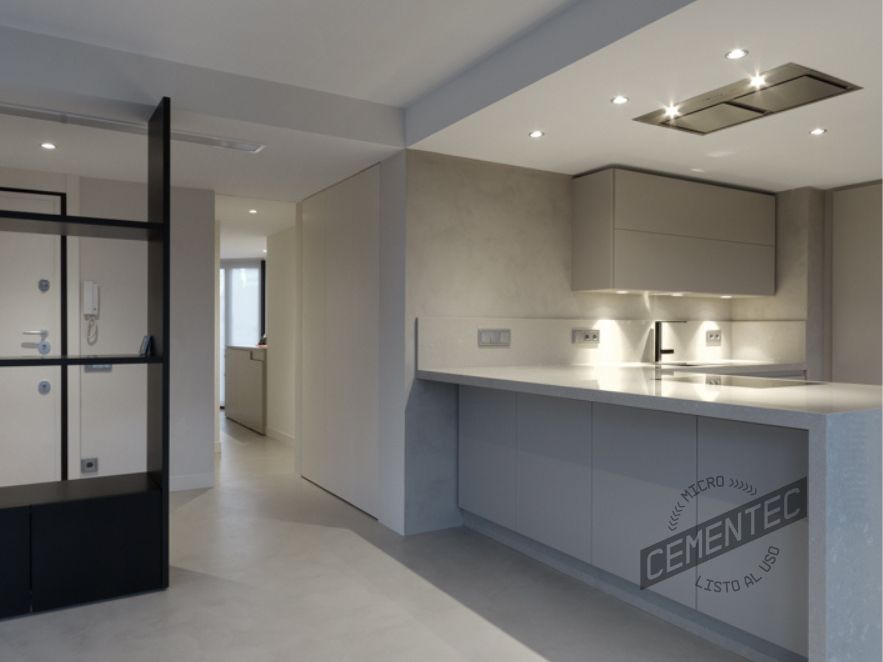 Pay attention! Because if you are an applicator who is starting out in the microcement world, we introduce you some useful tips to make an application in an effective and decisive way to guarantee your projects for years
First of all, follow strictly the manufacturer instructions during the previous surface preparation, the microcement and sealers application. Remember that microcement requires a meticulous and precise application.
Furthermore, use the appropriated tools such as: trowels, spatulas, rollers, tec. Likewise, start applying small areas before making big ones. In this way, you will be sure that you are applying correctly the material, and you will know its behavior and other application aspects.
During the application, use masking tape to protected the areas that are not going to be covered with microcement and place protection on the edges to avoid hits or scratches. Finally, keep everything clean and free of dust using vacuums or cloths.
Conclusions and tips
Microcement is a versatile and long-lasting material which is more and more use in outdoor and indoor decoration. It is essential to know how to clean properly clean it and avoid making common mistakes that can damage its appearance to keep it in perfect conditions.
We have taught you how to clean microcement step by step in this complete guideline, as well as some useful tips for those rookie applicators who are starting out in microcement world. Follow this suggestion and you will be able to keep your microcement in perfect conditions during many years.
Remember that it is important to use soft cleaning products (no abrasive), avoid chlorine and acid based products, and do not use scrubbers or metal brushes that can damage the surface. In addition, it is vital to make a daily cleaning to have the surface free of dirt and stains.
Following these tips, you will be able to enjoy of a clean and bright microcement surface for a long time, especially on bathrooms and kitchens. If you have any question or need further information of how to clean microcement, do not hesitate to contact with an experienced microcement professional as Cementec is.
Did you find interesting this article about how to clean microcement? Share you opinion in our social networks and tell us your comments and results after your application.