Are you facing the challenge of renovating your bathroom and also looking for some inspiration for wall tiles in beige tones? Finding the balance between style, durability and practicality in your bathroom is not only essential, but often difficult to achieve. Therefore, if you feel overwhelmed by the endless microcement options and long for a solution that combines beauty and functionality, that is where beige microcement bathrooms come into play.
This coating colour has revolutionized the world of bathroom, providing an unbeatable mix of elegance, versatility and resistance. Thanks to its neutral and soft colour, beige microcement lends itself to a wide range of decorative styles, from the most minimalist to the most luxurious. Its calm and illuminated tone add a feeling of spaciousness and tranquillity to the space, turning your bathroom into a true oasis of calm.
But, what makes beige microcement an attractive option within the ideal bathroom renovations? In the following article, from Cementec we will break down the advantages of beige microcement, we will present you with inspiring ideas to renovate your bathroom with this colour depending on the style and we will discuss some accessories to complement and satisfy your design and durability needs.
Delve in and discover how beige microcement can be the solution you were looking for!
Advantages of beige microcement bathrooms
Beige microcement is an ideal coating option for bathrooms thanks to its versatility, durability and attractive aesthetics. Its advantages are multiple and below we detail some of the most outstanding that consolidate beige microcement as an incomparable choice for bathroom:
Elegance and neutrality: Known for its subtle sophistication, the colon beige brings with it a serenity that evokes a calm and relaxing atmosphere. By opting for beige microcement for your bathroom, you will enter a timeless space that breathes elegance and easily adapts to different styles of decoration, providing a soft and sophisticated character.
Visual expansion of the space: The beige tone has the ability to make any space look larger and brighter, a highly desired feature in bathrooms. This amplifying effect provides a feeling of fresh air and freshness, which is especially valuable in bathrooms, which by their nature tend to be smaller areas in the home.
Versatility in design: Beige microcement is highly versatile, capable of blending with a wide variety of design elements, from tiles to furniture and accessories. This look will allow you to explore a wide range of styles and themes, from a modern, minimalist bathroom to cozier, rustic spaces. With beige microcement, the design options are as wide as your imagination.
Watch out! These ones are some of the benefits of beige microcement bathrooms. However, if you want to know 5 reasons to renovate your bathroom with microcement ready to use Cementec, click here.
Inspiring styles for ideal bathroom renovations with beige microcement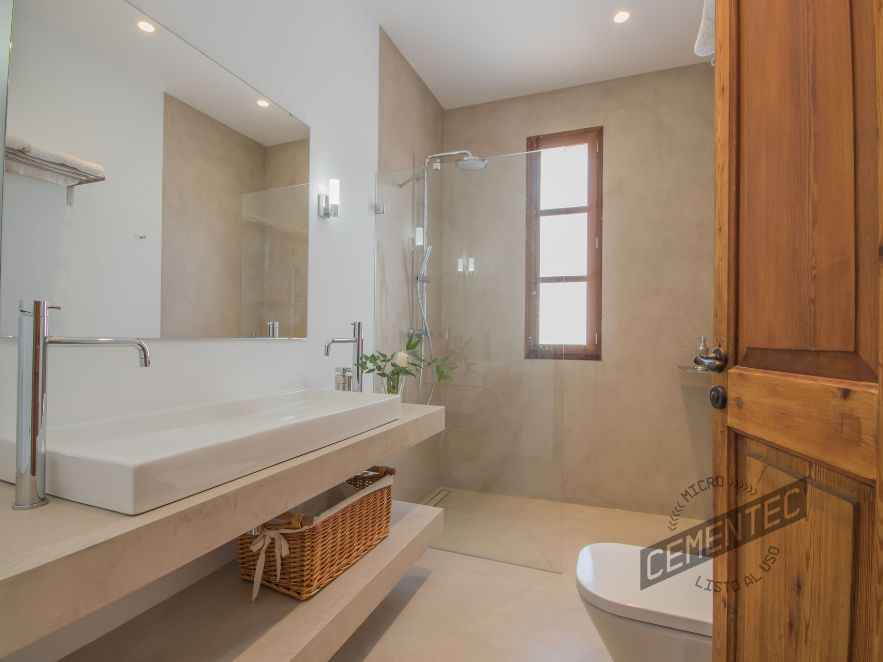 Now that you have familiarized yourself with the many advantages that beige microcement offers in bathrooms, it is the perfect time to dive into a sea of ​​inspiration and explore different ideal and creative bathroom renovations depending on the different decorative styles for your next project. of remodelling.
Here is a selection of decorative suggestions that will help you visualize the potential of beige microcement bathrooms.
Minimalist style in a bathroom of microcement beige
The minimalist style in bathrooms lends itself to simplicity, cleanliness and elegance, and beige microcement integrates perfectly into this aesthetic. Beige is a soft and neutral tone, capable of generating a feeling of tranquillity and spaciousness in the space, essential elements in any minimalist design.
Bathrooms with beige microcement and a minimalist style are a perfect canvas for incorporating architectural and decorative elements, allowing the pure lines and simplicity of the shapes to stand out on their own. Countertops, floors and walls merge seamlessly, creating a visual continuity that enhances the feeling of space.
This beige colour also brings a subtle warmth, counteracting the cold appearance that an overly polished space can have. Thus, the bathroom becomes a cozy place, perfect for relaxation and personal care.
Regarding the colour combination, beige is a perfect ally for white, black and grey, very common shares in minimalist design. The result is a serene and elegant colour balance.
Finally, in a minimalist bathroom with beige microcement, the details and accessories are essential. Elements such as designer faucets, a simple frameless mirror or towels in neutral tones complete the environment and reinforce the minimalist aesthetic.
Industrial style with beige microcement bathrooms
Industrial-style bathrooms are characterized by their raw, no-frills look, where construction materials are on display and celebrated for their functionality. In this context, beige microcement offers a point of balance and sophistication, bringing warmth and softness to the generally robust and rustic aspect of industrial design.
In industrial-style beige microcement bathrooms, microcement can work well with exposed brick walls, black metal or stainless-steel fixtures, and rustic wood furniture. This contrast between the coldness of the metal, the rough texture of the brick and the warmth of the wood and the beige microcement can create a dynamic and attractive aesthetic.
Complementary colours to consider in an industrial-style bathroom with beige microcement can include shades of grey, black, white, and brown. Incorporating elements in these colours, whether it's tiles, towels or accessories, can help unify the colour palette and strengthen the industrial aesthetic.
Rustic style beige microcement bathrooms
Rustic-style bathrooms evoke a feeling of warmth, comfort and connection with nature, which align perfectly with the aesthetics of beige microcement. Its soft, neutral colour helps create a cozy, earthy vibe that's essential in any rustic design.
The beige microcement bathrooms based on the rustic style can work as a bridge between the modern elements and the more traditional and natural touches. With its smooth and seamless surface, beige microcement adds a contemporary touch to rustic aesthetics, while its earthy colour perfectly complements more rustic materials such as wood, stone or wrought iron.
The beige colour of microcement can also help to soften the texture and robustness of rustic elements, while at the same time highlighting their natural beauty. For example, against a beige microcement floor, a natural stone wall or a wooden sink can become the focal point of the bathroom.
As for complementary colours in a rustic bathroom with beige microcement, earthy tones, such as browns, greens, or terracotta's, as well as creamy whites or even soft blues, can work very well.
Finally, in a rustic-style bathroom, beige microcement can be complemented with furnishing accessories that reinforce this aesthetic, such as wicker storage baskets, mirrors with weathered wood frames, or linen towels. In this way, beige microcement not only adds warmth and sophistication to the bathroom, but also serves as a versatile backdrop that allows rustic details to stand out.
Modern style beige microcement bathrooms
Modern-style bathrooms are distinguished by their simplicity, clean lines, and restrained colour palette, and beige microcement fits this scheme without a doubt.
The modern-style beige microcement bathrooms can function as the ideal backdrop for a subtle and refined design. For example, against a beige microcement floor or walls, modern fixtures and accessories, such as a free-standing bathtub, minimalist stainless steel faucets, or a clean-lined sink, can become the stars of the space.
As for the complementary colour palette, in a modern-style bathroom with beige microcement, grey, white and black tones are a safe choice. However, you can also opt for bolder colour accents, such as blue or mustard, to bring a touch of energy and modernity to the space.
Finally, in a modern bathroom, beige microcement can be combined with contemporary design furnishing accessories, such as round mirrors, geometric pendant lamps or towels in solid and vibrant colours. Therefore, beige microcement not only adds a touch of elegance and sophistication to the bathroom, but also serves as a versatile base that lends itself to various customization options.
Nordic style beige microcement bathrooms
Nordic-style bathrooms combine functionality and minimalism with a cozy touch of nature, and beige microcement aligns harmoniously with this design philosophy. Its warm, neutral hue instills a sense of tranquility and comfort, key features of Scandinavian aesthetics.
The Nordic-style beige microcement bathrooms can serve as a soft and welcoming base that highlights the clean lines and simplicity of the design. They also beautifully complement the natural materials typical of the Nordic style, such as light wood and natural fibres. For example, a light wood bathroom cabinet or a jute rug can stand out beautifully against a beige micro-cement floor.
When it comes to complementary colours in a Scandinavian bathroom with beige microcement, whites, light greys and natural wood tones are safe options. However, you can also introduce touches of soft pastels or greens for a calming and natural effect.
Finally, in a Nordic-style bathroom, beige microcement can be combined with simple and functional decorative accessories, such as natural fibre storage baskets, light-coloured wood mirrors or organic cotton towels.
Accessories and complements for beige microcement bathrooms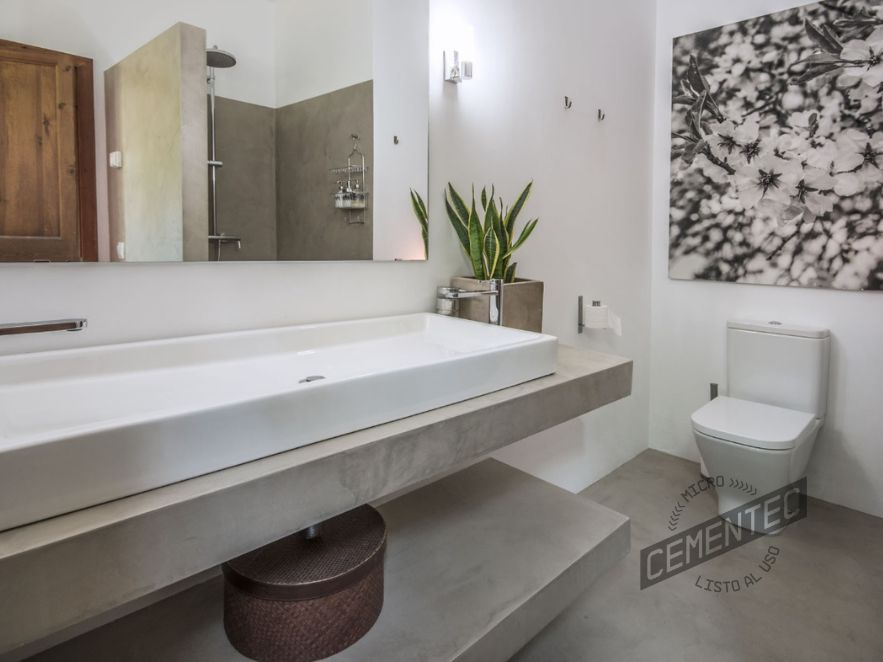 After exploring the styles that you can work with when opting for beige microcement in your bathroom remodel, it is time to delve into the diversity of accessories and complements that you can choose to further enhance the beauty of this coating.
Regardless of the style you prefer, be it minimalist, industrial, rustic, modern or Nordic, these accessories and complements add personality and functionality to your bathroom area. Let's see them!
Taps and accessories
The taps and accessories are essential details that can enhance the style of your beige microcement bathroom. Here are some suggestions:
Taps: A shiny chrome or matt black faucet would be perfect for a minimalist or modern style. If you're going for a more classic or rustic look, antique brass or copper can be lovely options. For a touch of elegance, you could also consider a brushed gold faucet.
Shower accessories: A rain shower head can offer a luxurious and relaxing shower experience, while a hand shower can provide practicality and comfort. Glass partitions can help keep the space open and light.
Decorative accessories: Add your personal touch with accessories such as bathtub trays, bath mats and vases or candle holders.
Furniture and storage
When designing a bathroom with beige microcement, furniture and storage solutions play an essential role in the functionality of the space. Here are some ideas to consider:
Bathroom vanity: For a beige microcement bathroom, consider a wood vanity to add warmth, or a blank one to maintain a clean, minimalist look.
Cabinets and shelves: Wall-hung or built-in cabinets are ideal for storing toiletries, while open shelving offers a visually appealing and accessible storage solution.
Storage baskets and bins: Wicker or rattan baskets can add texture to a bathroom and are perfect for storing towels or bath products. Glass or ceramic containers can be used to store smaller items, such as cotton or swabs.
Seating: If space allows, a stool can be a stylish and functional addition. It can provide a place to sit or place items, and can even serve as a statement piece, depending on the design you choose.
Occasional furniture: Depending on the size of your bathroom, you may consider adding occasional furniture, such as a utility cart to store extra towels and bath products, or a freestanding linen cabinet.
However, if there is a "perfect" combination, so to speak, it is that of microcement and natural wood in the bathrooms. If you want to investigate a little more about it, do not hesitate to visit our previous article in which we talked about its conjunction, advantages and forms of maintenance.
Mirrors and lighting
Mirrors and lighting are crucial aspects that can improve the appearance of your beige microcement bathroom. Here are some examples to keep in mind:
Mirrors: A large mirror can make your bathroom appear larger and brighter. For a modern touch, you can opt for a mirror with geometric shapes. If you prefer a more rustic or vintage style, a mirror with a wooden or aged metal frame can be an excellent choice.
Lighting: You can consider recessed lighting for soft general lighting. For vanity lighting, sconce-style wall lights are a popular choice. You can also add LED strip lights around the mirror for more focused lighting.

Decorative lighting: In addition to functional lights, you can consider decorative lighting to add character to your bathroom. For example, a pendant lamp or wall lights with unique designs can be statement pieces that add style to your bathroom.
Natural lighting: Beige microcement greatly benefits from natural light, as it accentuates its soft and warm tone and helps create a relaxing and welcoming environment.

Mirror and lighting combination: Some mirrors incorporate LED lighting, making them a practical and modern option. These can provide clear, even lighting, perfect for your beauty routine.
Textiles and decorative elements
The choice of textiles and decorative elements can give the final touch to your beige microcement bathroom, infusing the space with personality and warmth. Here we propose some of them:
Towels and bathroom rugs: Opt for towels and bathroom rugs in colors that complement the beige tone of the microcement. White, grey, earth or pastel tones can work beautifully. For a touch of luxury, you can choose Egyptian cotton or linen textiles.
Shower curtains: If your bathroom requires a shower curtain, this is an opportunity to add an eye-catching decorative element. You can choose a simple and elegant design in neutral tones, or add a bit of drama with bolder patterns or colors.
Plants: Plants are an excellent way to bring a touch of nature into your bathroom, bringing freshness and vibrancy to the space. In addition, plants that thrive in humid environments, such as ferns or orchids, are ideal for bathrooms.
Wall art: This can be anything from a fancy painting to a collage of framed pictures.
Decorative accessories: Decorative objects such as vases, candlesticks, trays or decorative boxes can add personality and style to your bathroom. Choose pieces that complement your color palette and decorating style.
Aroma diffusers or candles: Adding items that appeal to the senses can take your bathroom to the next level. Aroma diffusers or candles can infuse your space with calming fragrances, creating a true oasis of well-being.
Conclusions for your ideal bathroom reforms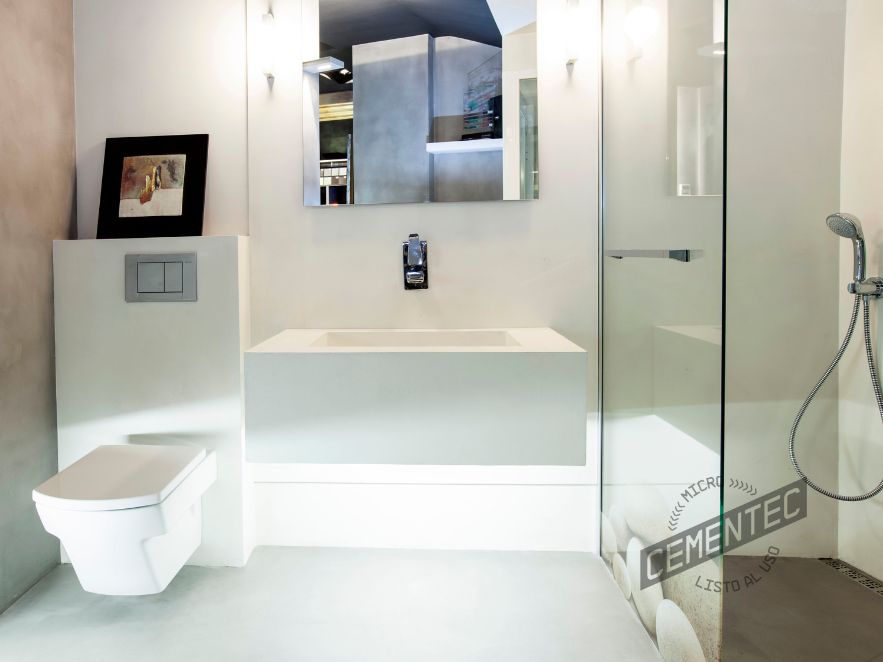 Beige microcement is emerging as an exceptional choice for bathroom remodeling, providing not only elegance, but also versatility and durability. This microcement color, with its soft neutral hue, has the power to create a highly valuable illusion of spaciousness in a bathroom configuration.
The chameleon-like ability of beige microcement to blend and adapt to various design styles makes it an extraordinary resource. Whether you are aiming for a minimalist, rustic, modern or even vintage bathroom, this material will be your faithful aesthetic ally.
Therefore, if you are planning a remodel and want to incorporate an element that combines timeless aesthetics with functionality, we encourage you to explore the potential of beige microcement.
Did you find this article about beige microcement bathrooms interesting? Share your opinions on our social networks and send us your recommendations or results after the application.