Any of us would agree that the bathroom is one of the most important rooms in our home. It's a truly personal space where we often start and end the day, and where we relax and disconnect from the world. Are you considering renovating or installing a bathtub in your home? Once you learn about microcement bathtub, all your doubts will disappear. 
In fact, there's nothing better than preparing a relaxing bath at home after a long day. Filling the bathtub with water, lighting some candles, and waiting for bath bombs to infuse the room with fragrance. For this, it's essential that our bathroom is a comfortable and functional space, while also being stylish. 
Microcement bathtubs are one of the best ways to combine modernity and sophistication in these types of spaces. Indeed, this type of coating is becoming increasingly popular in the construction of bathrooms that seek quality and durability without sacrificing a modern and contemporary touch.
Therefore, Cementec wants to highlight the highly satisfying results of using microcement when renovating your bathrooms, especially when it comes to coating your bathtub with microcement. Stay with us and discover its advantages, the installation and maintenance process, as well as its comparison with other finishes.
Why should you renovate your bathroom with microcement?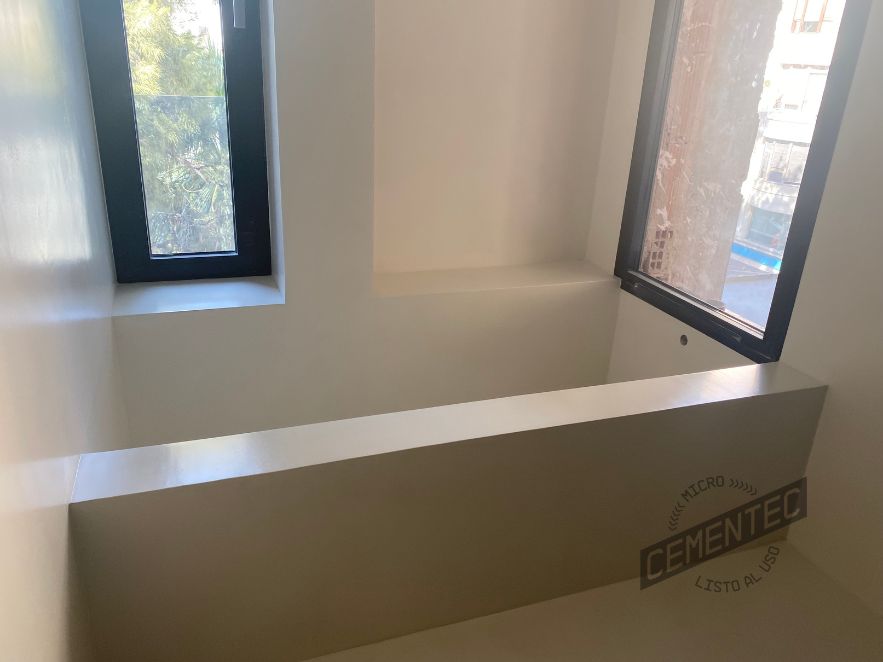 As mentioned earlier, microcement is an excellent option for coating walls, floors, and other elements in the bathroom. Furthermore, Cementec's microcement can adapt to any decorative style, from the most modern and minimalist to the classic or rustic ones.
The possibilities for customizing your bathroom and, specifically, customizing microcement built-in bathtubs according to your preferences are endless. You can design the unique, cozy, and serene space you have always dreamed of.
However, if you still need more information on the subject and want to discover the key differentiators of this material, don't hesitate to check out what we consider the 5 reasons to renovate your bathroom with ready-to-use microcement.
Advantages of microcement bathtubs compared to acrylic or cast iron bathtubs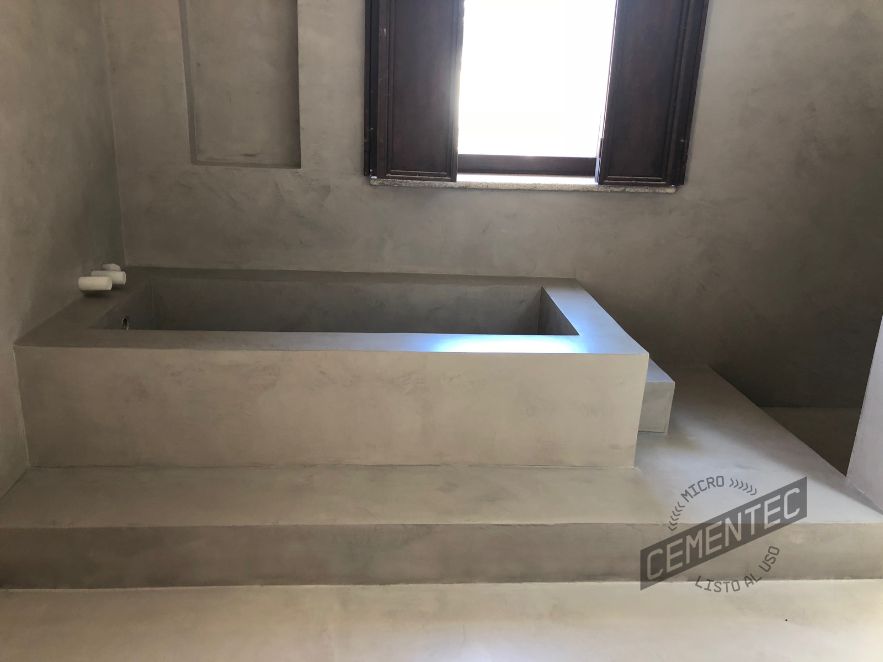 There are several differences between a microcement bathtub and one made of traditional materials such as cast iron or acrylic. Below, we will analyze some of these differences point by point and emphasize the advantages that arise from the analysis:  
Guaranteed Resistance: Using ready-to-use microcement is associated with high resistance to impacts, scratches, or chemical products compared to acrylic or cast-iron bathtubs. This is achieved by applying a protective surface varnish to the microcement, such as Finish Forte Plus. Additionally, coating bathtubs with microcement clearly prevents the appearance of rust and corrosion when in contact with water, thanks to Cementec's Water Resistant finish. 
Effective Installation: The speed and convenience associated with coating existing structures will save you time, money, and avoid debris. Therefore, if you have an unused bathtub and want to give your bathroom a fresh look, coating the bathtub with microcement is the best option compared to the complexity of choosing cast iron or acrylic bathtubs.
Easy Maintenance: Forget about the specific maintenance requirements of other materials. Just make sure not to use strong or corrosive chemicals and abrasive tools for drying your microcement bathtub. Perform regular maintenance and use water or mild products for cleaning.
Limitless Personalization: Microcement built-in bathtubs can be customized to adapt to any decorative style and bathroom design. You can choose the size, shape, and color that you prefer. On the other hand, acrylic and cast-iron bathtubs often come in standard sizes and limited shapes, and cannot be customized in terms of color.
How to create a microcement bathtub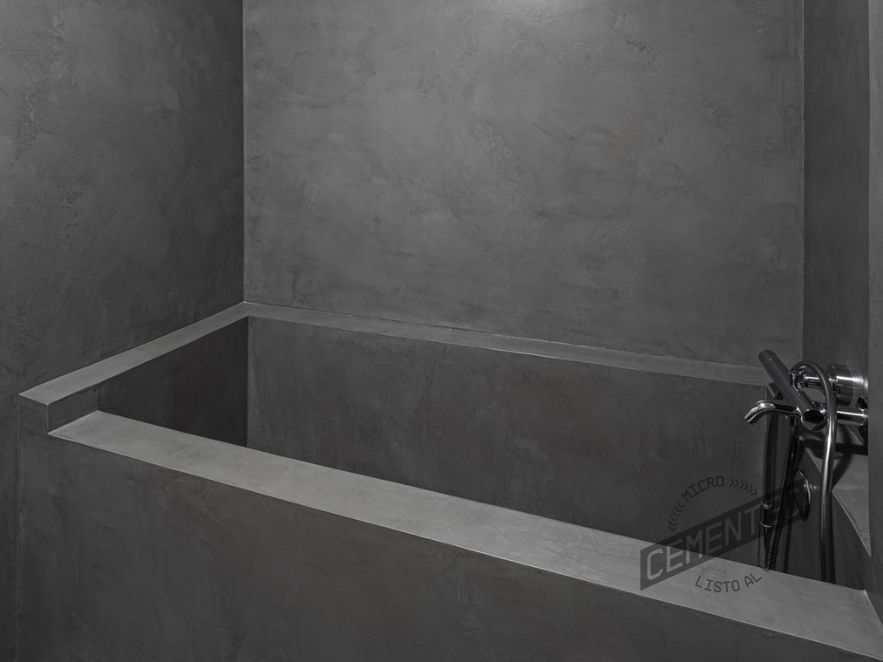 The installation of a microcement built-in bathtub is a meticulous process that should be carried out by a professional applicator with expertise in the subject. Cementec has experience in multiple bathroom coatings, so we can speak from experience when it comes to defining how to create a microcement bathtub under optimal conditions.
However, for those adventurous individuals who want to attempt the application process themselves, here are a couple of summarized tips to simplify the matter:
The installation process of a microcement bathtub should always begin with proper workspace preparation. Make sure the area is clean, level, and free of dust.
Then, proceed with the application of microcement, applying the necessary layers and performing subsequent sanding.
Finally, if you want to ensure the durability of your bathtub, apply a sealing coat to protect the surface.
Not convinced by microcement bathtubs? Introducing microcement showers
If we still haven't convinced you, another option when renovating your bathroom is to choose microcement showers. Discover this alternative furniture option for your bathroom and learn about the main differences to complete the decoration of your space according to your envisioned style.
Enter and discover microcement showers!
Did you find this article about microcement built-in bathtubs interesting? Share your opinions on our social media and let us know your recommendations or the results after application.