Do you want to renovate your bathroom in the latest fashion and are you looking for the ideal material for the renovation of the shower? Perhaps in recent days you have been researching on social networks like Instagram or Pinterest trying to find inspiration to carry out the change in your bathroom and maybe you have seen disparate styles such as: rustic bathrooms, classic bathrooms, vintage bathrooms, modern bathrooms… However, in all of them you can find a common element: the microcement showers.
The shower tray of microcement has became in one of the options most aesthetic and functional on the market. Why? Basically, because it is a decorative coating that after its application generates resistant surfaces against blows, impacts and humidity; along with durable surfaces and highly aesthetic qualities.
That's right, artistically ready-to-use microcement is capable of turning the showers into one of the most beautiful and remarkable architectural elements of the home. Being able to attract the attention of anyone who visits the bathroom of your beautiful home.
In fact, the demand is such that Cementec has decided to dedicate an exclusive article to the usefulness of continuous surfaces in this type of area. Discover the advantages of installing a microcement shower tray and learn about other ideas for applying ready-to-use microcement in your bathroom.
Come on, your renovation cannot wait!
Advantages of ready to use microcement showers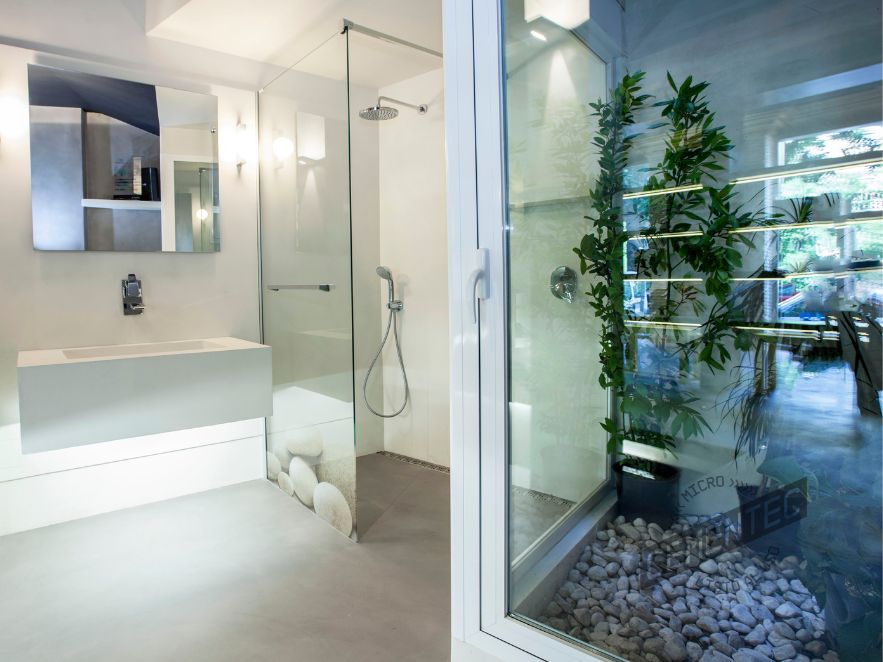 The microcement is a continuous and decorative coating that adheres to different surfaces without the need to carry out works or generating debris and achieving high-quality aesthetic changes, in any type of interior housing renovation (bathrooms, kitchens, bedrooms, etc.), exteriors (facades, gardens, etc.) as well as in office areas or large surfaces.
Specifically, and going into depth, microcement is a smooth, polished, extremely durable and waterproof coating, which is available in a wide variety of colours, textures and finishes. Something that makes it the best option to cover a shower tray capable of adapting to any decorative style.
Next, we will tell you what are the main advantages of implementing a microcement shower tray in your home or business and the benefits that will lead you to opt for this material in your renovation.
Easy cleaning and with no bacteria Easy
Everything is easy! The surfaces covered with this material have a series of components that facilitate quick cleaning. Indeed, these continuous and smooth areas favour the non-accumulation of dirt, the non-appearance of humidity and, above all, the reduction in the probabilities of the appearance of bacteria.
However, the use of the Cementec Limp product is recommended when cleaning the coating, in order to avoid wear or stains.
Waterproof features
Wet areas? Nothing resists the ready-to-use microcement. Its resistance to wet areas or direct contact with water make it the material par excellence for covering showers.
Don't worry if you are one of those who likes taking a nice hot shower and delight it for as long as it takes. Cementec Water Resistant finish incorporates extra protection for this type of surface, in the same way that it confers non-slip properties to the area.
Get ready, because your shower tray will be on another level.
Durability and resistance to hits of microcement shower
The bathroom, and especially the shower, is an area that is very prone to receiving impacts because on many occasions, we are wet due to the personal hygiene and we proceed to pick up any object. Don't worry about it. The ready-to-use microcement is a very durable and resistant coating against external abrasions (as long as they are not with sharp or extremely heavy objects).
The durability of this material compared to others is due in part to its acrylic components, which give it a unique combination of hardness and elasticity. In addition, you can add Cementec Finish Forte Plus, a 100% waterproof high-solid polyurethane varnish that is resistant to many uses. Do it and you will get extraordinary results.
Versatility for floors and walls
Watch out! The best of all is that microcement as a decorative coating can be adhered to surfaces with different textures in the same way that it can be applied on walls or floors of your shower. Did you know that?
However, when it is applied on a shower tray, it is also recommended to do it on the adjoining walls, because in this way there is no possibility of leaks and a watertight area is achieved and prepared to withstand water without any problem.
Customization limitless
What if we told you that you could recreate the bathroom of your dreams by installing microcement showers, would you believe us? Customised your renovation according to your tastes, necessities and appreciations. Choose, as we have previously commented, between different textures and colours, and design a long-lasting bathroom.
However, after discussing on all these benefits, remember that, despite the fact that microcement is easy to apply, its installation is always recommended by professionals who know the subject or certified applicators.
They have the ability to achieve the desired finishes, the technique to achieve full adherence, as well as knowing the application process perfectly, make them even capable of reducing renovation times.
Beyond microcement showers: discover other ideas for applying microcement in bathrooms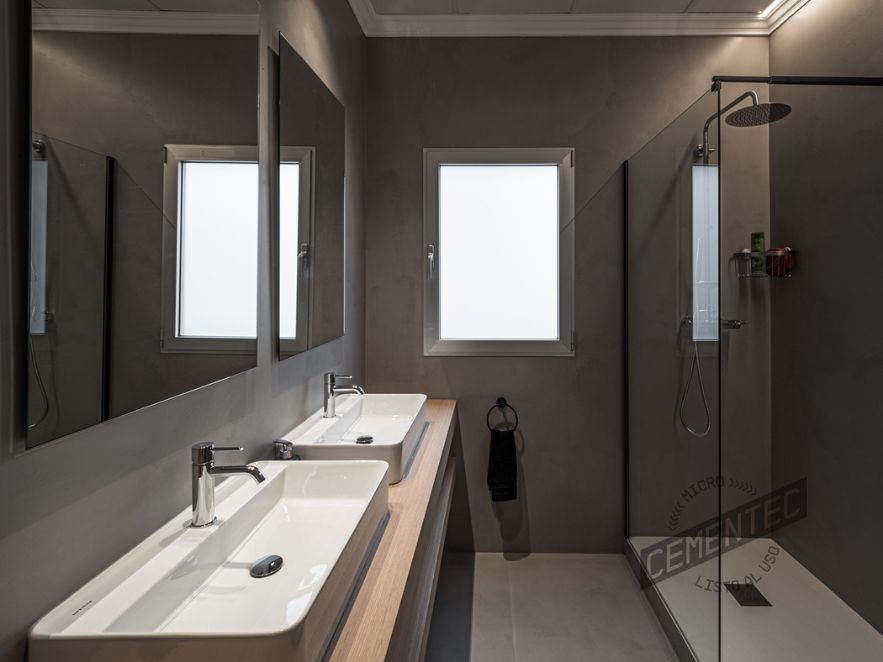 To end up, we would like to mention the different places or areas where we can use ready-to-use microcement and show you the reasons why you should renovate your bathroom with this material. In fact, we talked about it in a previous article that we copy below.
There are many ways, but Cementec leaves you some ideas, beyond the microcement shower tray, to complement your bathroom with a unique and exceptional material. These are the areas of the bathroom that you can cover with microcement:
Microcement shelves.
Microcement washbasin.
Microcement walls and floors.
There is no area that can resist ready-to-use microcement!
Did you find this article about microcement showers interesting? Share your opinions on our social networks and send us your recommendations or results after the application.