Welcome to the exciting world of decoration, where creativity has no limits and where the search for innovative furniture is a constant! In this exciting search for aesthetic perfection, one of the many options that has captivated design lovers is the microcement table. Versatile and modern, this unique piece has the power to enhance the functionality and elegance of any space in your home, but more specifically, in the areas of your living room or outdoor garden.
Microcement tables are much more than just furniture. Although they have gained popularity in recent times, there are still many people who are unaware of their incredible potential to beautify homes and are unaware of the advantages they offer over traditional furniture.
Do you wonder why these tables have taken centre stage in decoration? Don't worry! In this article, from Cementec we will explain the benefits, applications and aesthetic utilities of microcement tables and why they are the ideal choice for your living room or garden.
Are you interested in the theme? Do not miss everything we have to tell you!
Microcement furniture: Microcement table coating process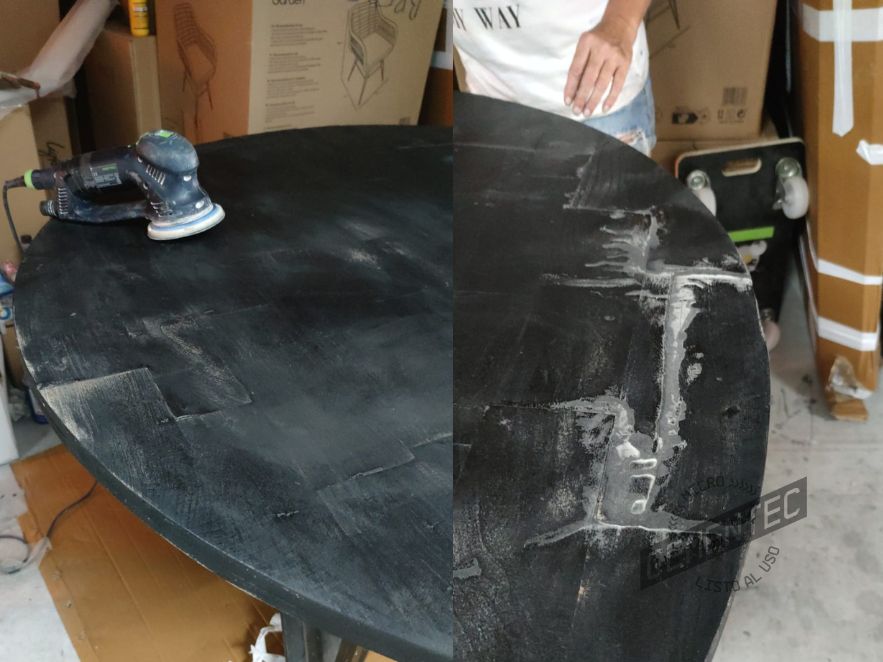 Microcement furniture is the result of a meticulous process that blends craftsmanship with the use of advanced technology. Therefore, the process to obtain a microcement table begins with the choice of a solid and resistant structure, which will serve as the base for its subsequent covering.
Normally, this structure can be made of wood, metal or other old but resistant materials. Once the base of the table to be covered has been chosen, the next step will be to create the surface that is used as a "table". This process consists of the following steps.
Microcement table covering
Preparation of the surface: Make sure that the table is completely clean, free of dust and grease, to guarantee optimal adherence of the microcement. This stage is essential to achieve a flawless and long-lasting finish.
Application of 2 layers of microcement: By using specialized tools, a first layer of microcement is applied on the prepared surface. Once dry, a second layer of microcement is applied, this time with greater precision, to achieve an even smoother and more homogeneous surface. Also, during this process, colour pigments can be incorporated into the second layer to obtain the desired tone that fits the style and decoration of the space.
Microcement polishing: With specific machinery and meticulous skill, the surface of the microcement table is polished. This step is crucial to achieve a smooth and shiny texture, enhancing the beauty of the microcement and creating a durable and attractive finish.
Microcement sealing: To protect the table surface against moisture, stains and daily wear and tear, a special sealant is applied. This product also enhances colours and provides a lovely, durable finish.
The result of this meticulous process is a microcement table, an authentic jewel of design that has become an increasingly popular option due to its ability to adapt to various decorative styles, both inside and outside the home.
How much does a microcement table weigh?
One of the frequently asked questions is usually how much does a microcement table weigh. The weight of a microcement table can vary depending on various factors, such as its size, design, and the thickness of the microcement coating applied. However, in general, micro-cement tables tend to be lighter than traditional tables made of heavier materials such as solid wood or stone.
Compared to a wooden table, for example, a microcement table of the same size and design can be considerably lighter. This is because microcement is a lighter material compared to wood, which makes it easier to transport and manipulate the table.
In addition, the internal structure of the table can also influence its final weight. Some micro-cement tables may have a lighter base, such as metal frames or composite materials, further reducing their overall weight.
In general terms, a standard size microcement table for a dining room can have an approximate weight of between 30 and 60 kilograms, although this value can vary depending on the individual specifications of the design and the materials used.
It is important to mention that, despite being lighter compared to other types of tables, microcement tables maintain their solidity and resistance. Thanks to the durable and robust nature of microcement, these tables are able to support the weight of everyday objects and provide a stable and functional surface for various activities.
Types of microcement table
As previously mentioned, microcement tables are a versatile and modern option that adapt perfectly to various styles and needs. Therefore, below we present some of the most common types of microcement tables that you can find.
Let's see them!
Microcement dining table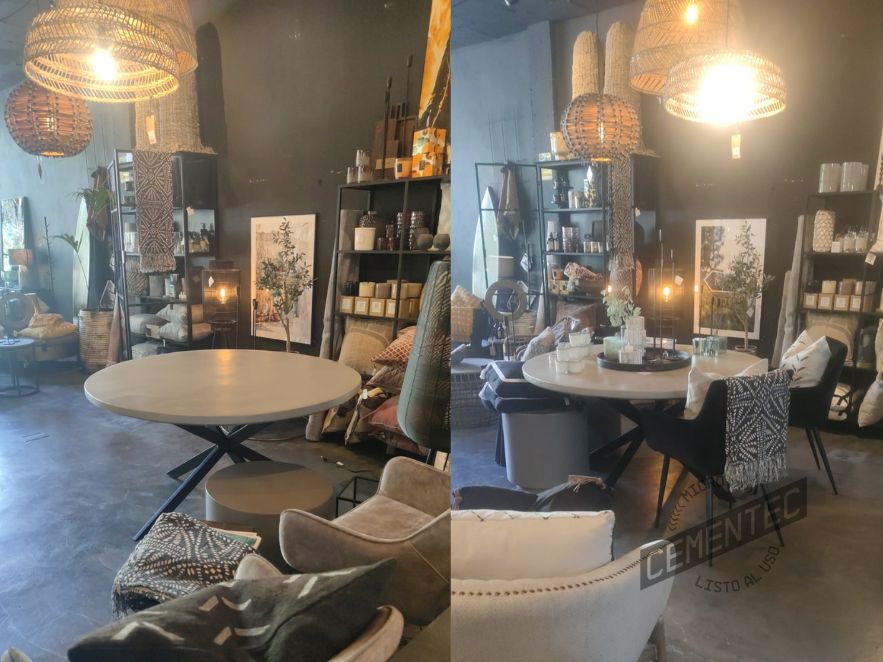 The microcement dining table is a fascinating option for those looking to combine style, functionality and durability. These tables are the centre of attention in any dining room, providing an environment to enjoy meals with the family or dinner with friends.
They can be found in a wide variety of shapes and sizes, which allows them to be adapted to different spaces and decoration styles. From rectangular, square to round tables, each option brings a unique and charming character to your dining room.
In addition, microcement is a robust and easy-to-clean material, ideal for daily use in the dining room, where food or liquid spills can occur.
Microcement side table
Within the living room itself, there are other types of functional and stylized pieces that bring versatility and elegance to any corner: microcement side tables. These little decorative gems have become must-haves in modern decor, adding a contemporary touch while serving a number of practical functions.
They can be placed next to the sofa, in the living room, next to the bed, in the bedroom or even in the hall. You will find them in various shapes, from square, rectangular to round or oval tables, each design has its own charm and adapts to different tastes and decorations. They provide a stable surface to place decorative objects, lamps, books or even a cup of coffee.
Outdoor microcement table
If we think about our outdoor area, the outdoor microcement tables are an ideal option to create a meeting and relaxation space in your garden, patio or terrace, giving you the opportunity to enjoy the outdoors with a modern and sophisticated touch.
One of the main advantages of outdoor microcement tables is their resistance to adverse weather conditions. Microcement is a material that withstands exposure to the sun, rain and other elements without deteriorating, which guarantees that your table maintains its beauty over time.
In addition to their functionality as an outdoor dining table, these tables can also function as an additional surface to place decorative objects, plants or even as a support for a barbecue or entertainment area. You'll find them in a variety of shapes and sizes, from rectangular and square tables to round or oval.
Microcement bar table or microcement bars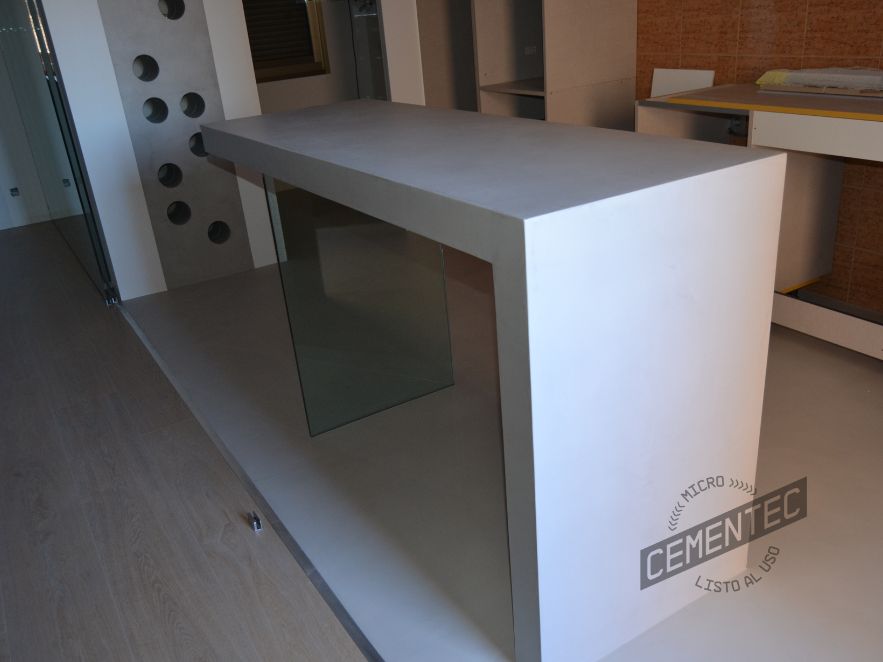 Finally, microcement bar tables or microcement bars are a more than convenient option to create a bar-like environment or leisure area in your home or to use them in your business.
These tables often have a higher height than conventional tables, making them the perfect place to enjoy cocktails, appetizers or just to chat while standing. Likewise, these bar tables can also integrate practical shelves or compartments to store bottles, glasses and accessories, keeping everything, you need within easy reach and organized.
Dare to create an exceptionally designed bar that will captivate all your guests!
Advantages of microcement tables compared to traditional furniture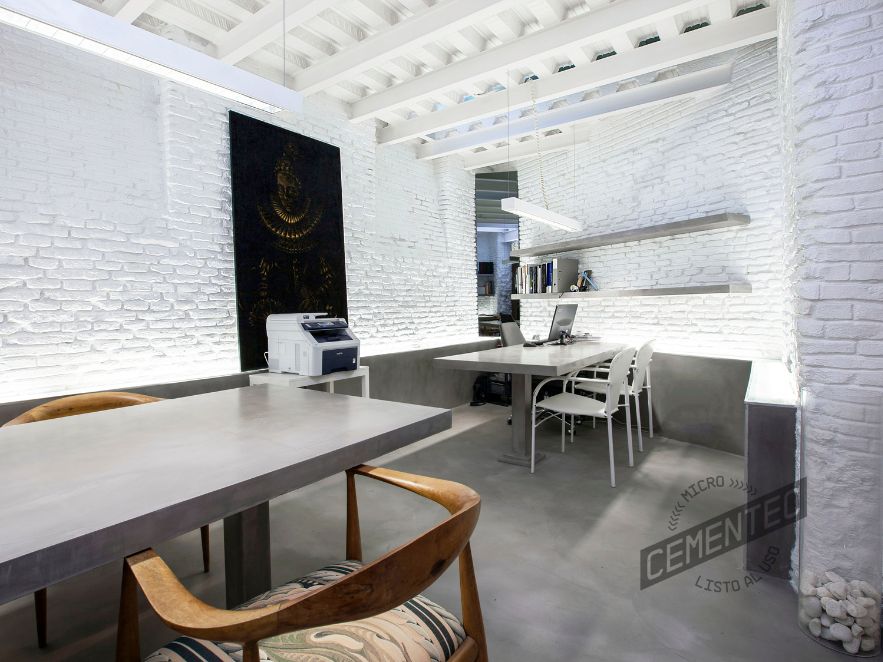 Indeed, microcement tables offer a series of significant advantages compared to traditional furniture, which makes them an attractive and functional option for furnishing your home. Next, we will explore the main advantages that make these tables a superior choice:
Durability and resistance: Microcement is known for its high durability and resistance, which guarantees that the tables maintain their appearance and functionality for years under moderate or normal use.
Personalized design: You can create unique and customized pieces that adapt perfectly to each space and reflect your style and personality.
Contemporary aesthetics: It integrates perfectly with various decorative styles.
Low maintenance: Its smooth, non-porous surface prevents stains from easily accumulating, and a damp cloth and mild soap is enough to keep it spotless every time.
Tips to integrate your microcement table in your living room or garden
So, to get the most out of your microcement table, consider these tips to integrate it harmoniously into your living room or garden:
Complement with natural materials: Combine your microcement table with wooden chairs or natural fibre cushions to create a warm and welcoming environment.
Play with textures: Add decorative elements such as rugs or centrepieces that provide texture and contrast with the smooth surface of the microcement.
Adequate lighting: Consider adequate lighting to highlight the beauty of the microcement table and create a cozy and elegant atmosphere.
Incorporate vegetation: In the case of outdoor tables, add plants and pots to give life to the space and connect it with nature.
Conclusions
To conclude, if you are considering incorporating a microcement table in your home, we recommend that you seek expert advice on the application of ready-to-use microcement. A specialized team will guide you in choosing the most appropriate materials and designs to create a table that becomes the centre of attention in your space.
Enjoy the elegance, resistance and unique charm that microcement tables can bring to your home. More and more people are opting for this avant-garde option to give a modern and sophisticated touch to their decoration. They allow endless combinations with other decorative elements and fit into any style, from minimalist to rustic.
Dare to take a step into the future of interior design and discover the potential that a microcement table can bring to your home! From the dining room to the garden, this unique piece will offer you an incomparable aesthetic and functional experience.
Did you find this article about the microcement table interesting? Share your opinions on our social networks and send us your recommendations or results after the application.