Ready-to-use microcement is currently the most widely used decorative coating in most bedroom renovations. Personal rest rooms require special treatment and dedication, so if you are thinking of applying microcement in bedrooms, you are in luck, because it is a versatile and easy-to-apply material that will allow you to obtain, broadly speaking, an elegant and sophisticated finish at an affordable price.
And this, how can be possible? Because this coating is made up of a mixture between acrylic resins and mineral aggregates to which other additives and complements are added to improve the properties and competitive advantages associated with it. It can be applied directly to any type of surface, it does not generate debris, so it makes microcement the ideal material par excellence.
So, the rooms with microcement are resistant, durable and easy to maintain. Its versatility and flexibility allow it to be applied both on floor and walls, as well as creating a wide variety of finishes given the infinite colour range of colours that can be chosen depending on the area or decorative style.
Discover why ready-to-use microcement has become the favourite material for users, architects and interior decorators. Its technical and aesthetic qualities will allow you to renew your area in a very short time.
A safe value that we are going to analyse next.
Are you going to miss it?
Advantages of microcement in bedrooms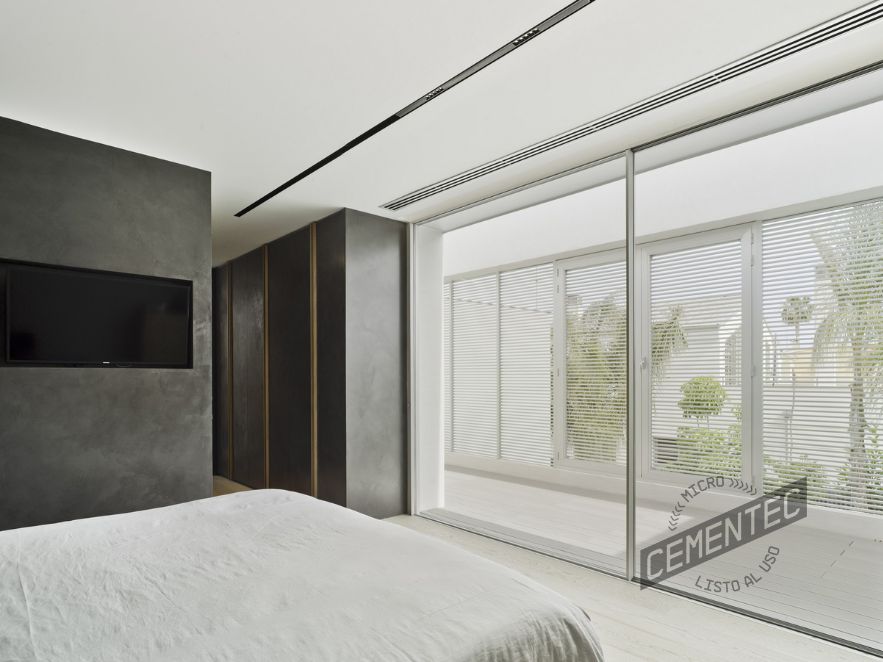 Go deep and learn from Cementec, what are the main advantages that can be useful or beneficial when opting for rooms with microcement.
Get a modern and minimalist aesthetic
The smooth finish of the microcement makes it the perfect option for those who seek to obtain a modern and minimalist aesthetic in their bedroom renovation. If you are tired of typical renovations and are looking for an alternative to wooden or tiled floors and "gotelé" walls, choose ready-to-use microcement and its uniformity.
Apply microcement in the easy way that you have seen
We say it before but, don't you find it really interesting that this material can be applied to other surfaces? However, you must follow the technical specifications referred to in the products themselves and the recommendations regarding their application on surfaces such as wood or metal.
The possibilities it opens behind you with the ready to use in your bedroom are infinities. Take advantage of its resistance to water or humidity to also use it in outdoor areas or in rooms such as the kitchen or bathroom. Don't miss other previous articles in which we talked about the advantages of microcement in kitchens or the reasons why you should renovate your bathroom with microcement.
Combine with different textures and add colour to any type of decorative style
How many times have you fantasized about the room of your dreams? Now, applying microcement in your bedroom is possible. Adapt to any decorative style thanks to our wide variety of finishes and textures. Combine with other types of coatings or materials to create a unique, identifiable and magazine area.
Resistance guaranteed and ease of maintenance with microcement in bedrooms
Coating the rooms with microcement provides an easy maintenance never seen before. Especially if you apply the products that we recommend from this article.
The product Manten of Cementec it's an aqueous natural wax designed solely and exclusively for the maintenance of ready-to-use microcement. If this is complemented with the Cementec Limp product, which is ideal for cleaning coatings, the resistance to wear, stains and splashes will be extended for a long time.
You will only have to worry about cleaning with a damp cloth over the coated surface. Everything is easy as we said, don't you think so?
Microcement do not harm the environment
In line with and to further emphasize everything that we have stated above, the rooms with microcement are totally ecological. Why? Because it is a completely natural material that does not harm the environment and also… It is reciclable!
No debris and no construction work
Yes, exactly, as you read it. The adherence of the ready-to-use microcement to any type of surface avoids having to carry out prior works and, therefore, debris to renovate your bedroom or any room in the house.
Assuming this, a double effect: On the one hand, you save time and processes when it comes to renovation your rest room and on the other hand, the economical difference becomes latent with respect to the choice of other materials.
In conclusion, microcement is an optimal option for those looking for a contemporary, versatile, ecological and durable finish in their bedrooms. With its resistance to water, cleaning easiness, versatility in design and a wide range of colours and finishes, you will achieve unique customization and exclusivity.
Colours and finished in microcement rooms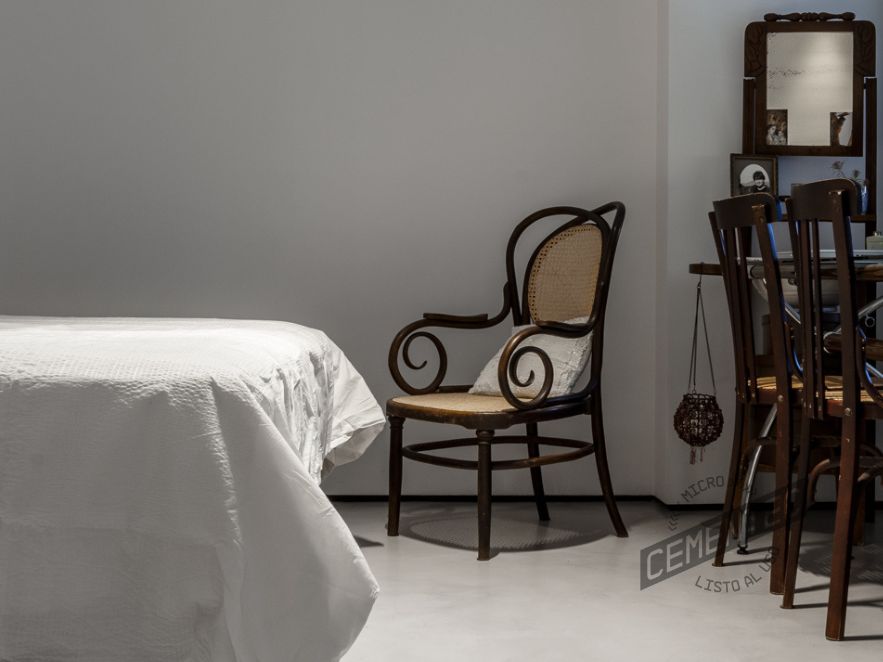 Simultaneously, when we talk about the usual chromatic range of colours in most bedrooms, the use of pastel colours is recurrent to create relaxed environments, in the same way that the use of more vibrant tones to create dynamic environments.
However, the infinite possibilities offered by microcement in bedrooms and the selection of colours when mixing these with finishes and textures is very attractive.
Discover the colours that we propose to decorate your rooms with microcement!
From artic grey to stromboli grey
From a lighter grey to the darkest shades of grey available at Cementec. Grey is one of the neutral colours that are most easily adapted to any area, providing a feeling of warmth and modernity to the renovation.
We also recommend artic grey for large, open rooms, while stromboli grey or any other slightly darker grey in our range for smaller bedrooms.
Off-white
Cleanliness and purity. Do you consider that you have a small room? Do you want to adopt a minimalist style in your bedroom? Off-white in your room with microcement will give you a feeling of spaciousness and light that when combined with wood or other colours will recreate a unique look.
Versatility within the reach of any decorative style.
The elegance of black microcement colour in bedrooms
By the same token as white, the black colour is a chameleon colour with all decorative styles. Perfect for modern, sophisticated areas and always in search of elegance. Combine it to highlight certain walls or furniture in your bedroom.
Beige: from grove butterfly to tofee
The sand colour that evokes the Mediterranean. For those bedrooms with large windows and in which the sun illuminates the room most of the day. Always combine it with light tones (white or light grey). Beige in its different shades is the colour that evokes peace, order and relaxation.
Microcement rooms with flashy colours
Are you keen on vibrant colours? Don't worry, we like them too. Everything will depend on the type of decoration you want to opt for or the type of effect you want to achieve in your room.
For example:
Maroon: Add energy to any space. Create a warm atmosphere. Combinable with light tones such as off-white or beige.
Baltic Blue: Calm and relaxing colour. A colour that welcomes you and embraces you in the room. Equally combinable with light colours.
Olive: A real "must" and one of our favourite colours. The necessary punch of a striking colour with the elegance of a pure colour. It is ideal!
Conclusions to use microcement in bedrooms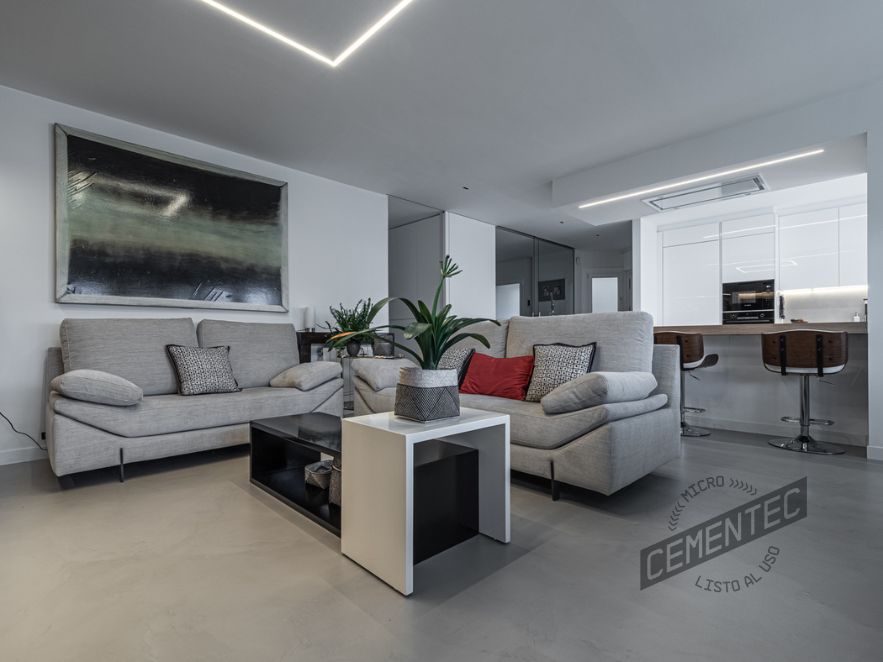 To sum up, microcement is an excellent option to coat your bedroom walls and floors due to its durability, resistance and easy maintenance.
Furthermore, its versatility allows to combine with different colours which makes it an ideal option to create customized and unique areas. The colours will help you to produce a relaxing environment or a more powerful one, depending on your preferences.
Remember that microcement has to be applied by experienced professionals to guarantee a correct application and a high-quality finish. Trust on professionals as we have in Cementec!
Did you find this article about rooms with microcement interesting? Share your opinions on our social networks and send us your recommendations or results after the application.