Made of inorganic pigments, Microcement Ready-to-use can show off a wide chromatic colour and texture array that offers according to the desired results or the surface you want to cover. Specifically, and in comparison with other pigments, white microcement offers more attractive and out of a magazine look.
So, this white decorative coating is used mostly on housing or premises indoor areas. It is common to find it in kitchens, bathrooms or low light rooms at home. However, and although it seems to be a "dirty" colour, is long lasting and water proof. That is why its use outdoor has spread on pools and terraces.
If you are looking for an option to complement or stand out part of the minimalism or modern style of your renovation, white microcement is the ideal option or material to achieve it. Furthermore, we remind you that it has a very easy application and its price is less than other coatings like marble.
In this way, Cementec wants to comment which are the advantages to choose this colour instead of others, and also the keys to choose it in your renovations without the needs of construction work neither generating debris. Are you interested in white microcement? If so, do not miss all that we come to tell you below.
Find out the 4 keys to choose white microcement to your project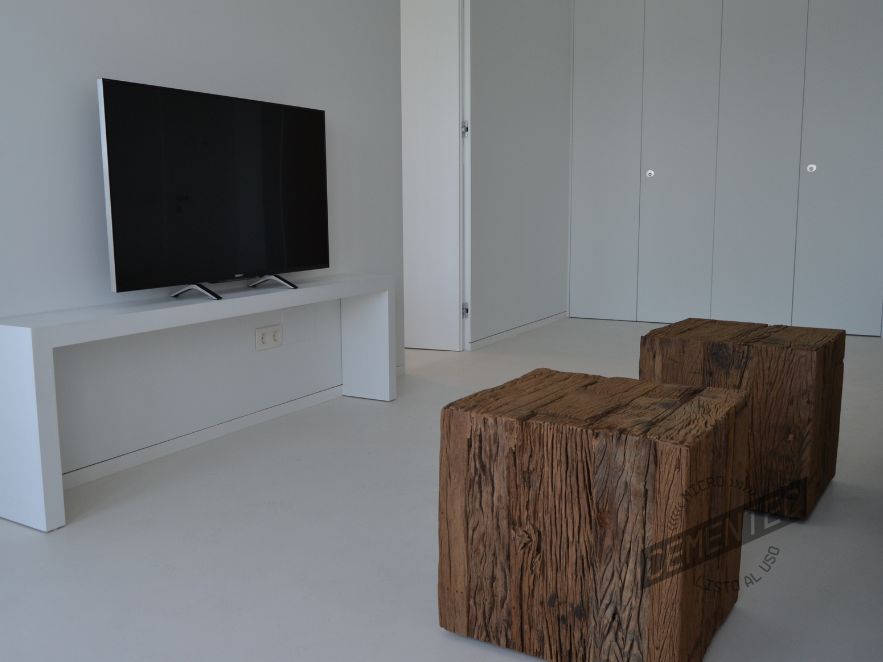 Before anything else, and after knowing that you are going to use microcement ready-to-use in your renovation, you must consider which microcement colour you are going to use it. It is something that has to be in line with your desired style and the particular conditions of your house or premises.
However, going for white microcement will allow us to take advantage of 4 added keys that we will following detail to you.
Which room are you going to renovate?
There are some specific and ideal areas to apply this microcement in white colour. For instance, bathrooms, kitchens, living rooms, etc. and also outdoor walls and pools. Why is it used this colour there? Because it gets to thoroughly match with the rest of elements.
Is the area to be renovated small?
White colour will provide spaciousness having, visually speaking, the feeling that your room is bigger. On the contrary, when you apply dark colours on big size rooms, this will create a feeling of privacy and comfort because the size of the room will perceptibly reduce.
Are you looking for a minimalism look? White microcement is ideal
This style is defined for using a limited and reduced colour array. Black, grey, beige or white colours are chosen because of its peace and quiet feeling. Likewise, white microcement is well known in the modern style, due to that its mixture with other flashy colours provides fresh and warm feeling.
Is the room natural light enough?
If not, applying white microcement on walls can result beneficial. In addition, which are the most used colours in your room? Is the furniture of light or dark shades? Do not worry, White colour is the one that best combine with everything!
Advantages of choosing white microcement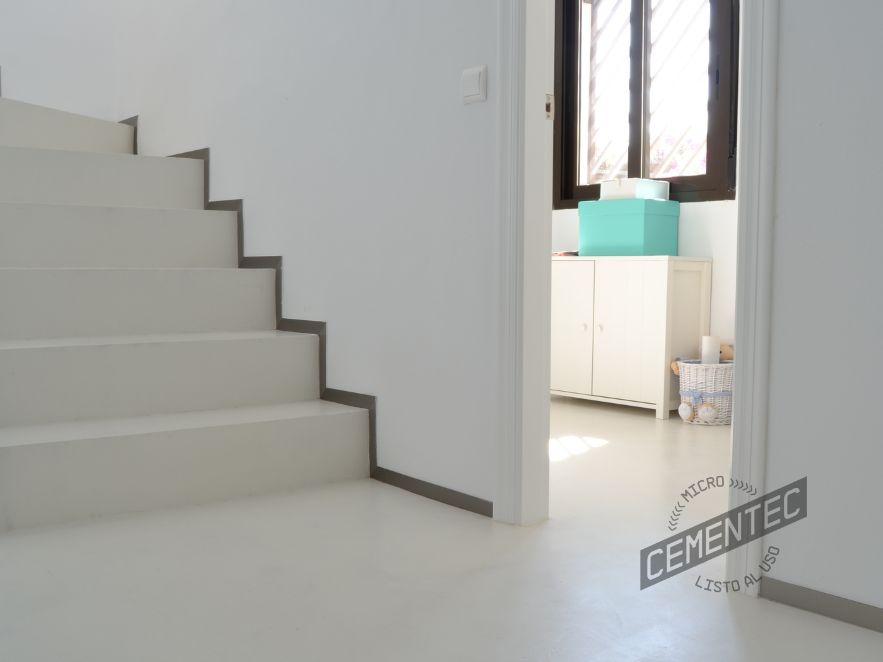 The color white, always associated with purity and elegance, is also related to cleanliness and efficiency when it comes to talking about microcement. Used for both wall and floor coverings, it is the ideal prototype of the minimalist trend, although it is also used in modern, industrial, or Nordic styles.
Are you aware of its advantages? If not, discover the advantages of white microcement for your renovation. What virtues does this colour hide behind each layer?
Aesthetics: White microcement can adapt to any decorative style thanks to its modern and elegant aesthetics. In addition, it provides a continuous feeling of spaciousness and brightness in the rooms as it does not require expansion joints.
Durability: You may be surprised, but white microcement is easy to clean. It also requires minimal maintenance due to its resistance and durability against daily wear and tear, all under normal conditions of use.
Versatility: Apply it to almost any type of surface, whether vertical or horizontal: walls, floors, ceilings, countertops, etc. Combine it with other materials such as wood, glass, steel, etc. and achieve completely personalized results!
Ease of application: Remember that white microcement is a type of ready-to-use microcement pigment. Therefore, applying this coating is quick and easy, without the need for any construction work or floor lifting. This colour preparation is also one of the simplest among all the options.
Not convinced by white? Discover the 5 trending colors in interior decoration
If, on the contrary, you believe that white is not for you or your renovation does not align with everything previously mentioned, Cementec has written an article about 5 trending colours of microcement in interior decoration.
Do not hesitate to read it, especially if you are one of those intrepid and daring individuals who want to go one step further in your renovations. In it, we talk about the 60-30-10 rule when choosing microcement colors and the possibilities of color customization that we offer at Cementec. 
Did you find this article on the 4 key aspects of choosing white microcement for your spaces interesting? Share your opinions on our social media and let us know your recommendations or the results after application.