Have you already opted for microcement to make your project? But are you still undecided of which colour you want? Are you looking any recommendation or advice to help you choosing the colour based on surface or area?
You ARE in the RIGHT place! From CEMENTEC, we suggest to discover the most used microcement colours, as well as how to apply them based on different areas, in order to maximize the effectiveness and efficiency of this decorative coating, which is more used by interior designers by the minute.
Its versatility and its chameleon-like ability to adapt to all styles of decoration allows to create unbeatable decorative finishes in every area. In just 4 steps, you can easily apply microcement.
Do you bring yourself to know microcement colours?
Microcement colours: Beyond greys and white
If we make the question about, which microcement colours do you believe are most used to decorate different areas? Surely, greys and white would be the first colours that would come to your mind.
This is because those colours are directly linked with the cement strictly speaking, and, you are not wrong, due to those microcement colours are the most used. However, microcement colour array goes beyond and it will strongly depend on clients taste and preference or the decorative style where it is going to be applied.
Putting all this together, from CEMENTEC we want to face this current topic offering what we called 4 keys to choose microcement colours.
4 keys to choose microcement ready to use colours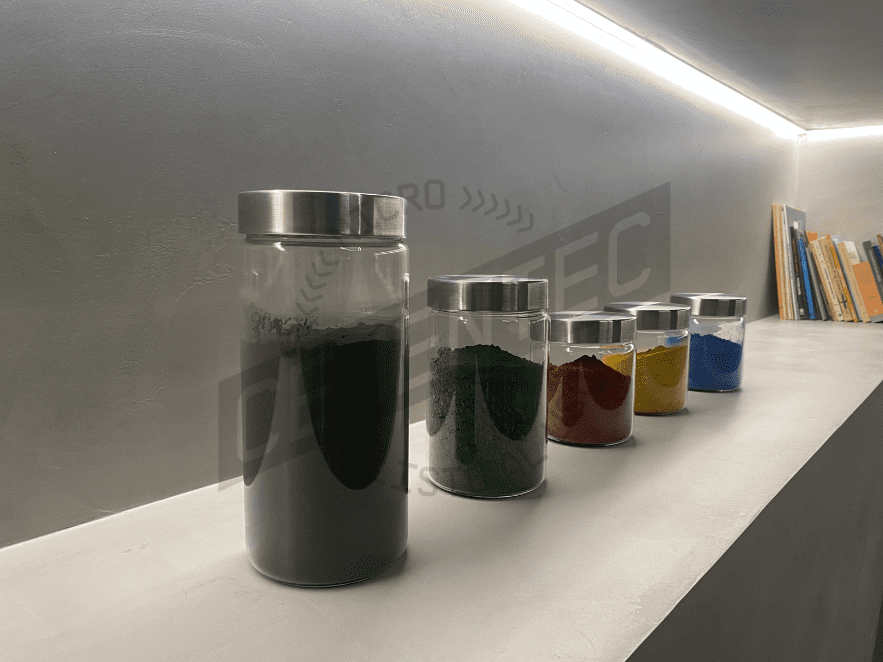 What should we have into consideration? Is there a specific colour per area? No, there is not. However, we should make a prior analysis of the features of the area which is going to be decorated to choose the most suitable microcement colour array
Get ready and discover our 4 keys to choose microcement colours!
Which type of light illuminate your room?
Is our room to be renovated exposed to a natural light or not? Is it a room with too many points of artificial light or does it only have those that are necessary?
If we have an area exposed to the sunlight at different times of the day, we recommend the use of dark colours or tones, on the other hand, if it is a room with intermittent natural light, it is better to use less saturated colours and therefore, more faint tones.
When it comes to artificial light, everything will depend on the type of bulb or the colour of light it emits. For example, if you are going to use cold LED colours in the room, you have to take into account that these reduce the intensity of the colours. On the contrary, the warm LED lights will accentuate and enhance the colours of the microcement.
Use 60-30-10 rule when it comes to choose colours
Do you know the 60-30-10 rule? This bases its theory on the recommendation to use a maximum of 3 colours when decorating a space, being able to include a fourth colour on rare occasions as long as one of them is considered a neutral colour.
So how would the 60-30-10 rule be applied in regards to the colour range of microcement? Taking a room in its entirety as 100%, the 60% of said space must correspond to a base colour, the 30% to a complementary colour to the first and the remaining 10%, to a colour that accentuates or that stand out from the rest.
Don't you find it really interesting?
How big is the room or room where the renovation is to be carried out?
Is the area to be renovated large or small? The dimensions of the room are another of the factors that will mark one type of choice or another.
While using dark tones reduces the space considerably, there is the trick of using microcement in neutral or light colours to favour the visual amplitude of the space in those small rooms.
Likewise, let us not ignore what was said in the previous points about the properties of microcement when it comes to reflecting or enhancing natural light, thus making it an ideal material when adapting to the specific circumstances that we require.
Colours depending on the environment or the quarters to change
Each area or room requires a different style or application. It will not be the same to decorate a bedroom than a kitchen or a bathroom. Nor it will be the same, applying this material to our home than doing it to our offices. Don't you think that each room requires its own consideration?
To illustrate, in the case of bedrooms, we recommend the use of warm and soft colours to create an atmosphere of relaxation, rest, tranquillity or calm.
If we think of a children's playroom, at CEMENTEC we would opt for more intense and vivid colours, to give strength and joy to the room.
Finally, for offices, companies or for those more industrial styles, we cannot ignore the greyish or black tones that usually combine and stand out with other more remarkable colours in the room which provides a more balanced personality.
5 trending microcement colours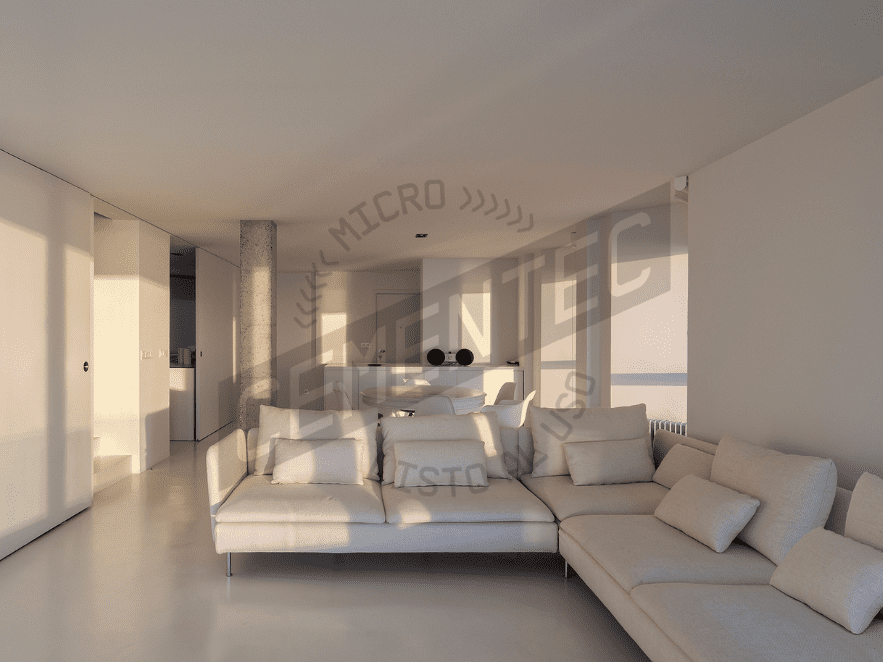 If you still do not have clear your choice, we will below reveal the 5 microcement colours that set trends in the market when it comes to decorate interior and exterior rooms.
Get the most out of this type of decorative coating! Provide your own identity with the selection of colours for your renovation with CEMENTEC.
Microcement Wengè
Brown? Yes, Wenge Brown is a sober and elegant colour par excellence, which will bring a sophisticated touch to the different areas of application in your home. We recommend its use in living rooms, dining rooms or large rooms.
If you finally opt for Wengè microcement to be used on the wall, do it in those rooms with high ceilings and nice sunlight, combining it with less intense tones on the walls such as white, beige or grey. In addition, you can use the contrast that can also be produced with brightly coloured decorative elements.
Microcement Baltic Blue
Do you want to apply an industrial touch but you are not interested in the greyish tone? Among the different options, Baltic Blue is highly versatile due to its great adaptation to different styles.
Perfect for floors, ceilings or walls, the Baltic blue microcement will enhance the diaphanous style given its ability to reflect light. Being a perfect colour that matches with wood, leather or iron furniture and easy to combine.
Microcement Linen
Tired of the typical white colour? We introduce you the Linen colour. A colour that, like white, shares its luminosity, timelessness, versatility and ability to adapt to different media or decorative styles.
Linked to purity, order and simplicity, linen microcement is totally combinable with natural or wood fibre materials, as well as raffia. This colour can be applied to any room and even outdoors (pool area etc.)
Microcement Grove Butterfly
Do you like the beige tone? From CEMENTEC we carry the Mariposa Grove, our tone that combines the aforementioned and is a complete success in the commitment to a minimalist decorative style.
Among its virtues, the butterfly grove microcement is ideal on the walls to avoid aseptic and shiny looks. It combines with both cold and warm colours and fits in any type of room, whether with a traditional or modern environment.
Microcement Sand
The last but not for that, the least relevant or used. The Arena colour will provide you with such harmonious finishes that it will be able to blend in with the rest of the elements in the house.
Ideal for combining with organic materials such as stone and wood, sand microcement will give a cosy tone to the room. It can be used on walls and especially on floors, complement it with natural fibre carpets or warm colours.
A completely success if your room has many plants!
Customize your microcement colours with CEMENTEC ready to use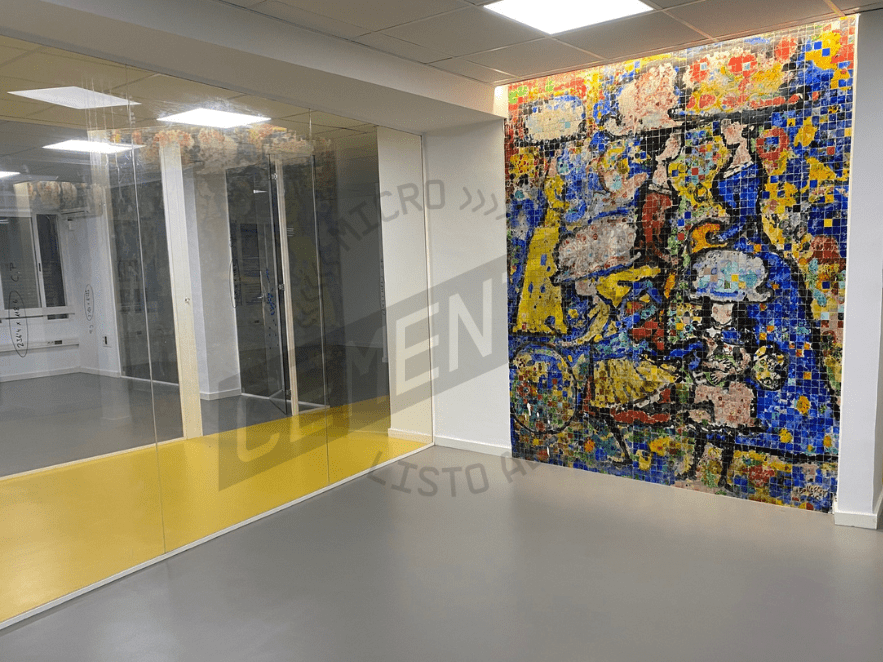 And if this seems little to you, at CEMENTEC we offer the possibility of customizing all types of colours that you need for your renovation. We do not put any limit. Choose the colour that you like the most!
And as the saying goes, for tastes, colors.
Did you find this article interesting about the 5 microcement colours most used in decoration? Share your opinions on our social networks!