Imagine the feeling of immersing yourself in your own pool, surrounded by the pure essence of white in all its corners. Visualize yourself in an oasis of relax in your own garden, where the crystal-clear water blends with the dazzling white coating that surrounds its walls. It is an amazing feeling, right? Above all, you can afford it more than you think. If you are looking for inspiration about pools in white microcement, you came to the right place.
In this article, we will explore the wonderful world of white microcement pools, an option that has captivated the hearts of lovers of contemporary design and sophistication. Discover together with Cementec, how white microcement can transform your outdoor space into an incomparable paradise, full of style and beauty.
Does this interest you? Well, join us!
White microcement, a true canvas for your creativity
White microcement is an exceptional material that offers a wide range of possibilities to create unique and surprising pools. Its clean and pure appearance acts as a blank canvas, giving you the freedom to unleash your imagination and creativity.
The recurring thing is to opt for a minimalist and modern design, where white microcement becomes the undisputed protagonist, although you can also incorporate decorative elements to add personality and style to your aquatic oasis.
The versatility of white microcement allows you to play with shapes, textures and colours, achieving a striking visual effect that will leave everyone amazed. Learn about the 4 keys to choosing white microcement in any of your rooms, in this previous article that we leave you here and that you should not miss.
Why choosing microcement for pools?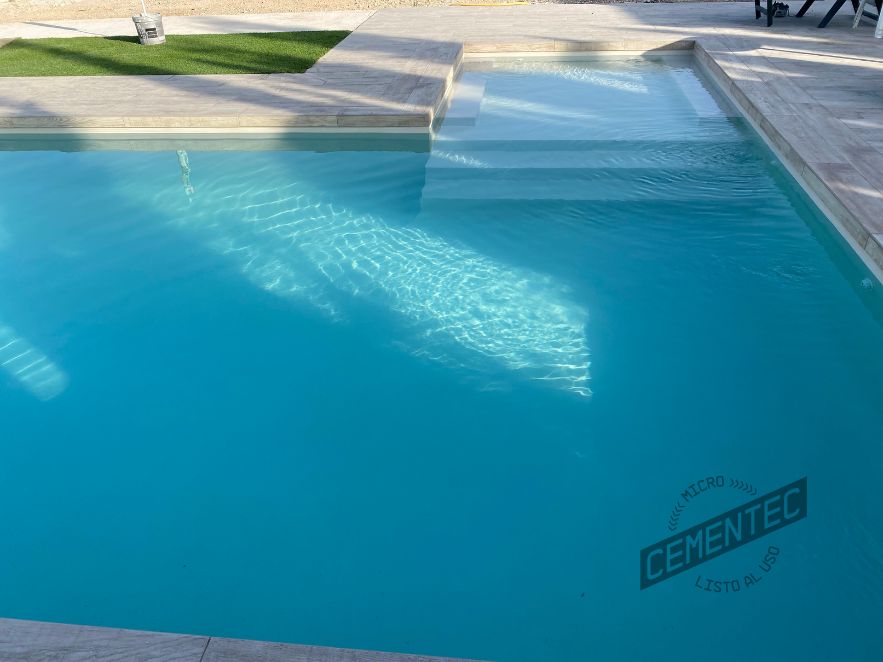 Microcement became a popular choice to coat pools due to its benefits. Find below some reasons to choose microcement for your pool:
Sleek, Modern Aesthetics: Its smooth, seamless finish creates a uniform, minimalist look that's perfectly suited to today's modern designs and architectural styles.
Versatility in design: Ready-to-use microcement offers a wide range of design and customization options. In addition, its application can be done on different surfaces, such as concrete, tiles or ceramics.
Durability and resistance: Microcement is a durable and resistant material. With the application of complementary products, it can be made waterproof, which prevents problems such as water seepage or the appearance of cracks, and is capable of resisting the chemicals used in pool water treatment.
Easy maintenance: Microcement is easy to clean and maintain compared to other pool coatings.
Pleasant to the touch: It is not slippery or abrasive, which makes it a safe and comfortable option to enjoy the pool with bare feet or wet feet.
Efficient Application Process: Reduces construction time and hassles associated with installing a pool.
If you want more information about these and other advantages, do not hesitate to consult the section on our website in which we talk about microcement pools.
Creating contrast: White microcement pools in fusion with other materials
One of the most impressive ways to enhance the beauty of a white microcement pool is to combine it with other materials. Using this contrast between the smooth white microcement finish and elements such as wood, stainless steel or natural stones can create a surprising and unique aesthetic in your pool.
For example, consider a wooden deck that surrounds your pool, creating a warm and inviting atmosphere. The combination of white microcement with wood offers a perfect fusion between the natural and the contemporary, creating a space for absolute relaxation. In addition, you can add ceramic pots in earth tones and lush plants to further accentuate the connection with nature.
Another option is to incorporate stainless steel elements, such as railings or details on the edge of the pool. This combination of materials creates a modern and sophisticated look, highlighting the shine of the white microcement and adding a touch of urban chic to your outdoor space. Likewise, stainless steel is strong and durable, ensuring longevity and easy maintenance.
Finally, if you are looking for a more rustic and natural style, consider the use of natural stones on the edge of the pool. The contrast between the softness of the ready-to-use microcement and the rough texture of the stones creates a fascinating visual effect. We recommend using stones in warm tones, such as travertine or slate, to create a relaxing and timeless environment. In the same way, natural stones are resistant to water and offer an organic appearance that integrates harmoniously with the surrounding nature.
Lighting paradise: The importance of playing with the lights in your white microcement pool
Lighting plays a fundamental role in enhancing the beauty of white microcement pools, especially during the night hours. Carefully planning the lighting will allow you to create a magical atmosphere and highlight its unique characteristics.
Whoops! Consider installing underwater lights that illuminate the water from within. These submerged lights will highlight the shine of the white microcement and create a dreamlike effect. You can opt for LED lights in white or blue tones to achieve an elegant result or for lights in yellow tones to obtain a relaxed and warm atmosphere.
Also, don't forget to add strategically placed lights around the pool. These lights will highlight the edges and contours of the pool, creating a highly sophisticated look. You can also play with different colours of lights to create different environments depending on the mood you are in.
Landscaping and decorative elements: Enhance the beauty of the enviroment
Landscaping plays a crucial role in integrating your pool with the surrounding natural environment. Planting trees, shrubs and flowers around the pool softens the boundaries between the structure and nature, creating a cool and calm environment in your garden.
Choose plants that are suited to your area's climate that add colour and texture to the landscape. Also, consider installing grass around the pool to create a green space that invites rest and contemplation.
Decorative elements also play an important role in customizing white microcement pools. These additional details can reflect your style and add a unique touch to your outdoor space.
For example, you can install a waterfall or fountain at one end of the pool to add movement and soothing sound to the environment. Another option is to incorporate sculptures or art pieces that provide an interesting and creative focal point.
In addition, outdoor furniture and accessories contribute to creating a functional and comfortable space around your pool. From elegant loungers to outdoor dining sets, choose pieces that suit your needs and style. Don't forget to add cushions and pillows for extra comfort and to add a touch of colour to your space.
Conclusions: Create your own aquatic paradise together with Cementec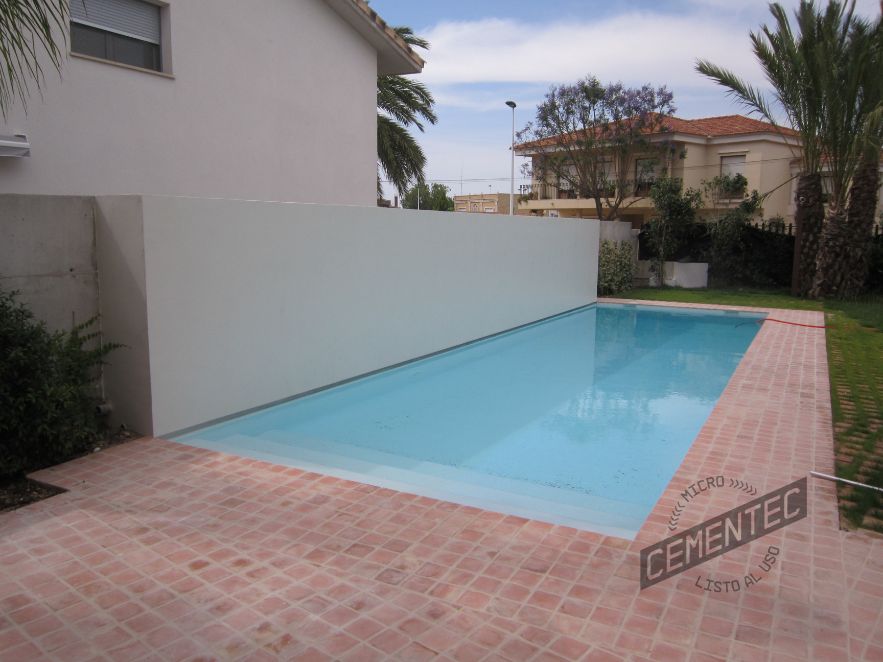 To sum up, white microcement pools are much more than just aquatic areas. By combining white microcement with other materials and incorporating strategic lighting by areas, you can create a unique and customized environment in your garden.
Explore the possibilities offered by white microcement and be inspired to design your own paradise. It doesn't matter if you prefer a modern, rustic or contemporary style, white microcement will adapt to your preferences and provide you with a pool that reflects your style and personality.
Remember that it is vital to hire a specialized microcement applicator to design and carry out your white microcement pools. These professionals have the knowledge and experience necessary to guarantee an impeccable and lasting result.
They will also advise you on choosing the best materials, colours and finishes to achieve the exact result you want based on your area. Trust Cementec Pool and get a pool that gives you unforgettable moments of enjoyment and relaxation.
Did you find this article about white microcement pools interesting? Share your opinions on our social networks and send us your recommendations or results after the application.