Does vintage style catch your eye? Have you felt the experience and pleasure of enjoying a room with vintage-style decoration? If you are one of those who would like to transfer to your renovation, the inspiration of those bathrooms or rooms that remind you of your childhood or decorations from decades past, vintage-finish microcement can offer you the perfect solution to what you are looking for.
The coating "vintage" has the quality of being a material with presence and style, which never goes out of style and which gives an air of distinction and uniqueness to all kinds of renovations. We can affirm that it is, certainly, the vindication of our past in the most recent present.
That's right, if before we needed elements such as furniture, textiles, objects or colours to evoke the past, now we can adopt the retro or old style from the starting point. How? Making difference in reference to microcement colors and classic finishes. Doing it by choosing an ancient or vintage coating for our walls or floors, mixing with all the elements previously commented.
For all this, Cemetec is going to give you the necessary notions and the reasons to choose the microcement vintage finish in your next reform or work. Do not miss what we have come to tell you in this blog article.
A unique microcement with personality
Without a doubt, the vintage coating is not a type of microcement aimed to everybody. This is because it has a very marked and particular personality. If you consider yourself a lover of rustic decoration, this type of microcement finish may fit perfectly with you.
It is true that, to understand this finish, the misuse of definitions or nomenclatures must be taken into account. What does this mean? It means that it is not the same to talk about old decoration as retro decoration or vintage decoration. Let's know, below, the reason of their differences.
Differences between old decoration, retro decoration and vintage decoration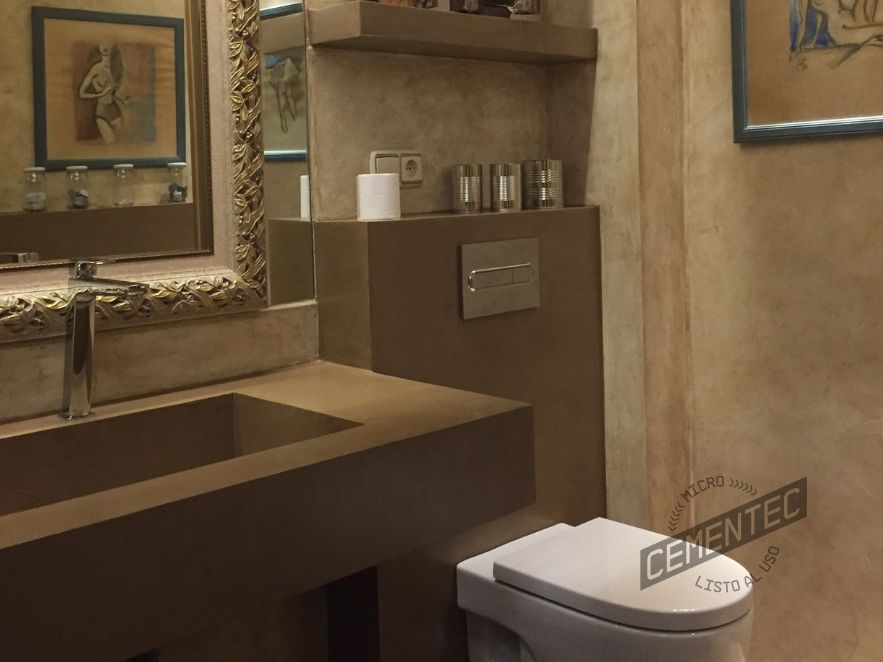 You will have sometimes heard of the vintage finish as if it were a type of decoration in the old or retro style, but, nevertheless, they are not exactly the same. Although the vintage style can be combined with other types of styles (Nordic, romantic, retro, antique…) and it is somewhat indefinite as well as open, the truth is that it has some particular characteristics.
For example, when we talk about the term "older" or the "older style", we do it of those decorations whose characteristics refer to past times. It is easily recognizable because it is used antique and high value furniture, texture and materials supplemented with 100-years old antiquities typical of collectors.
On the one hand, in reference to retro style decorations, it is important to include all these rooms that have been decorated with new manufacturing objects but inspired on the antique. That is, objects which imitate styles and furniture of old times, providing a type of nostalgia touch but made in the present.
On the other hand, the decoration with vintage stile is the latest style or trend. It could be confused with retro, but the difference is that, while vintage decoration uses elements, pieces or original furniture from the past, not in the retro style, since imitations manufactured to date are used.
Likewise, to understand the difference between the older style and the vintage style, the second one uses second-hand or 100-years old renovated furniture. For example, if we make a Cementec Vintage application and we also add bed sheets, cushions and carpets typical from the 80th or 90th, we will be betting for a vintage style.
How to apply vintage microcement finish?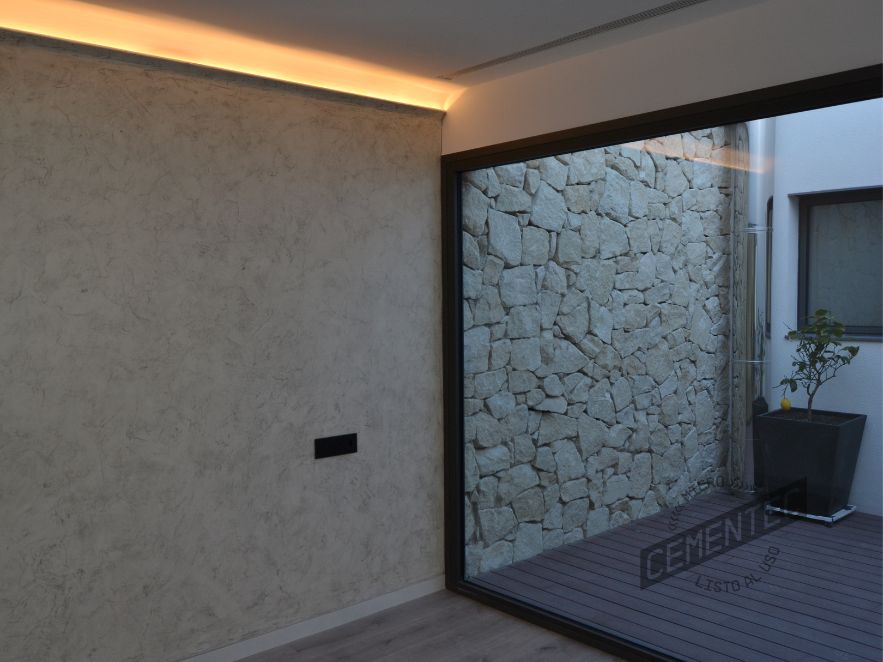 Cementec vintage coating is applied in a very simple way. This type of ready-to-use microcement finish is characterized by the singularity and technique with which the applicator provides the old and modern touch to the texture.
The microcement application process is the same as in the rest of the products, with no apparent changes until we get to what concerns us, the finishing coat. At this time, a technique developed by our team is used, through which, simulating a mop and a coloured cleaning, this unique aesthetic is achieved.
In addition, we can obtain a coating more patterned or textured, that is, more coloured. Or, on the contrary, dilute and focus the background from a much lighter work and with few marks. Everything to our clients taste or following the recommendations of the applicator, but always trusting us.
However, if you think that your style fits into the union of different aesthetics, or if it adjusts to other parameters, Cementec do not close the door to other currents of microcement finishing, read about them here!
Vintage colour array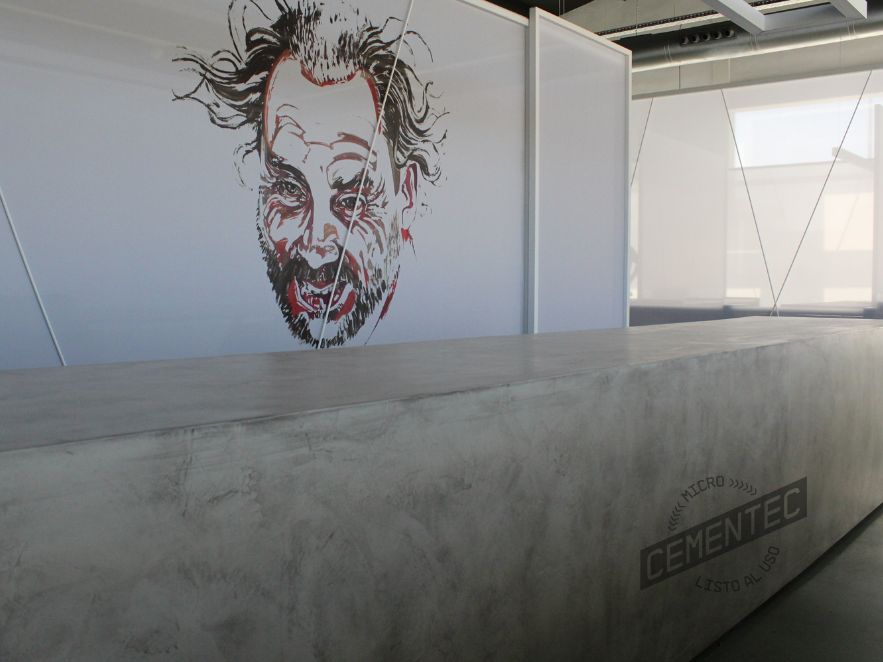 Finally, we do not want to miss the opportunity to tell you about the versatility of the colour line that this type of style can offer you. Opting for vintage-style decoration means that both the colour and the texture that can be created with this vintage coating are totally different from the rest of the microcement coatings you have seen before.
The originality to generate unique, ideal and distinguished area is within your reach. Opt for colours in your renovation such as: warm sand (sand), winter sea (Baltic blue), soft moss (turquoise), old wall (camel) or asphalt (black).
Start your reform with us, choose Cementec!
Did you find this article about the microcement vintage finish interesting? Share your opinions on our social networks and send us your recommendations or results after the application.