Could you say what type of materials and processes your project needs? You ask yourself, what is the best way to plan your renovation? When carrying out an organized and profitable planning, it is essential to know and apply the decorative coatings that best suit the needs of the surfaces where it is applied. As each space has its uniqueness, they require a decorative cement or another.
In the market, we can find a wide variety of high-performance materials or coatings. However, not everyone is capable of creating spaces that, at first glance and due to their qualities, make a difference. In fact, few of them have one of the main advantages of the material that we are going to describe today: Decorative cement eliminates the need to carry out expensive renovations or projects, as well as avoiding the generation of debris.
Renovating any area has never been so quick and easy. The absence of joints, added to the possibility of applying the coating on any type of surface or support, make it a continuous coating that avoids renovations with deadlines for completion.
Let's dive in and learn a little more about it!
What is the decorative cement? Is the same than ready-to-use microcement?
At Cementec, we are specialists in ready-to-use microcement and this is a state-of-the-art type of decorative cement. A material whose application is compatible with any type of surface: Tiles, marble, plasterboard, tiles, stoneware, ceramics… And even wood.
Its thickness is around 2-3 millimetres and does not imply any affectation to the structural load of the surfaces. It is resistant to abrasions, impacts, wear, foot traffic, humidity, running water or sunlight.
Changing the appearance of one of your rooms will be a matter of days. Use it both indoors and outdoors. On terraces or pools, on walls or floors. Any type of environment, at your fingertips: Minimalist, industrial and rustic. Available in different Colors, something for which it is considered a decorative coating.
Advantages of decorative cement, an upward coating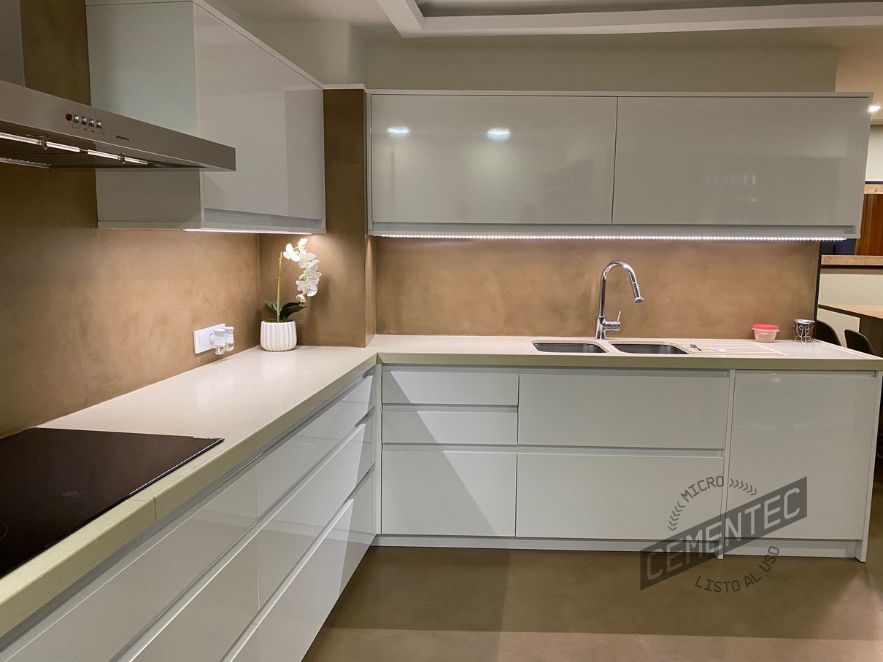 If for some reason we have specialized in this type of material, it is because ready-to-use microcement is experiencing an upward trend. Its versatility and qualities make it the favourite choice of architects and interior decorators due to the advantages of decorative concrete that we will refer to below.
Versatility: The various aspects of decorative cement are used for everything
Versatility to guarantee aesthetic continuity. The peculiarity of not having expansion joints gives this material the amplitude, luminosity and uniformity that many others cannot offer.
This is so, in most spaces the combination of materials abounds. Wall and floor coverings of different styles, such as: Parquet on the floor and plasterboard on the walls. Now, why do we have to think of two materials when we can decorate both surfaces with one?
Resource optimization withe decorative cement: You experience savings in labor and time
Getting to the middle ground is always the goal, but it's not always easy to achieve. Optimizing resources and adapting them to your money and time is something that you can achieve with decorative cement.
An aspect that does not imply, in any case, the loss of quality of the coating.
Adaptability to the new decorative trends
A range of infinite possibilities. Greater adaptability to new decorative trends, due to its different textures and variety of colours. Visual contrasts and styles that our Cementec applicators are used to carrying out in each of the projects that are presented to us.
Resistance against foot wear, humidity or temperature changes: Hardnesss and durability to the hands of decorative cement
The microcement ready to use is the material for exceedance. This type of decorative coating confers, the ability to resist abrasions, scratches and imperfections that end up arising over time as a result of wear.
Likewise, high temperatures do not affect the walls or the coated floor. You will not find any type of discoloration (although light colours are recommended for exteriors where the sun's rays are directly affected) or yellowing under the effects of sunlight. Making this material the ideal option for outdoor spaces such as gardens, terraces or facades.
In the same way, the interior spaces will not be affected in any case by the structural load of the pavement. And, its capacity against humidity and resistance to water, makes it possible to use microcement in rooms such as the bathroom or kitchen.
The application of decorative cement leads to the absence of debris in the reform or work
We have left the greatest of advantages for last. Perhaps, the one that we find most identifying and unique in the use of this material. The ready-to-use microcement allows any type of coating, renovation or work to be carried out without the detriment of having to generate debris in it.
Doesn't it seem like something more than valuable as a finishing option?
The winter trend for this year: Using decorative cement as a surface coating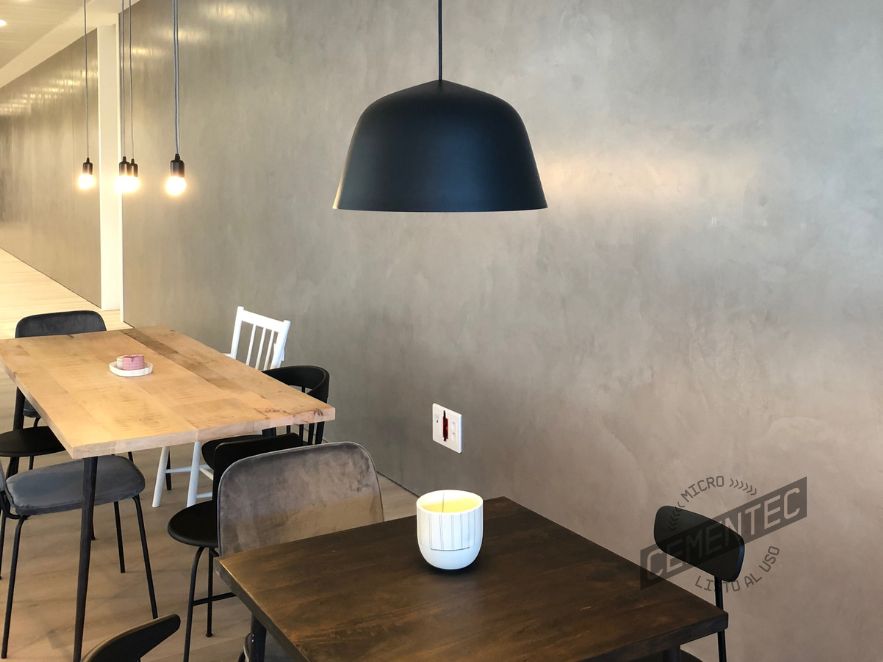 Trends are something that is marked by the market and the moment. But if we are sure of something, it is that the time of year in which more home and business renovation are carried out is during the autumn and winter seasons.
Added to this, from Cementec we can also affirm that ready-to-use microcement is the decorative concrete that has been chosen by interior designers as the fashionable coating to use during this year. Either for its ability to generate bright and pleasant environments or for the tranquillity and comfort associated with them.
Why is microcement ready-to-use in fashion?
Indeed, the qualities that have led it to achieve such a status or position are:
Generation of contrasts by combining textures and colours. This year you must bet everything on the mix. Decorative concrete allows you to be able to play with its finishing aspects and achieve extraordinary results within the reach of very few. As for the colours, during this winter neutral and soft tones such as white, beige or grey will dominate.
Minimalism to promote cleanliness and purity. Always less, it has been more. And if we want to create an area in which we feel complete, Cementec coating will make you feel at home.
Presence of nature, wherever you look. Natural materials, such as wood, stone or wicker, are several of the materials that have a leading role in interior decoration. And do you know the best of all? They are totally complementary materials to ready-to-use microcement. Both of them will be able to enhance the natural light of your home.
Do not hesitate to choose our decorative cement!
Did you find this article interesting about decorative cement as the winter trend when it comes to creating unique spaces without debris? Share your opinions on our social networks!