What does your home mean to you? It is the place in which we take refuge, right? Our house combines the area in which we can be ourselves and, at the same time, it acts as a wall to protect us from external issues, in one way or another. For this reason, it is essential to find the perfect decoration that allows us to provide the necessary warmth and harmony to the home. If you are looking for a combination of materials that gives your rooms a unique, differentiating and welcoming style, the microcement and natural wood duo make up the perfect tandem.
Wood is a highly recognized material by all. In fact, it is present in all its aspects, in most interior finishes or decorations. Providing, as a main characteristic, a feeling of peace and warmth in any room or area, thus guaranteeing our comfort.
In addition, microcement is a decorative coating that gives sophistication to any type of project. The continuity offered by this element and the ability to achieve seamless wall and floor finishes make it the ideal material to combine with wood in the search for personalization and adaptability to our ornamental tastes.
Find out, along with Cementec, why the combination of microcement and wood represents a unique, attractive and differentiating opportunity for you and your home.
Success finishes: Microcement and natural wood, ideal team
Remember that microcement is a type of coating that can be applied to any type of firm and strength surface, except to two of them: metal and wood. In other words, despite the fact that they are two visual elements that go together and are complementary, we will not be able to cover or apply microcement on wooden floors. Unless, it is a countertop, bench or wooden walls, which, in these cases, will be possible.
The reality is that wood and microcement are materials that can coexist together. Both materials have different values and qualities in terms of their hardness, touch and colour that, when combined, are stylish.
Why choosing this natural mix? Some tips to give to your home a modernity, fresh, softness and warm touch
Now that you already have some information on this topic, you are already getting an idea about what you want. But, in case it is still not clear to you, CEMENTEC wants to give you a series of tips about how the combination of microcement and natural wood can give you a modern, fresh, soft and warm touch.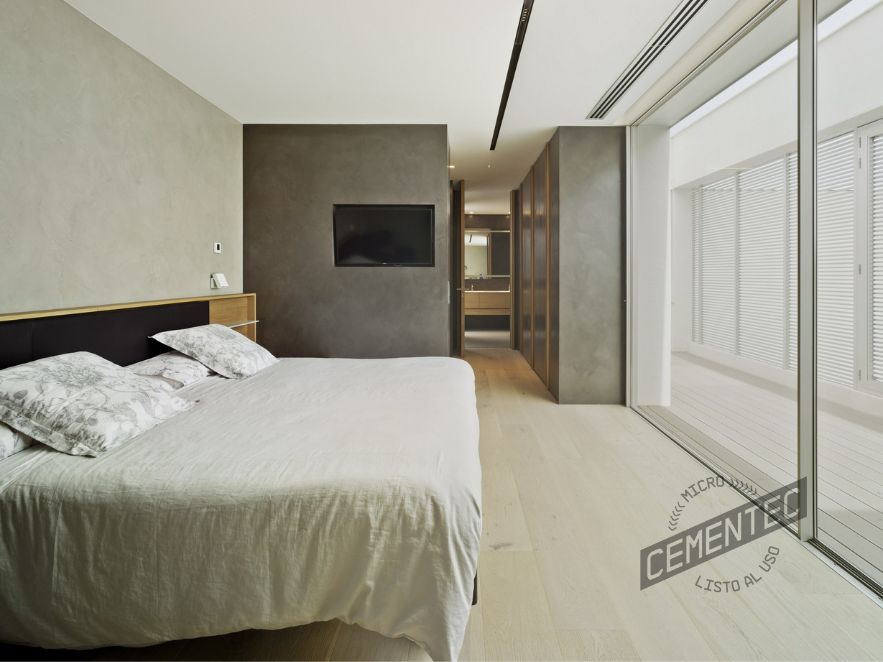 Tips of wooden decoration
Do not miss each and every one of our wooden decoration tips:The Nordics were the pioneers and made it fashionable. Use wood, wicker or rattan, as one of the pillars of your decorative style in furniture (tables, shelves, chairs, etc.). Make your space a warm and comfortable place.
Bet on elegant details and minimalist colours, to encourage and promote a relaxed climate at home. If you don't want to opt for colour, stick to raw in different textures. Whether in crochet, knitting or macramé.
Choose couches in neutral tones. Change the cushions depending on the season or time of year to obtain completely different effects. If you are a little lazy, you can choose to play with the overlays.
Combine all of the above with lamps and warm lighting enveloping the area, in order to create different climates or different scenarios in which to rest.
Have fun and decorate your room, with centrepieces or furniture wrapped in a set of candles and stoneware ceramic elements. The key is to play with the chromatic range of a single colour and with the different heights and sizes of the elements.
You have just wrapped up the room using rugs, natural materials and plants, to make the environment a complete and welcoming set.
Real examples of mixing both materials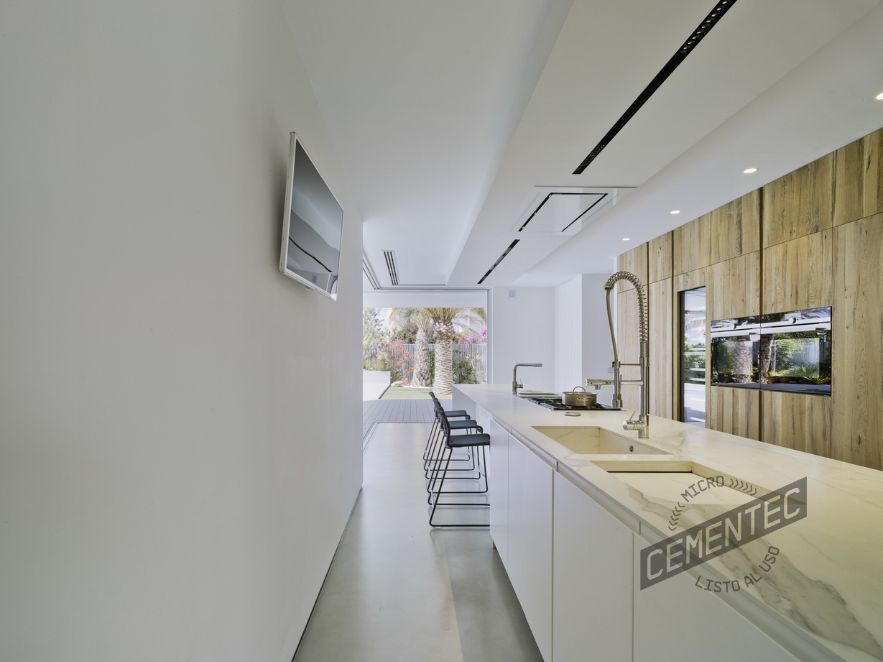 Let's see below, examples of works and reforms carried out in reality, combining these elements with all their specifications and advantages of opting for this duo of materials that give the feeling of naturalness to each room in the home.
microcement and natural wood bathrooms
Microcement and natural wood bathrooms are on the rise. Opting for ready-to-use microcement to cover the floor and bet on tropical woods in the furniture is one of the options. Although there is also the opposite pole, choose a parquet floor and cover the walls along with our decorative cement. Whatever you choose, these combinations are designed for lovers of classic and elegant designs.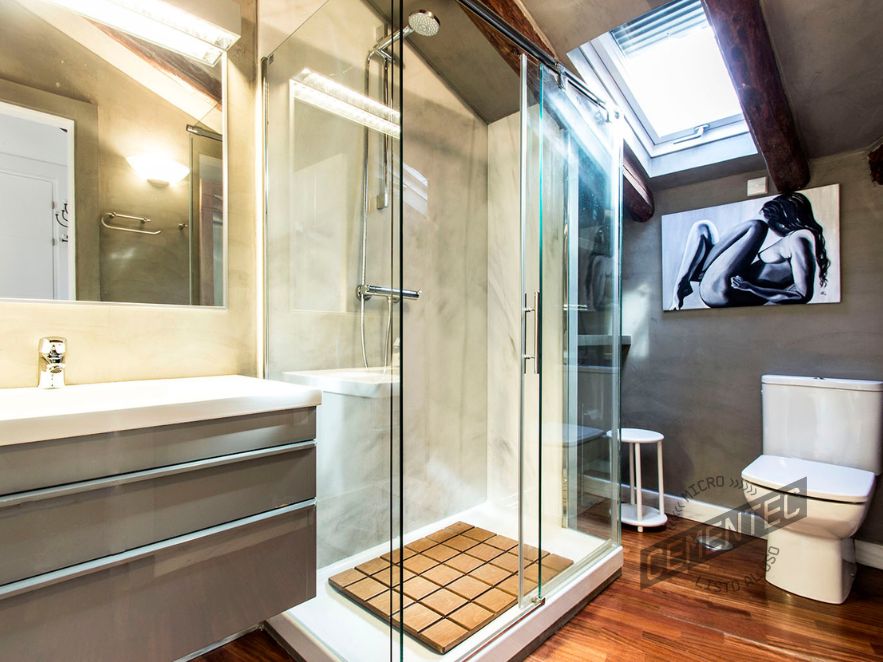 Perhaps you do not want to overload the space with wood, in fact, it is not necessary to achieve that warm feeling that we talk about so much. If you opt for this option, you can always put wood in small parts of the bathroom. For example, a tray for the bathtub, a shelf for intimate hygiene or toilet products, and even shelves for towels.
The essence is in the small details. And if, in addition, those small details are made of wood, you will be able to reinforce the natural touch that complements our ready-to-use microcement. Create a greater feeling of spaciousness and play with continuous surfaces. If you still can't find reasons to opt for microcement and wood bathrooms, don't miss this article.
After all, we recommend you break the rules of what is established. Escape from clichés in bathrooms. That is, everything that has to do with ceramic and porcelain elements. Watch out! This does not imply, in any case, losing the conditions of resistance and durability, since the ready-to-use microcement can be treated with a layer of non-slip treatment or resistance against water.
Microcement and natural wood kitchen
A combination of functionality and modernity in our kitchen is, today, the challenge we face. Something that is not at odds with simplicity, nor with the price, nor with the combinatorial variety of materials. For all this, at CEMENTEC we believe that the best possible choice to make when renovating your kitchen is to opt for a kitchen made of microcement and natural wood.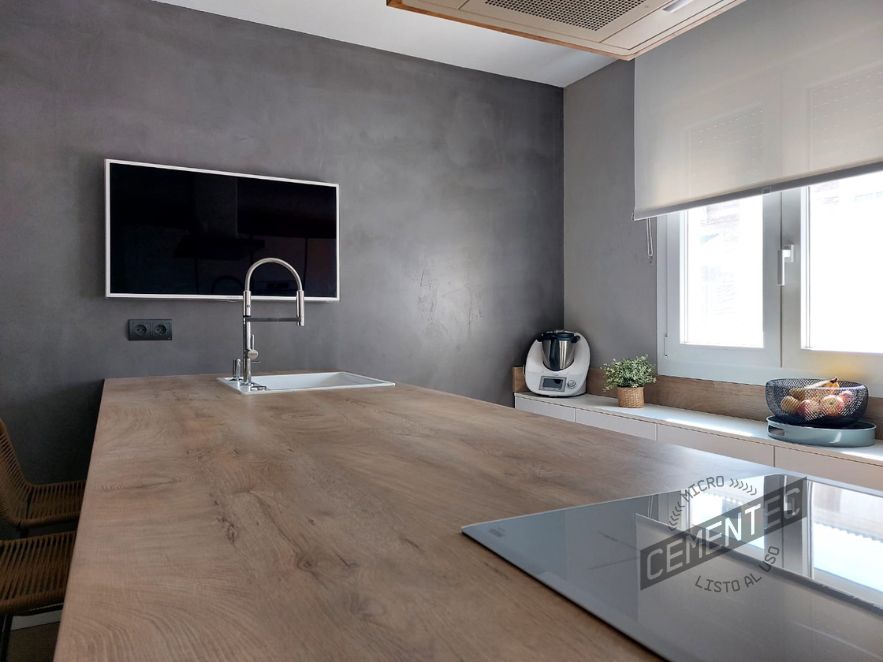 Get a close image in a classic and warm environment. Your house, and especially your kitchen, will be capable of transmitting that peace that is required in a space to share moments, experiences and recipes, between food and stoves.
Likewise, the ready-to-use microcement offers the possibility of using it on walls or countertops, being combinable with wood or, also, the ease of applying it on the floor. In this way, by opting for the microcement and wood kitchen, you will be able to emphasize the sensation of spaciousness and light that other materials will not be able to offer you. Find out about these and other advantages of applying microcement ready for use in kitchens.
Without further ado, I hope that all this information that we have been able to provide will help and motivate you to be able to carry out a renovation using what we consider the ideal tandem for successful finishes.
Did you find this article about microcement and natural wood interesting? Share your opinions on our social networks and send us your recommendations or results after the application.