Are you thinking in renovating your kitchen? Are you familiar with interior renovations in microcement kitchens? Nowadays, most of microcement professionals prefers to choose this option. Architects, interior designers and decorators, rely on this type of material for their projects or styles, because of the facilities offered by this type of decorative coating when creating new spaces and designing your dreamed kitchen.
You can design a highly decorated kitchen beyond marble and other types of common materials. Although microcement kitchens represent a high-quality aesthetic element, there are other multiple potentials that make it highly recommended when opting for a material to renovate your desired kitchen. Still not convinced? Don't worry, from CEMENTEC we want to introduce you to microcement kitchens.
What is microcement ready to use?
The microcement is a material which is formulated by polymers, minerals and aggregates that stands out for its flexibility and adherence to almost any type of surface, with a wide range of colours and with a concrete appearance. Microcement in kitchens is applied on floors, walls, countertops or sinks.
How long does it take to apply microcement ready to use?
After our large experience on microcement applications, we have come to the conclusion that there is no exact application time in microcement applications.
Let's say that it will depend on the renovation itself (quantity of sqm, application area, etc.). For instance, application time for a 100 sqm floor will be approx. 6-7 working days. However, this time will be reduced to 2-4 working days if we apply on perfectly prepared and smooth walls (like plasterboard).
5 advantages of microcement kitchens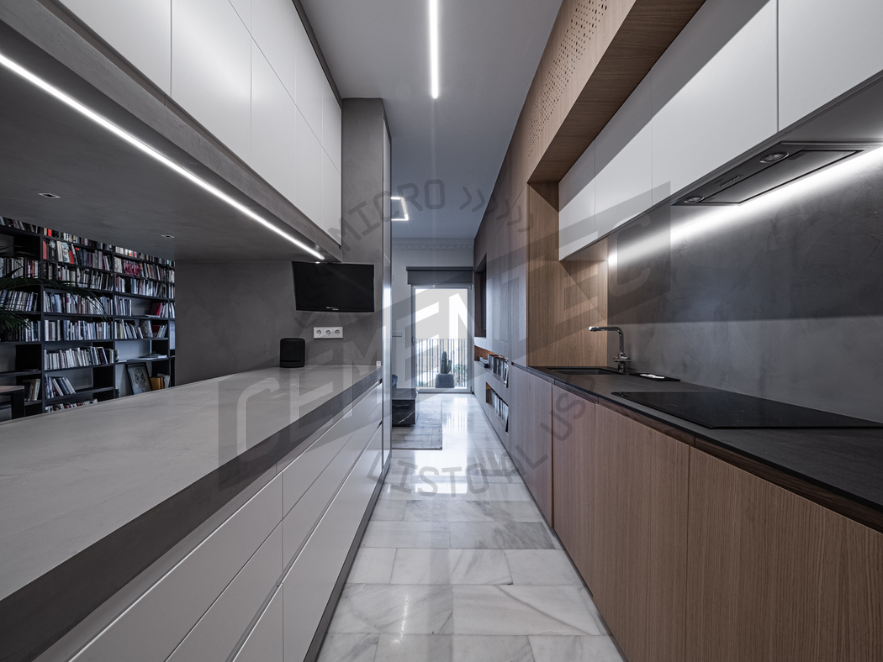 Know, beside Cementec, the 5 advantages of microcement kitchens.
Applying microcement in kitchens implies doing it without big works. Choosing this product to cover your kitchen will facilitate the project and will reduce renovation times, because it can be applied or placed directly on any prior surface (tiles, marble, terrazzo, stoneware, etc.). Of course, there are two types of materials on which it cannot be applied, metal and wooden floors (On wooden, it can be applied whenever it is a countertop, bench or walls).
Get a continuous coating, are you a perfectionist? Forget about working or material joints. Microcement in kitchens will not have any type of interruption in them. Visually speaking, you will see a uniform area that will leave no one indifferent.
It is resistant to hits or foot wear. However, everything will depend on the quality of the material chosen, that is why Cementec microcement in kitchens will not cause you any type of problem.
Provide waterproof. Ready-to-use microcement by itself is not waterproof (except Cementec Water Resistant), but if it is superficially protected with our Finish Forte Plus top coating will be protected from any spillage of liquids.
Take advantage of its non-slip property. The rougher the microcement texture is, the more non-slip quality will get, to be able to enjoy it in our microcement kitchens.
Take a break now, let's value on which type of surfaces we can apply Cementec decorative coating on the microcement kitchen surfaces.
Surfaces of microcement kitchens
Why apply microcement on kitchen floors?
With countless finishes, kitchen is one of the most areas renovated with microcement. Thank to its granulometry, we can get much more tactful finishes, with finer, delicate and smooth touch, even floors where roughness prevails in order to increase its resistance and durability.
Why apply microcement on kitchen walls?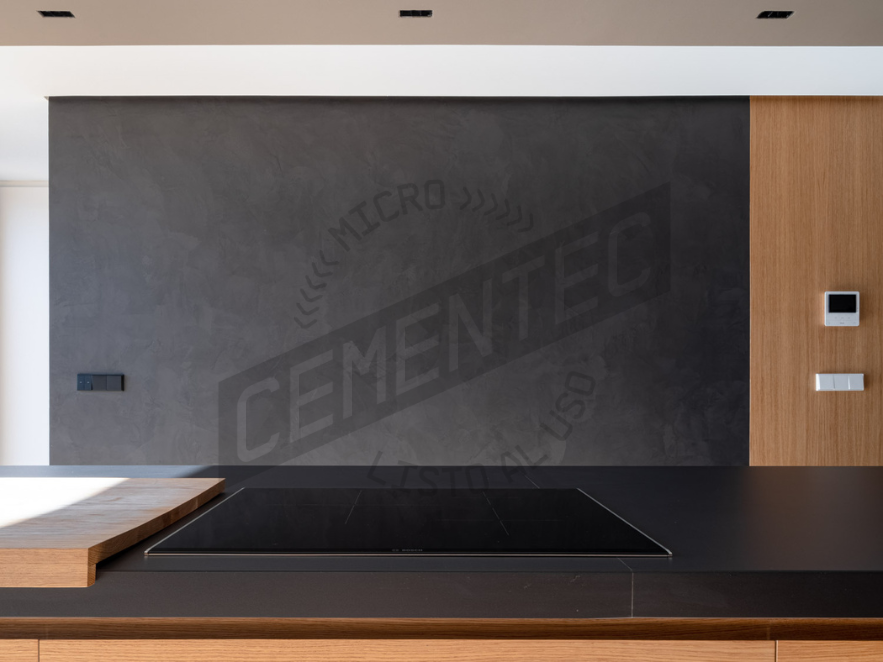 If we talk about microcement on kitchen walls, besides the aesthetic change that could provide to us, the economical part is also benefited. We can completely turn around the renovation by reducing times entailing a money save for our wallets.
Another advantage to keep in mind is its resistance to hits, due to its continuous exposure to daily objects as well as contact with tap water. Once again emphasizing the need to apply CEMENTEC's Finish Forte Plus top coating in order to protect them from spilling all kinds of liquids.
Why apllying microcement on your kitchen countertop?
They are increasingly popular and in demand. Coating or covering a counter is the new way to modernize or completely transform the appearance of the kitchen without making a big change.
They are wear and heat resistant, easy to clean and cosy. Using different microcement colours in kitchens will make a good visual effect. White colour will make your room minimalist and harmonious. But, on the other hand, a grey colour can create an industrial and authentic look.
Apply with Cementec, microcement colour for kitchens and create a unique space!
Choose one of our microcement colours for your kitchen
Kitchens are rooms where you can combine different types of materials as well as different colours. Could be more or less daring, Cementec offers you a wide microcement colour array, emphasizing legendary greys which simulate "concrete look", or maybe you can look into our colour array and choose warmer colours like Sand or Camel.
Would you like that your kitchen is kind of flashy? Try our Vintage or Metallic colour array.
You will be surprised by our kitchen microcement colours!
Finish forte plus by Cementec. Microcement kitchens resistant to liquids spillage and chemical products
We take everything into account, so… Do you have any concern about what any possible stains after spilling a glass of wine or coffee? Are you worried that microcement kitchens do not support chemical products such as bleach, alcohol or solvents?
Keep calm, because by applying Cementec's Finish Forte Plus as top coating, all those concerns will disappear. We fully recommend this top coating with a lacquer-look, available in three shades: matt, satin and gloss.
It is colourless and is not flammable or toxic, neither during its application nor after application. It is required the application of two layers after microcement in kitchen has been finished and dried.
Give Finish Forte Plus a try and let us know what you think!
Did you find interesting this article? Share your thoughts about microcement in kitchens in our social networks!