Redesigning a space goes beyond than making a mere change, it is a reinvention. Imagine a kitchen that radiates modernity, minimalism and purity. Elegance as well as sophistication, no matter where you look at it. That is what is intended to be achieved through white microcement kitchen renovations.
White microcement emerges as the first choice of those clients who seek simplicity and try to avoid large changes with the chaos of works and debris that are inherently associated. Its adaptability to different decorative styles and the ability to alloy with the magic of light makes it a conjunction that stands out, above all, in a masterful way.
Therefore, if you have ever dreamed of renovating your kitchen in white color, immerse yourself fully in this article. Discover, along with Cementec, the transformative power of this trend, where design meets practicality. Let us guide you through a renovation that not only beautifies, but redefines the concept of functionality and style in the kitchen.
What are you waiting for? Keep reading!
Advantages of microcement kitchens
Let's briefly review the main advantages of microcement in kitchens, although we have explore them in depth in our previously article "Microcement kitchens: advantages, surfaces and recommendations".
Indeed, we can deduce from this article the following key point:
Renovate your kitchen without works or debris: The microcement ready to use offers a uniform finish, eliminating the need of complicated interventions and annoying waste.
Outstanding resistance to daily wear and tear: Taking the proper care and avoiding strange scrapings, microcement keeps its integrity and beauty, efficiently bearing the constant use in kitchens.
Anti-slip role: It provides an additional layer of safety, minimizing slipping risks and ensuring a safer kitchen environment.
Guaranteed waterproofing: Under normal conditions and avoiding corrosive liquids, it protects your kitchen from spills and humidity, ensuring a flawless and durable surface.
Exceptional adherence: Provides a homogeneous and long-lasting finish, maintaining its beauty even over the years.
Thanks to all this advantages, microcement ready to use has become favorite choice to make kitchen renovations.
Why choosing white microcement in your kitchen renovation?
Therefore, choosing white microcement in your kitchen renovation is entering a new dimension of design. Its light tone introduces luminosity, making spaces appear larger and more welcoming. It is a choice that transcends convention, making a palpable difference in the overall aesthetics of your home.
Also, this material blends seamlessly with various decorative elements, from chrome accessories to natural woods. If you haven't delved into it yet "the 4 keys to choose white microcement in your rooms", We invite you to do so; You will discover even more reasons to fall in love with this finish.
White microcement kitchen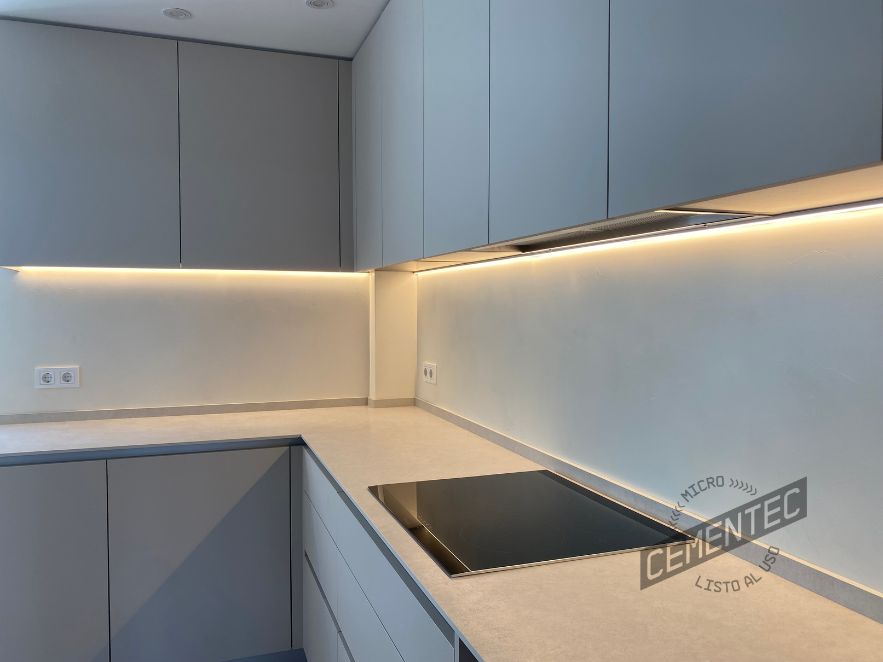 Thus, each interior space has its essence and particularities, and the choice of materials must be made in accordance with these characteristics. Opting for a white microcement kitchen can be a wise decision if when analysing your space, this material fits one or more of the following criteria:
Decorative Stile: If what you are looking for is a versatile option that combines with various styles, from minimalist or Nordic to Mediterranean or classic, white microcement for your kitchen is the perfect candidate.
Efficiency in distribution: Likewise, those small kitchens that seek to maximize space and functionality benefit greatly from the visual continuity offered by white microcement. By not having joints or visual breaks, this material helps create a harmonious flow and enhances the perception of spaciousness in the room.
The space is full of light: T Kitchens that have a good entrance of natural light or those that seek to enhance the clarity of spaces find an irreplaceable ally in white microcement.
After considering these criteria, if you find that your kitchen aligns with any of these characteristics, then white microcement is the ideal choice, fusing beauty and practicality in your renovation.
Decoratives stiles in white microcement kitchens
This material, and especially this elegant colour, adapts gracefully to various decorative styles, allowing each person to leave their personal stamp on the kitchen.
Below, we'll explore how white microcement can transform and enhance different styles, and how it can be the perfect canvas for your decorating aspirations.
Kitchen with Norwegian white stile
The nordic style is similarly with simplicity, functionality and connection with nature. Kitchens of this style seek to be practical, but also to convey warmth and serenity. White microcement, with its subtle luminosity and smooth finish, reinforces the feeling of space and light, which are essential in Scandinavian design. With light woods and soft textiles, microcement becomes the perfect ally for this type of environment.
Mediterranean and white microcemento kitchen
The charm of the mediterranean style lies in its freshness, in evoking sunny days and the aroma of the sea. Mediterranean kitchens, with their warm palette, rustic woods and painted ceramics, find the perfect balance in white microcement. This material, with its impeccable finish, adds clarity and amplifies the feeling of being in a coastal retreat.
Classic and white microcement kitchen
Classic kitchens transport us to times where tradition and elegance were fundamental pillars. Although white has always been an iconic colour in these designs, white microcement provides renewed modernity. Its polished and uniform finish gives a contemporary twist to the environment, while keeping the classic character and sophistication intact.
Minimalist and white microcement kitchen
At the essence of minimalism, every element has a purpose and nothing is left over. It is in this context where white microcement shines brightly. Its continuous and jointless surface reflects the sought-after simplicity, offering a clear setting with pure lines. The result is a space where every detail counts, and the kitchen becomes a refuge of calm and balance.
Mid-century and white microcement kitchen
Mid-century design is a balance between traditional and modern, with a lean towards functionality and clean lines. In mid-century style kitchens, white microcement feels at home. Complemented by noble woods, earthy colours and retro accessories, this material underlines the characteristic aesthetics of the 50s and 60s, offering a feeling of authenticity and timeless elegance.
Different white microcement kitchens layouts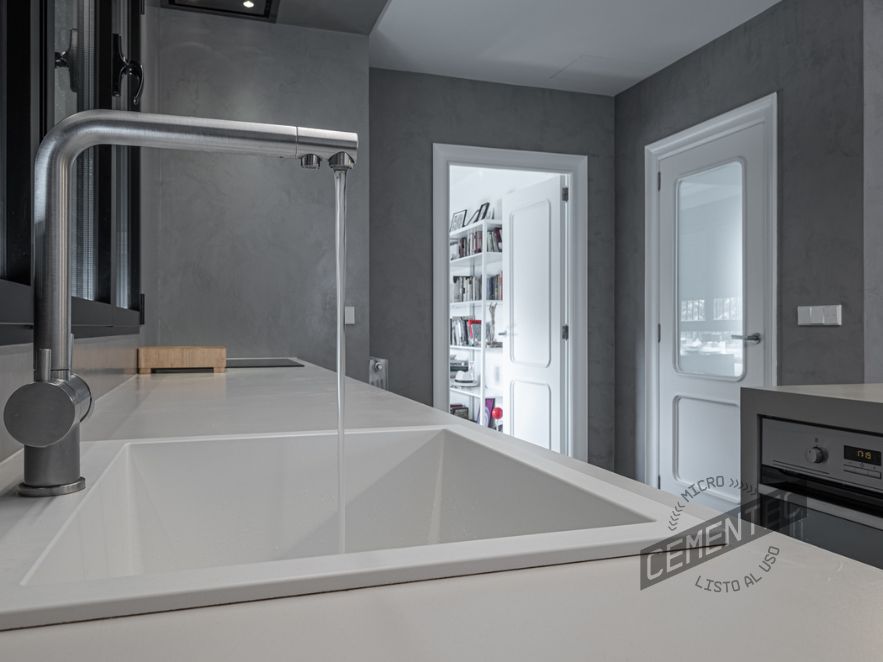 Similarly, the layout of a kitchen not only defines how you move around in it, but also how you interact and use every corner. The right choice can transform a kitchen from an ordinary place into an efficient and harmonious space. With white microcement taking centre stage, it is essential to consider what type of layout will maximise its benefits. Here are some of the most effective layouts.
| | | |
| --- | --- | --- |
| Linear design | "L" Design | "U" Design |
| It´s ideal for tight or long kitchens. | Suitable for medium-sized kitchens or kitchens + living room. | Excellent for larger or square kitchens. |
| White microcement in a linear design visually expands the space, making the room appear longer and brighter. | White microcement enhances the feeling of continuity and unity, making the kitchen harmoniously integrated with the rest of the home. | The white microcement in this design enhances the perception of spaciousness, illuminating each corner and providing uniformity. |
| All essential items (dishwasher, stove, refrigerator) are aligned on a single wall, simplifying the work sequence. | This layout allows optimal zoning of work and rest areas. | Offers three work walls, optimizing storage and facilitating mobility. |
Each design has its advantages, and white microcement adapts with versatility to all of them, guaranteeing that, regardless of the choice, your kitchen will not only be aesthetically attractive, but also functional, practical and in line with your space.
Luminosity in white microcement kitchens
Finally, white, more than just a colour, acts as a mirror of light, revolutionizing the way we perceive space. A white microcement kitchen not only provides a sophisticated and timeless touch, but also plays a crucial role in the luminosity of the environment. Depending on the characteristics of your room, white can be used in different ways:
| | |
| --- | --- |
| Well illuminated | No-well illuminated |
| Maximizes clarity: In kitchens with large windows or a lot of natural light, white microcement enhances the existing luminosity, creating a bright and airy environment. | Strategic lighting: In darker kitchens or with limited entry of natural light, white microcement acts as an illuminator, capturing and distributing any ray of light present. |
| Enhance other colours: Being neutral, white can be the perfect backdrop to highlight other decorative elements or tones present. | Balanced contrast: Combined with well-placed artificial lighting, white can create attractive and dynamic contrasts without darkening the space. |
| Generates greater spaciousness: The reflection of light on the white microcement visually expands the space, eliminating any feeling of claustrophobia or overwhelm. | Perceptual transformation: Despite the limited brightness, white can transform a gloomy kitchen into a cozy and warm space, making it appear brighter than it really is. |
Conclusions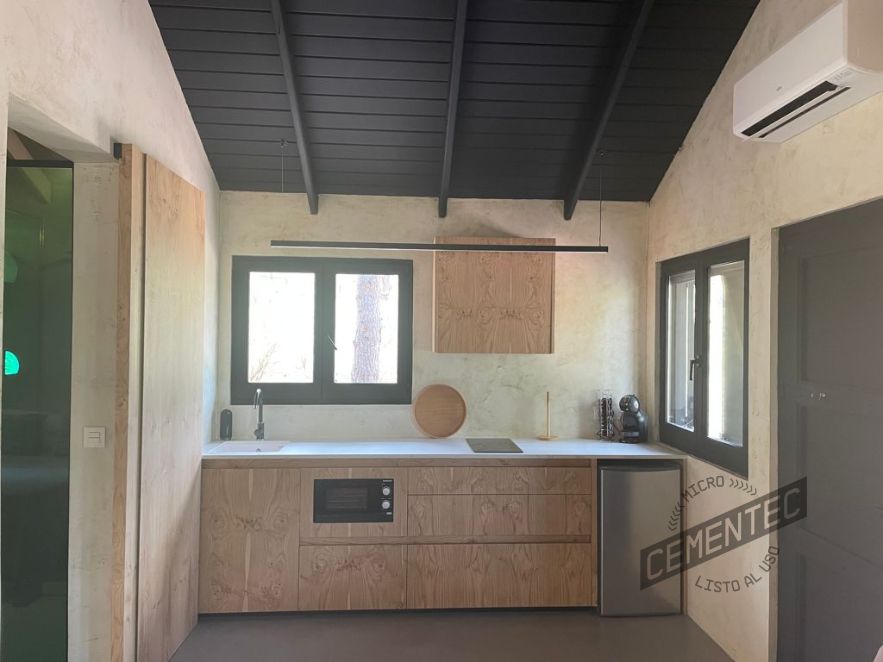 In conclusion, renovating your kitchen is an opportunity to give free rein to your dreams. Kitchens covered with white microcement are not just a trend, they are a testimony of sophistication, minimalism and elegance. Its radiant tone visually widens any space and its versatility harmonizes with styles from Scandinavian to Mediterranean. But its beauty is not just superficial. The robustness, impermeability and non-slip nature of microcement guarantee a space that is both a pleasure for the eyes and functional on a daily basis.
Cementec will take your kitchen beyond the conventional. We not only offer you exceptional material, but a complete experience. Our team of experts accompanies you every step of the way, understanding your desires and transforming them into reality. And while our white microcement dazzles in aesthetics, it also shines in durability and ease of care, simplifying its installation without complications or mess.
Reimagine, redesign and reinvent your kitchen with us. By choosing white microcement and trusting Cementec, you are betting on an unbeatable combination of style, functionality and durability. Because we understand that your kitchen is not just a space, but it is the heart of your home.
Did you find this article interesting? Share your opinions about the white microcement kitchen on our social networks!