If you want to renovate the floor of your project, microcement ready to use has become a very popular choice among interior decorators and designers, due mainly to its modern and elegant look. However, it is possible that you face with this important question: Which color do I choose? Choosing the right microcement floor colour is important to reach harmony and the desired style for your project.
The key to choose a good microcement color for floors lies in identify or understand the decorative style of the area that you want to renovate. Which environment or decorative style adapts better to you? Are you looking to create a minimalist or modern aesthetic? Off-white microcement or Pearl grey microcement maybe are the ideal options. On the other hand, do you prefer a warmer and comfier environment? Sand microcement colour could be the perfect choice. Once you have your ideas clear, you will be able to find the color that better fits your aesthetic needs.
In this article, we will try to lead you through this microcement color array of Cementec, and offer you practical tips to choose the ideal colour that emphasizes your decorative style. Explore the wide variety of available tones, it is time to find the perfect color for your microcement floor!
Which is the microcement base color?
According to the nature of microcements, grey color is the neutral tone that can serve as foundation for the application of other microcemento colors. This base grey is an initial layer on which it can be applied other different pigments and finishes, in case that you are looking for a different microcement base color.
Steps to apply the color pigmentation to the microcement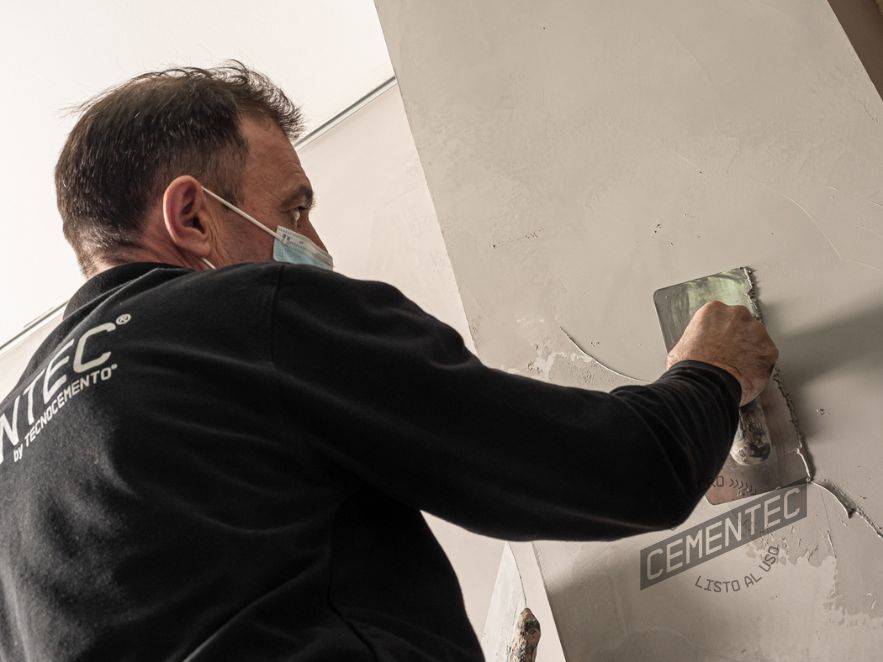 The following steps must be followed to apply pigments to the microcement and get the color of your floor:
Preparation of microcement: First, make sure the surface is clean, dry and free of dust. Apply a base coat of microcement (grey) following the manufacturer's instructions. Let it dry properly before next step.
Pigment choice: Choose the appropriate pigment for microcement. Follow manufacturer instruction to get the desired color. If you are interested, click here to know the 5 microcement colors that are trending in interior decoration.
Pigment mixture: Add the pigment into the microcement bucket and stir with an electrical mixer. Follow manufacturer instruction to get the desired colour. Mix it to get a homogeneous colour.
Pigment application: Once microcement Base is completely dry, apply a thin and smooth layer on it using a trowel or other specific tool for microcement. Be sure that you are covering the whole area in a uniform way.
Carry out the same operation with the layers of fine microcement.
Drying and seal: Let the layer with the pigment dry properly according to manufacturer instructions. Once it is dry, apply an adequate varnish to protect it and give resistant to the surface.
Tip: Cementec suggests to make or provide colour samples before applying the pigment to assure that you are going to get the desired colour.
How much time does the colour lasts on microcement floors?
We cannot determine with certainty, because durability of microcement floor colour can vary depending on different factors. However, it is essential to follow the instruction supplied by the manufacturer or microcement applicator to be sure that your microcement floor keeps its quality and look over time.
Likewise, it is recommended to avoid the use of strong chemical products that can damage the microcement surface and affect its coloring. In short, if manufacturer instructions are followed and an appropriate maintenance is carried out, it is possible to let the color drag on. However, it is important to know that the durability of microcement colored floor can vary depending on each area or project.
Tips for choosing the best shade for your colored microcement floor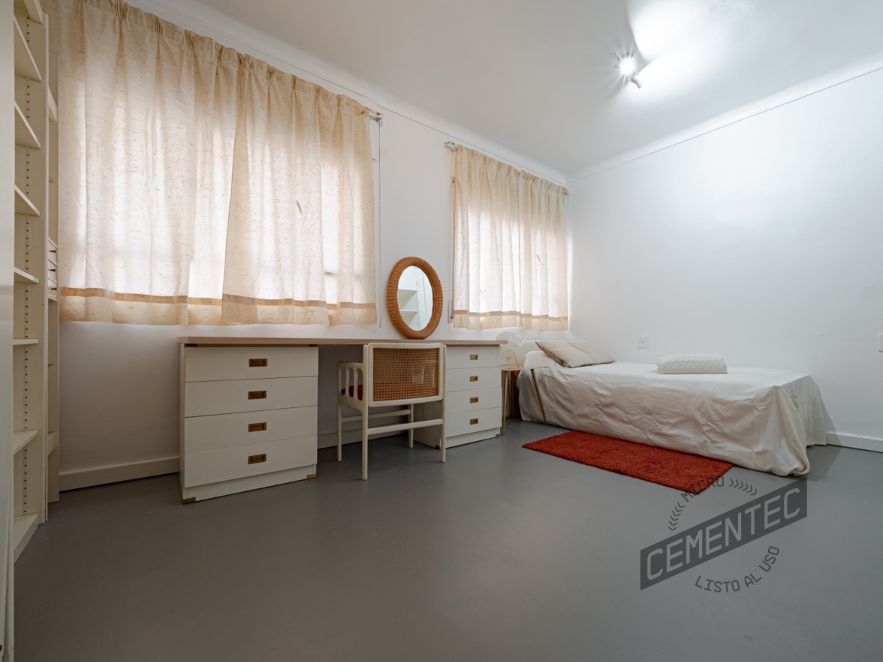 First of all, do you know the advantages of applying ready-to-use microcement in renovating your floor? If you are here, you should not stop doing it. However, when choosing the color for your microcement floor, consider the decorative style of your home and the atmosphere you want to create. Here are some practical tips to help you in the selection process:
Tips to take into account when applying the microcement floor colour
Consider the space: For both indoors and outdoors, consider the environment in which the microcement floor is located. Observe the architecture, the predominant colors and the general atmosphere of the space. This will help you make coherent and harmonious decisions. If you don't have ideas, perhaps this post about microcement on exterior flooring will inspire you.
Consider the lighting: The lighting in your space can influence the appearance of the microcement color. If you have a room with a lot of natural light, you can opt for darker tones to create contrast. On the other hand, if the room has low lighting, you may want to choose lighter colors to make the space appear larger and brighter.
Define your style: Before choosing the color, identify the decorative style you want to achieve. Understanding your decorating style will help you determine which shade of microcement will best suit your needs.
Harmony and contrast: Go a little further. Think about how the color of the microcement relates or blends with the rest of the elements in your space, such as walls, furniture and accessories. You can opt for a harmonious color palette, where the microcement is combined with similar or complementary tones, or you can create a bold contrast by selecting a microcement color that stands out from the rest of the decoration.
Color sample: Before making a final decision, request samples of the microcement colors you are considering. This will allow you to see how they look in your space and how they interact with light and other decorative elements.
How many colors have Cementec microcement?
At Cementec, you will find a wide selection of microcement floor colours to suit your preferences and needs. The colour palette includes versatile and elegant tones that allow you to create different atmospheres in your spaces.
Below, I present a table that shows how the different colours of Cementec microcement can fit with different decorative styles and how you can achieve an interesting contrast by combining the microcement floor with another Cementec colour on the walls:
Comparative table of microcement floor colours
| | | |
| --- | --- | --- |
| Microcement color | Decorative style | Walls combination |
| Off-white | Minimalist, Scandinavian | Pure white, Marengo grey, Turquoise |
| Artic Grey | Industrial, Contemporary | Pearl grey, Marengo gray,black |
| Pearl grey | Modern, Classic | Marengo grey, Artic grey, Off-white |
| Marengo gray | Urban, Minimalist | Pearl grey, Artic grey, Off-white |
| Gris stromboli Stromboli grey | Modern, avant-grade | Black, Artic grey, Off-white |
| NegroBlack | Modern, Industrial | Pearl grey, Artic grey, Off-white |
| Toffee | Rustic, Bohemian | Wenge brown, Artic grey, Off-white |
| Camel | Minimalist, Rustic | Sand, Pearl grey, Off-white |
| ArenaSand | Minimalist, Rustic, Classic | Wenge brown, Toffee, Off-white |
| Grove butterfly | Mediterranean, Minimalist | Olive, Baltic blue, Off-white |
| Linen | Mediterranean, Minimalist | Gray pearl, Marengo gray, Off-white |
| Baltic Blue | Bohemian, Industrial | Arctic grey, Off-white, Sand |
| Turquoise | Modern, Industrial | Off white, Pearl grey, Black |
| Maroon | Modern, Industrial | Artic grey, Off-white, Marengo grey |
| Wenge | Bohemian, Rustic | Sand, Toffee, Pearl Grey |
| Olive | Bohemian, Rustic | Butterfly Grove, Artic Grey, Off-White |
Remember that the choice of colors for the microcement floor and walls will depend on your personal preferences and the style you want to achieve in each space. Use this chart as a guide to explore different combinations and find the one that best suits your aesthetic needs.
Conclusions
In summary, choosing the colour of microcement for your floors is a crucial aspect that can influence the style and general aesthetics of your spaces. Cementec microcement colours offer a wide range of options to suit your decorative style and personal preferences. It is essential to take into account the style you want to achieve, the lighting of your spaces and the harmony with the other decorative elements when selecting the colour of the microcement.
At Cementec, our team of ready-to-use microcement experts will be happy to provide you with personalized recommendations and valuable advice to guarantee an impeccable result for your project.
Take advantage of the wide variety of microcement colours offered and turn your microcement floors into a true expression of style and personality. Enjoy the colour in your microcement floors and start dazzling in your home renovation!
Did you find interesting this article about microcement floor colour? Share your opinion in our social networks and let us know your recommendations or application results.