Is there any outdoor area in your home? Do you want to change it and create an enjoyable area for you and your family? Microcement exterior floors is one of the decorative coatings that, today, make a difference. A coating that construction companies and known architects associate as the best solution to cover outdoor surfaces. Its numerous advantages make it essential to write a separate article to talk about this coating as it is, microcement on outdoor floors.
Are you those people who think that microcement can only be applied indoor? We are here to disprove this fact. Cementec will show you how ready-to-use microcement can be used in back yards, porches, balconies, terraces, facades and even swimming pools. In addition, we will talk about the characteristics and recommendations as ideas, in order to be able to personalize the outdoor area of your house without limits.
Do you find it curious? Well, do not miss everything that we are going to tell you below.
Microcement advantages for outdoor floors
Choosing microcement exterior floors is a magnificent opportunity to create special environments. Its adherent properties make it capable to be applied on different surfaces and materials. And, without having the need to generate large deployments in its installation.
A material that, when applied outdoors, manages to gather a high aesthetic potential that is really impressive visually and a high degree of functionality due to its properties. Such as, waterproof feature.
For this reason, it is more than interesting to develop the most advantageous characteristics when opting for microcement on outdoor floors.
What 6 points encompass the benefits of exterior microcement?
1. Visual continuity with ready to use microcement
This decorative coating consists on a continuous material that does not require expansion joints. That means that it is a decorative element which is applied directly to the existing support as a layer. Being this, of a minimum total thickness, around 2-3 mm. Bearing in mind that, logically and as a minimum requirement, the expansion joints that the prior surface itself entails must be respected.
Furthermore, it's versatile. Its being able to combine with the rest of the architectural or decorative elements in the outdoor area of your house. Keeping the climax or harmony, by serving as a link between your interior rooms and external areas.
2. Resistance to high foot traffic
The continuous wear resistance from the transit of people or heavy objects, it is something innate of the microcement that is also transferred from the interior to the exterior. In fact, it is something that sets it apart in this open-air aspect. Positioning itself above other coatings such as: Natural or artificial stone, concrete, tile or the so common tiles, among many other materials.
3. Resistance against extreme temperatures and rains
Microcement outdoor floor installation, or otherwise, on the walls or other elements, work out well for the protection of outdoor areas, in the face of changing weather conditions. In other words, the use of this decorative coating together with a protective top coating, confers protection or resistance against heat or rain, without no worries (making a minimum and adequate maintenance) of its deterioration.
4. Guaranteed antiseptic protection
The absence of previously mentioned expansion joints prevents the growth or development of fungi, bacteria or weeds, which could damage the surface at an aesthetic and functional level.
This antiseptic quality favours, among other things, the maintenance, cleaning and care that must be given to the ready-to-use microcement. Also, if you want to know how you should carry out this last aspect in more detail, we provide you with the following article.
5. Anti-slip exterior microcement, no slipping!
Maybe it´s one of the most important things. If you are a person very clueless or you have children, this is one of the properties or qualities of microcement in exteriors floor that it is going to be of more interest to you.
Slips are over! Yes, ready-to-use microcement has non-slip qualities that will make your outdoor recreational area a safe place for your children and for you.
6. Durability as a differential factor
Finally, and after talking about non-slip exterior microcement as something valuable, we believe that one of the main differential factors to highlight is its high durability. The passage of time can be almost imperceptible in this type of decorative coatings or always contribute that aging according and in tune with the rest of the home or area where it is applied. Getting an elegant, sophisticated and enduring finish over time.
Multiple benefits, don't you think?
Ideas when applying microcement exterior floors
Ideas, options, tips. And beyond talking only about microcement on outdoor floors, we extend the range to find out how this material allows endless possibilities without limits in terms of finishes and advantages.
What surfaces can the ready-to-use microcement be applied outside?
Outdoor terrace floor with microcement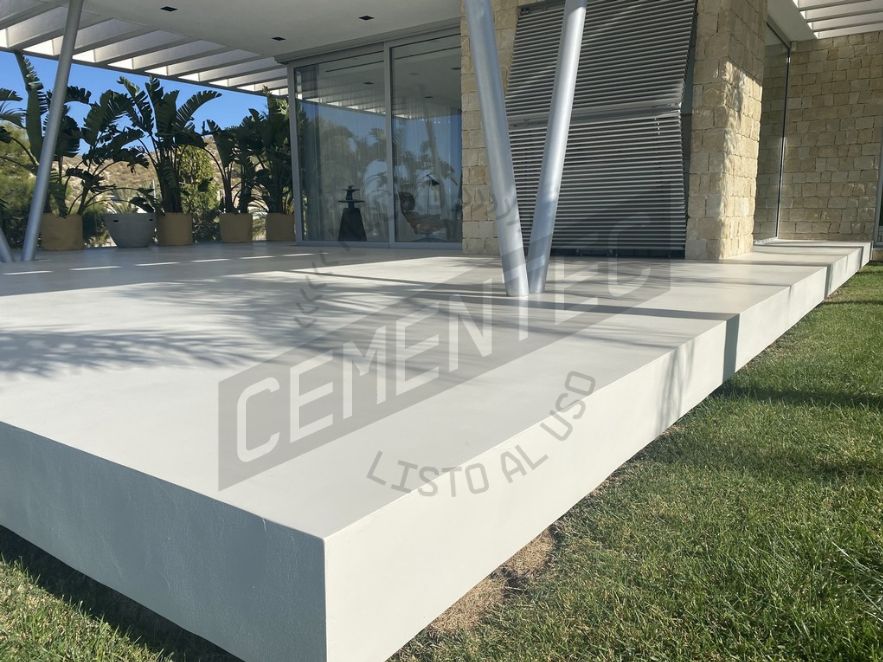 The most common use that is usually given to microcement when it is applied or used in outdoor areas, is on flooring. Especially if it is applied to terraces or recreational areas near the house. Covering in a simple way, the entire extension of the area in one piece.
Characterized by the beauty of its finishes, the resistance to water or the reduction of the accumulation of dirt. Without forgetting that the non-slip exterior microcement will prevent possible falls or slips in areas such as the pool of the house.
Do not hesitate to value it as the best option!
Outdoor walls with microcement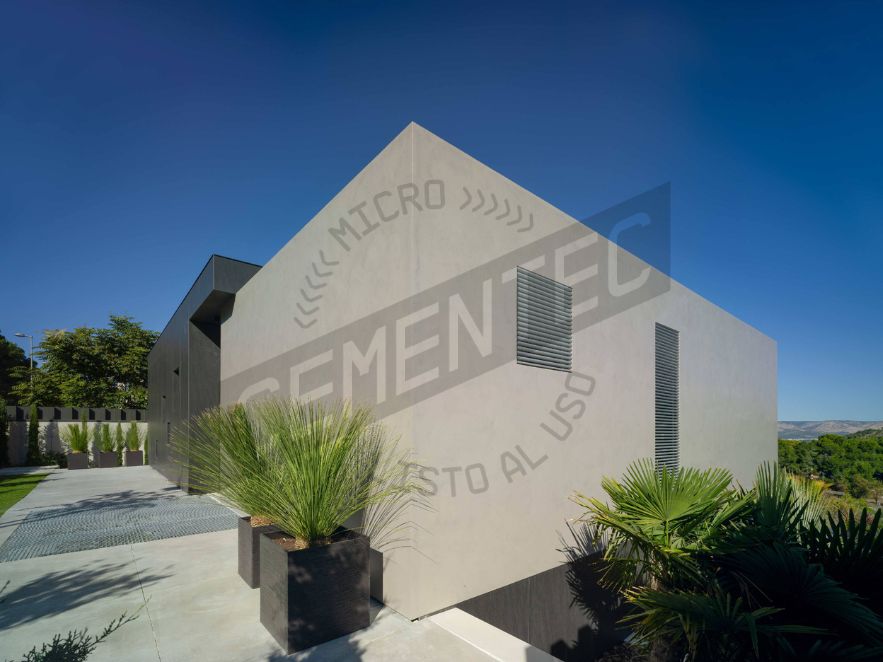 Continuity and gaudiness. Exterior offer, numerous modalities and benefits. Combined with microcement floors, you will be able to obtain a personalization and sensation of spaciousness never seen before.
Choose the style that best suits your needs or your home. From more minimalist finishes to rough or rustic aspects.
If taking care of the interior of your home is important, the exterior deserves no less consideration.
Microcement pools
Do the built-in swimming pools not quite convince you or do they even seem boring to you? Get different effects and better results with the use of outdoor microcement in swimming pools. You will notice a saving in time proportional to the savings in labour and, you will enjoy the competitive advantage of not having to carry out an expensive reform or work with a lot of debris.
Adaptable to any type of area, whether small, large or uneven, microcement will be the solution to cool you down during the summer or hot months.
How to apply ready to use microcement exterior floors?
It may seem that it has to be used a different process than applying microcement indoor. Although it is try that microcement exterior floors requires six steps to be applied perfectly, check them below:
Adapt the surface or substrate on which the microcement is going to be applied. Check its status and repair if necessary.
Place the fiberglass mesh on the floor or wall which is going to be covered to help the subsequent application of the exterior microcement.
Carry out the prior process of priming the decorative coating, with an adhesion promoter (Our product, consolidador)
Apply microcement base for exteriors.
Apply microcement fino for exteriors.
Seal the microcement coating with the finish forte plus varnish from Cementec.
In short, it is not a difficult process, but we strongly recommend its application by a professional who knows the subject and its peculiarities.
Did you find this article interesting about the ideas for installing microcement on outdoor floors, its qualities and price? Share your opinions on our social networks!