Let yourself be enveloped by the soft evening breeze on your terrace, where perhaps the aroma of your BBQ permeates the air and the whisper of the water from your pool calms your senses. This is the oasis that we all dream of having one day. However, the charm can be broken with a single slip, and this is where the choice of covering for your outdoor floor plays a fundamental role. It's not just about aesthetics, but about safety. What if such a subtle decision can change everything? Absolutely. For this reason, non-slip exterior microcement is the ideal solution.
This is a fact: outdoor areas, especially those prone to moisture, have been the scene of slips, falls, sprained ankles, and other minor accidents. If you dived into our previous article "Microcement on exterior flooring: features and application ideas without limits", you will be familiar with the revolutionary impact of microcement, but let us delve even deeper and reveal the subtleties and advantages that you may have overlooked.
Say goodbye to your worries and doubts. You are one step away from knowing why non-slip exterior microcement has become the favourite choice for many. Get ready to discover, with Cementec, how this coating goes beyond a simple surface: it guarantees unparalleled security in your outdoor spaces, completely transforming the way you interact with them.
Are you interested in the topic? Continue learning in this article with us!
What is non-slip exterior microcement?
Non-slip exterior microcement is a coating specially designed for surfaces that need water resistance and to face adverse climatic factors. An excellent example of this type of coating is the Cementec Water Resistant product.
The Water-Resistant range is ideal for those areas where water is in constant contact with the surface. For example, in interior spaces, it is applied to shower trays, built-in bathtubs and sinks integrated into countertops. Furthermore, this microcement is also designed with outdoor spaces in mind (such as outdoor terraces), since such areas frequently face humidity, rain and temperature fluctuations.
This, what distinguishes this product is its slightly rough aesthetics and uniform colour. This particular texture not only provides a unique visual appeal, but also provides non-slip properties, making this microcement a safe option for floors, avoiding possible slips and falls.
How durable is non-slip exterior microcement?
Accordingly, if you want to know how to maximize the durability of ready-to-use microcement and keep its properties intact over the years, it is essential to give it proper care.
Above all, the application of Finish Forte Plus varnish is a crucial and essential step in this process. This polyurethane varnish not only enhances the natural beauty of microcement, but also shields it against water, providing unparalleled waterproofness. Likewise, its chemical robustness ensures that the coating is resistant to a variety of corrosive agents and substances that could compromise its integrity.
Therefore, with the right combination of products and proper maintenance, non-slip exterior microcement not only promises to be an attractive solution, but also stands as a long-term investment for your outdoor spaces.
Where can the non-slip exterior microcement be placed?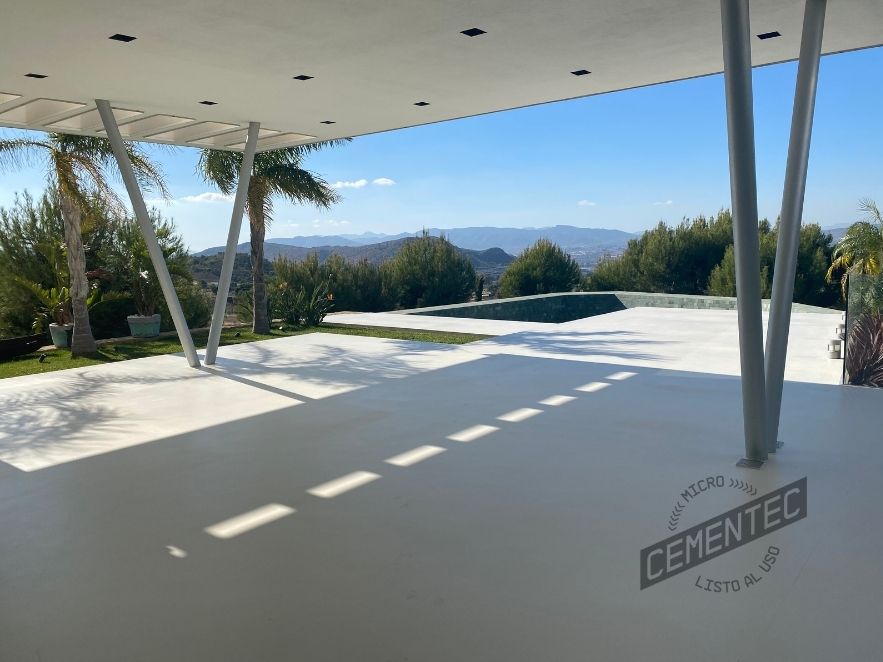 The world of design and construction is full of options, but few are as versatile as those of the non-slip exterior microcement that we present. In particular, Cementec's Water Resistant product has positioned itself as one of the favourites among applicators due to its ability to adapt to multiple contexts and surfaces.
This flexibility is manifested in its ability to adhere firmly to a wide variety of bases. Whether on your original surface of old tiles, a marble that is looking for a new life, or even substrates such as or plaster, the non-slip exterior microcement will provide a robust, aesthetic and, most importantly, safe layer.
However, depending on the surface, the preparation may vary in intensity and technique. Therefore, it is advisable to follow the manufacturer's instructions and, if possible, obtain the opinion of experts in the application of microcement.
Would you like to know where this exterior microcement can be placed? Keep reading!
Rest and BBQ areas: shield and practicality
The rest and BBQ areas are spaces that, beyond their functionality, evoke comfort and good moments. But make no mistake, they are also areas prone to spills, sparks, and constant traffic. This is where Cementec Water Resistant plays a crucial role.
This microcement, specifically designed to withstand continuous contact with water, is ideal for areas where liquids, sauces or marinades are handled, such as barbecues. Did you spill something? No problem. Its water-repellent surface prevents liquids from leaking, facilitating quick and efficient cleaning.
Beyond its resistance, Cementec Water Resistant's uniquely rough finish provides a contemporary aesthetic, while acting as a non-slip shield. This feature becomes indispensable in rest areas where humidity could be a challenge.
When it comes to design, the importance of a polished aesthetic cannot be understated. Thanks to its uniform tone, this microcement easily adapts to different outdoor styles, harmonizing with both avant-garde and more classic furniture.
Non-slip exterior microcement in swimming pools: prioritize safety without compromising style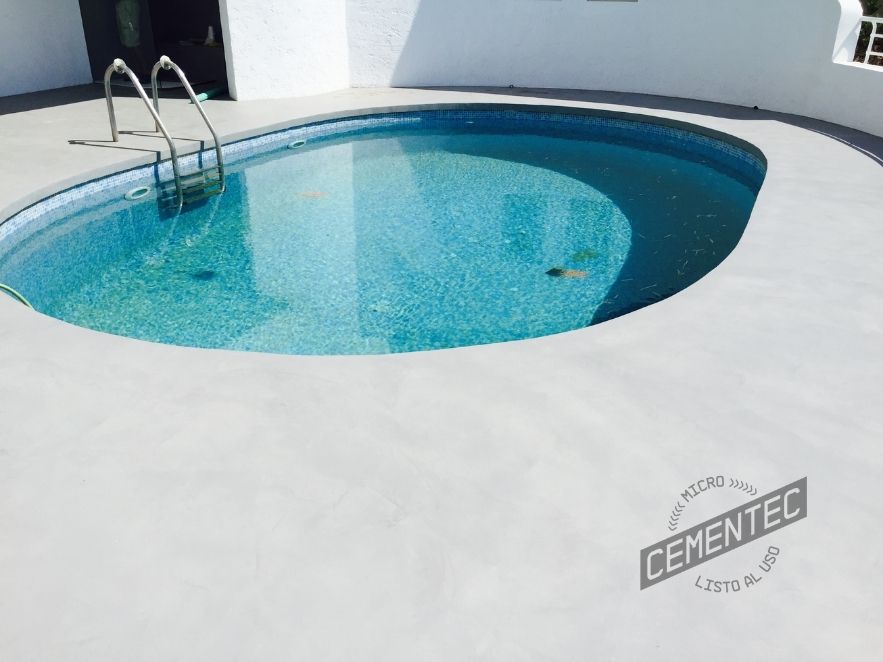 Swimming pools are the epicentre of enjoyment and freshness, not a focus of worry. However, a simple slip can overshadow a sunny day in seconds. This is where Cementec Water Resistant comes into the picture, allowing you to walk confidently around your pool, thanks to its anti-slip finish specially designed for those crucial moments when getting out of the water.
And yes, safety and aesthetics can go hand in hand. If you have already immersed yourself in our last article "White microcement pools: where the magic of water merges with the purity of design", you will be aware of the transformation and customization that this material can offer to your aquatic space.
In short, by opting for non-slip exterior microcement, you are not only choosing a safe surface, but also an impeccable pavement design.
Diversity of application: beyond outdoor terraces
While we have extensively highlighted the power of Cementec Water Resistant on outdoor decks and pool surrounding areas, this product goes much further. As we mentioned before, humid interior spaces, which are often a challenge when it comes to choosing suitable coatings, also benefit from the unique qualities of this ready-to-use microcement.
Shower trays, built-in bathtubs or sinks integrated into countertops, whether in the bathroom or kitchen, acquire an additional level of sophistication and practicality with Cementec Water Resistant.
Conclusions
In conclusion, the choice of coating for your outdoor spaces should not be taken lightly. It should be durable, aesthetically pleasing and functional. Cementec non-slip exterior microcement meets all these requirements and more.
Whether you are renovating your terrace, building a new BBQ area or redesigning your pool, ready-to-use microcement is presented as an elegant and practical solution. Turn your outdoor spaces into masterpieces with Cementec and enjoy every moment outdoors with complete peace of mind.
Trust our experts and enjoy like you've never done before!
Did you find this article about non-slip exterior microcement interesting? Share your opinions on our social networks and send us your recommendations or results after application.