Do you think your floor needs something more than a simple renovation? Do you want to give a different touch to the room? Microcement floors have a series of very interesting characteristics and benefits that we, at CEMENTEC, have suggested to tell you about in order to be able to choose this type of coating in your projects.
Go into and find out about why and how to put microcement on the floor along with us!
What is microcement ready to use?
It could be said that, understood as such, microcement ready to use is a product obtained mainly from acrylic resins that simulates perfectly cement look and it can be used on multiple surfaces as a decorative coating (walls, floors) or even used on countertops, kitchen islands or bathtubs.
Furthermore, it is a long-lasting and resistant solution to any type of impact or blow. It is also resistant to scratches as well as to humidity and heat. Microcement floors have a high level of customization and offer many design possibilities by being able to apply a coloured microcement floor in the reform or renovation.
It is applied in thin layers to reach a total thickness of 2 to 3 mm as a whole and is composed of polymeric resins, small grain aggregates and other types of additives. It is not a new material, but it has been in recent times when it has become popular.
Profits to apply microcement floors
This is how it is, applying microcement on the floor is a trend and that is why we have come to tell you about the set of characteristics that contribute and are beneficial when renovating your home or room.
Its valuable point is the great capacity for resistance and durability it offers.
Another of the valuable points is the infinite variety of finishes when choosing between the different microcement colour floors. If you don't know which one to opt for or need inspiration, we recommend you take a look at this article in which we talk about the 5 microcement colours that are a trend in interior decoration.
It does not require expansion joints because microcement flooring does not suffer changes caused by the environment and therefore neither expand nor contract. Something that could happen with other materials such as wood, for example.
It is a continuous material; this means that it is applied in a continuous way that does not require joining between different pieces.
It stands out for its easy adherence to surfaces such as plaster, concrete or tiles, and can be used indoors and outdoors.
Its application does not require large or heavy equipment and, furthermore, it is a flooring that does not excessively raise the ground level, and its maintenance and care it is not complicated, as we will see below.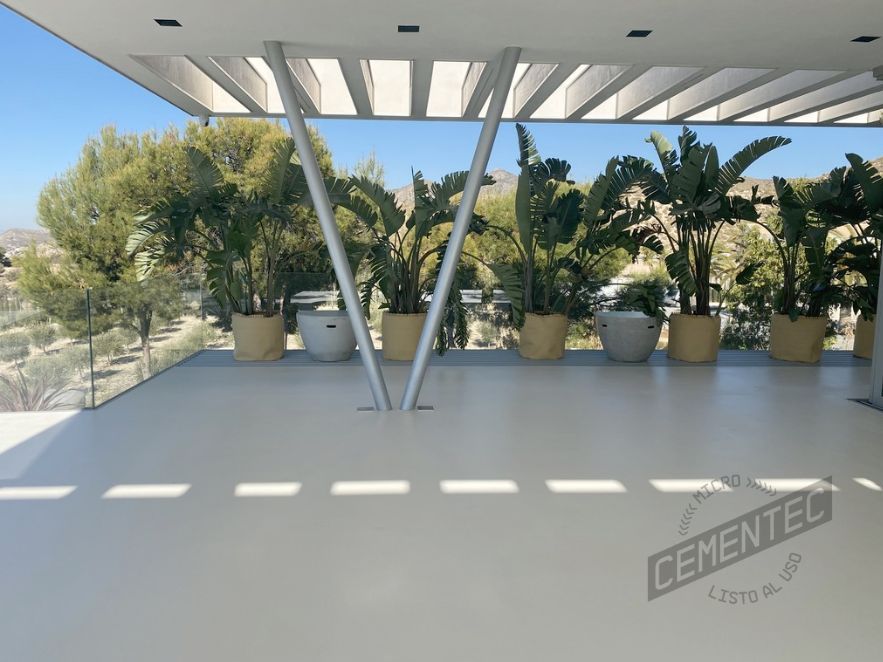 Microcement Ready to use application
This choice is more than interesting, right? And if its application is not tricky at all? If you want to know how to apply microcement or how to apply microcement in 4 easy steps. Do not hesitate to click on here
Tips to avoid problems when applying microcement on floors
Air out. Especially the days after the microcement floors application to guarantee a proper drying of itself. It could be something obvious but, do not step during the first week because step marks can appear on it!
Microcement floors. Cares and maintenance.
We made a note before, but making a care or maintenance of microcement on floors does not require an excessive effort due to its resistance capacity. Although, it is true that a couple of specifications must be known about what type of actions can be done and which cleaning products can be used.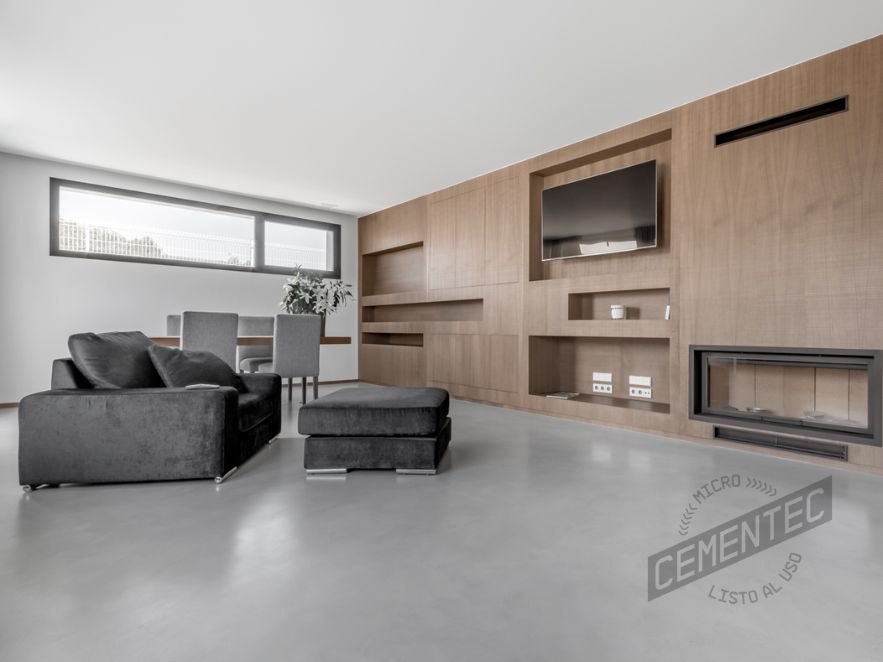 How to take care and clean microcement floors with CEMENTEC LIMP
Fortunately, when we work and apply this type of material or flooring to install it in our homes, its cleaning is not as demanding as it could be with other materials due to the absence of joints.
We recommend to make the cleaning with our neutral soap CEMENTEC LIMP diluted in water. Therefore, we should pour 3 or 4 taps of LIMP in a cleaning bucket and repeat this process every time the floor is mopped (at least once a week). In this way, your microcement coating will maintain all its brightness and colour intensity, in the case of choosing a coloured microcement floor.
Likewise, if your floor is more exposed to the traffic of people or to impacts (such as in commercial premises or industrial-type businesses), our product Finish Forte Plus is essential after the application of microcement.
How to make maintenance with CEMENTEC MANTEN
And how should a floor like this maintained? You may be wondering it, but there is nothing complicated about it. For the maintenance of the microcement applied on floors, the best recommendation is to use products such as natural wax, which provide extra hardness, protection and shine without modifying the original coating.
For its maintenance, it is needed that the surface is perfectly dry. In addition, at least 15 days must have elapsed since we decided to install the microcement floor.
As in the previous case, 3 or 4 taps of CEMENTEC Manten wax dilute it in water should be poured in a cleaning bucket. . In this case, it is recommended 1 application every two weeks.
But… Watch out! We should not use, and therefore they are not compatible, this type of maintenance wax on coatings protected with our Finish Forte Plus product.
What happens if your microcement floor suffers a scratch?
Microcement floors, even if it is highly protected, will end up scratching. No matter how much care you give it, it will face collisions of objects, friction from furniture and if you have little ones at home. Its little daily mischief.
But like any problem, it has a solution. The best thing you can do is sand and seal the floor again. But of course, for those cases that this solution is not enough, the recommended action would be to reapply a new layer of ready-to-use microcement and in this way, guarantee its effectiveness again.
Did you find this article interesting about the benefits, care and advice about microcement floors? Share your opinion on our social networks!