Do you have an old home and are thinking of renovating it? If you want to turn your old home into the home of your dreams, it is important that you carry out a complete house renovation in order to maximize its attractiveness and subsequent profitability.
In this article, Cementec introduces a versatile and efficient solution: ready-to-use microcement. Discover how microcement is capable of helping you to transform your home faster than ever, without exceeding your budget and being able to achieve different finishes on walls, floors or furniture.
Get ready to discover the advantages of using microcement in your renovation and, reduce working time without sacrificing quality!
What a complete house renovation is?
First of all, we understand it as a renovation that affects all the rooms of the house. So, this means a complete and deep renovation of all the spaces of your home, including floors, walls and furniture.
It usually is a renovation that requires professional services, architects, construction workers, carpenters and all construction world professionals. However, using microcement in your house renovation will avoid debris and large construction jobs.
Furthermore, microcement can be applied on almost any type of existing surface, saving demolition and elimination of old materials time and money. Even so, it is advisable to ask for professional help, who will be able to guide you during the process and will guarantee all safe and safety standards are accomplished.
What is included in a complete house renovation?
When considering a complete renovation, all or most of the components of the house are taken into consideration: internal systems (installations), wooden elements, windows, doors, toilets, floors, walls and finishes.
With all this, you will have the opportunity to reorganize the spaces and make even minor structural modifications, taking advantage of the fact that their cost is reduced by integrating them into the overall renovation.
However, by using ready-to-use microcement you can renew the face of your home without making major changes, only modifying the floor, walls or covering furniture.
Do not you believe it? Pay attention to us because it will be great!
What VAT is applied in a complete house renovation?
The value added tax (VAT) applied to renovation of private homes is of a general type, currently being 21%. This applies whenever the invoice is addressed to a company, which will be responsible for its payment.
But, in what situations can VAT be reduced to 10% in for complete home renovations? When the following conditions are met:
Be a natural person and not using it as a commercial premises or office (these will be 21%).
It must have been 2 years since the construction or since the completion of the last renovation carried out in the house.
The cost of the materials must not exceed 40% of the total budget of the price of the renovation.
Ok, let's assume you meet the above requirements. What type of complete home renovations can you apply this VAT reduction to? To all those who have implications in:
Plumbing.
Electricity.
Paint.
Improvement in ceilings.
Accordingly, complete house renovations carried out with ready-to-use microcement for individuals or companies will entail the corresponding application of the value added tax (VAT) at 21%.
How much time takes a complete renovation?
As you can imagine, there are no dates or deadlines, but on average the complete renovation last between 3-5 months. Although it is true that by choosing Cementec ready-to-use microcement you will be able to reduce time. Sure thing!
This and other advantages are going to be discussed below. Are you going to miss them?
Advantages of making a complete renovation with microcement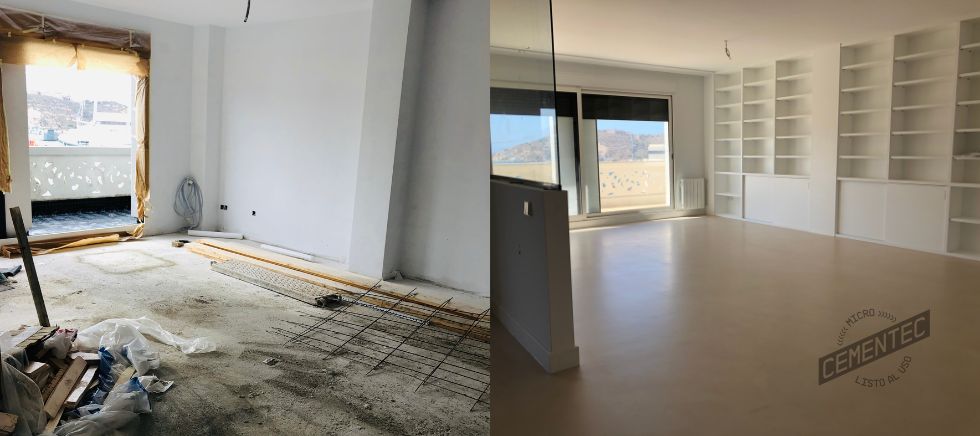 Application versatility. Cementec ready-to-use microcement can be applied on a large variety of surfaces; walls, floors, ceilings, countertops, swimming pools or furniture. This will allow you to create a coherent aesthetic throughout the home and make the most of the design potential in each area.
Different finishes. Experience the freedom of choosing from a wide range of finishes, from smooth and polished surfaces to rougher, rustic or vintage textures. The different microcement finishes that Cementec offers will allow you to customise every room and adapt it to your style.
Without works neither debris. If we compare it with other materials, the decorative coating or microcement does not require works or generation of debris. Therefore, it is a fast and efficient application that allows you to reduce deadlines and achieve quality results beforehand.
Lower economic cost. In general, ready-to-use microcement has a lower cost than other materials, which will allow you to reduce the total budget of the work without compromising its quality or aesthetic appearance.
Microcement applications in a complete house renovation
Microcement can be applied in different areas of your home, giving you the possibility to create unique and coherent areas throughout the house.
Let's know immediately, the different areas of the home that can undergo renovation or microcement applications in a complete home renovation.
Microcement on walls and floors
Microcement adheres easily to walls and ceilings, creating a continuous appearance without visible joints. You can go for a sleek, smooth finish for a modern aesthetic, or add textures for a more rustic, authentic feel.
Although, if you want to know more about microcement on walls, its qualities and application methods, do not hesitate to visit the blog that we leave you here. 
Microcement on floors
Ready-to-use microcement floors are durable, easy to clean and resistant to wear. You can create a consistent look throughout your home or combine different colors and textures to define spaces and add visual interest through contrasts.
Microcement in bathrooms and kitchens
These key areas of the house can greatly benefit from the use of microcement. In bathrooms, you can create continuous linings in showers, bathtubs and sinks, thus avoiding the accumulation of joints and facilitating cleaning. In kitchens, micro-cement countertops and backsplashes add a strong, modern touch while being easy to maintain.
Be careful! We want to tell you more, visit our articles on microcement kitchens and their advantages, as well as the 5 reasons to reform your bathroom with ready-to-use microcement.
Microcement on countertops and furniture
Microcement can also be applied to furniture and countertops, allowing you to create personalized pieces that coordinate with the rest of the home. From kitchen and bathroom countertops to tables and shelves, microcement adds strength and style to your furniture.
Do you want to know some examples of microcement kitchen countertops? Click here.
Decoration and design ideas for a complete home renovation with microcement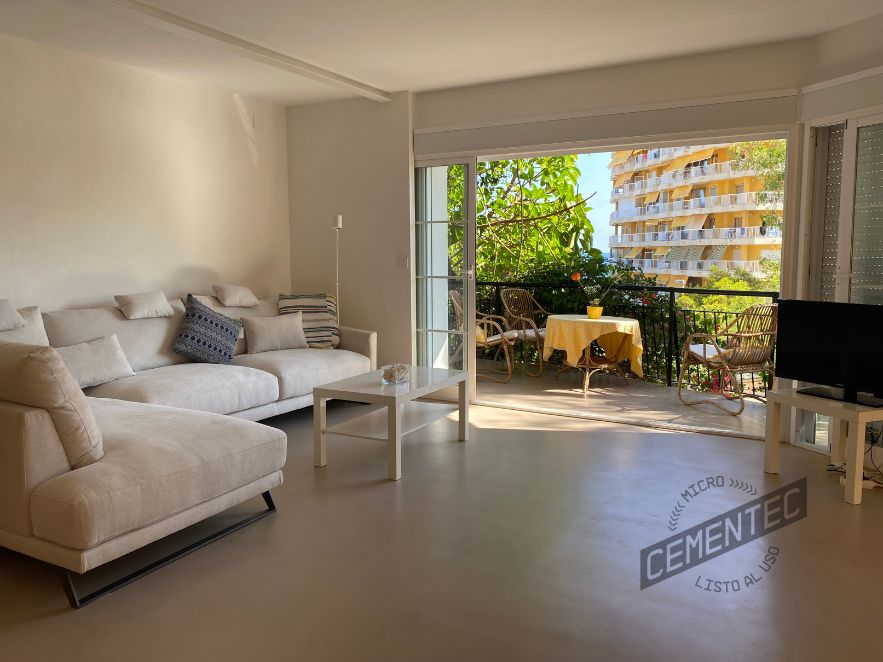 Once you have opted for microcement for your comprehensive reform, it is time to bring it to life through decoration and design. Here we leave you some ideas to inspire you and to create attractive and cozy spaces in each of the corners of your home.
Mediterranean style
The Mediterranean style evokes the freshness and luminosity of the southern European coasts. As a tip, use white and blue tones on walls and textiles to create a feeling of spaciousness and calm. Add decorative elements such as ceramics, plants and wicker details to accentuate the relaxed and summer atmosphere.
Modern and minimalist style
If, on the other hand, you prefer a more contemporary approach, opt for the modern and minimalist style. It uses clean lines, neutral colours and simply designed furniture. The microcement on the walls and floors will act as a neutral and elegant backdrop, allowing certain selected decorative elements to stand out on their own.
Industrial style
The industrial style is perfect for those looking for a modern and urban environment. Combine microcement walls with elements of steel, concrete and aged wood. It incorporates furniture and accessories with metallic finishes and industrial details to achieve an avant-garde and contemporary look.
Vintage style
Do you like the old? The vintage style is characterized by its eclecticism and its mixture of textures, colours and patterns. Combine microcement with furniture from different styles and periods, use ethnic textiles and floral prints, and add touches of colour through cushions and blankets. Create cozy corners with rugs and cushions on the floor, and don't forget to include plants to bring life and freshness to the space.
Scandinavian style
The Scandinavian style is characterized by its simplicity, functionality and minimalist aesthetics. Use furniture with clean lines, neutral tones, and natural materials to create a warm and welcoming atmosphere throughout the home. Add pops of soft colour through cushions, rugs, or decorative accessories to liven up the space.
Get inspired by these styles and adapt them to your personal tastes. Enjoy the transformation of your home and decorate it as it deserves!
How to make a complete house renovation using microcement 
Recapitulating a bit and as a follow-up index, to start carrying out a complete housing renovation we should clarify the following points.
Determine the needs of your home: Before starting the work, draw up a detailed plan that includes the spaces and areas where you want to apply the microcement.

Define the colours, finishes and textures you want to use, and be sure to coordinate them with the overall style of your home to create a cohesive aesthetic.
Clarifies the needs and objectives to be covered. Do we want to reform the house completely and give it another air, or do we need to dedicate all our efforts to specific rooms? Will we use the house for vacation rental, periodic rental or own use?

Establish a flexible budget according to your possibilities. Having a clear idea of how much you are willing to spend can help you make wise decisions in every way. As a piece of advice, if you cannot cover everything, prioritize those rooms that need it the most and leave the rest for later. 
Identify the areas or rooms that, according to your criteria, should be reformed yes or yes: Some areas, such as the kitchen or bathrooms, are often the areas that require the greatest effort and in which the results seem to be more visible and satisfactory in the short and long term.  
Choose quality materials and trust professionals specialized in the application of microcement who are in charge of the entire process of comprehensive home reform. 
Be very patient. In comprehensive reforms it is rare that unforeseen events do not appear and above all, when dealing with old houses. These unforeseen events can range from discovering obsolete facilities, undetected structural problems, to the need to update elements of the home to current regulations.
Conclusions and recommendation
To sum up, a complete house renovation using ready-to-use microcement is an excellent choice to modernize spaces. This material provides resistance, versatility and adapts to different styles of decoration.
However, proper planning and budgeting before beginning the renovation is crucial, as well as being prepared for the unexpected, especially in older homes. Despite all these challenges, with good preparation and the help of professionals, the renovation process can culminate in a renovated, personalized and welcoming home.
We invite you to venture into this journey of transformation. Consult some of our complete renovation projects with microcement and visualize the following renovation.
Did you find this article about comprehensive home reforms with microcement interesting? Share your opinions on our social networks and send us your recommendations or results after the application.